Cat Arrives at Vets With Pair of Pliers Embedded in Her Head: 'Cruel'
The internet has been left sobbing as a veterinarian has shown footage of a cat with pliers stuck in her head.
The distressing clip shared by Indy Animal Care, which uses the handle @iacsanimals, shows the moment the cat was taken to the Indianapolis-based clinic, followed by the surgery.
The on-screen text explains that the "pilers were wedged behind her left eye barely missing her brain and optic nerve."
However, fortunately, the cat survived the injury and is set to make a full recovery. She has since been named Miracle by the veterinary staff.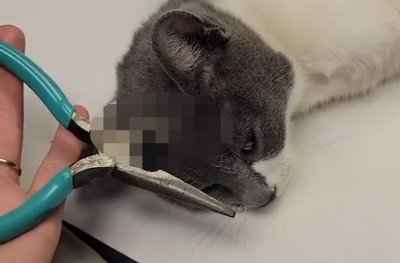 Data from the Federal Bureau of Investigation's National Incident Reporting System states there were 6,573 animal-cruelty offenses reported to U.S. law enforcement agencies in 2021. The report also revealed there were 627 such offenses in Indiana the same year.
Dr. Joseph DeBrota told Newsweek about the surgery: "After checking the cat's vital signs and confirming she was stable, the medical staff gave her some pain medication and sedated her so we could take X-rays and perform surgery to remove the pliers.
"I was able to determine that the pliers narrowly missed the cat's brain and instead were wedged between the brain and the front of the skull, behind her left eye," DeBrota said. "We put the cat on pain medication and antibiotics and watched her for 24 hours, as that would tell us if there was going to be any lasting damage.
"The cat has done remarkably well since then, considering everything she has been through," he added. "She has no vision loss and is eating, walking, purring, and getting spoiled rotten with love. I expect the cat to make a full recovery."
The heartbreaking clip has more than 15 million views and 1.9 million likes since it was posted on February 9.
The vets do not know what happened to Miracle, and they are still investigating the case. She has been adopted by the medical shift leader who was part of the team that performed the surgery on her to remove the hand tool.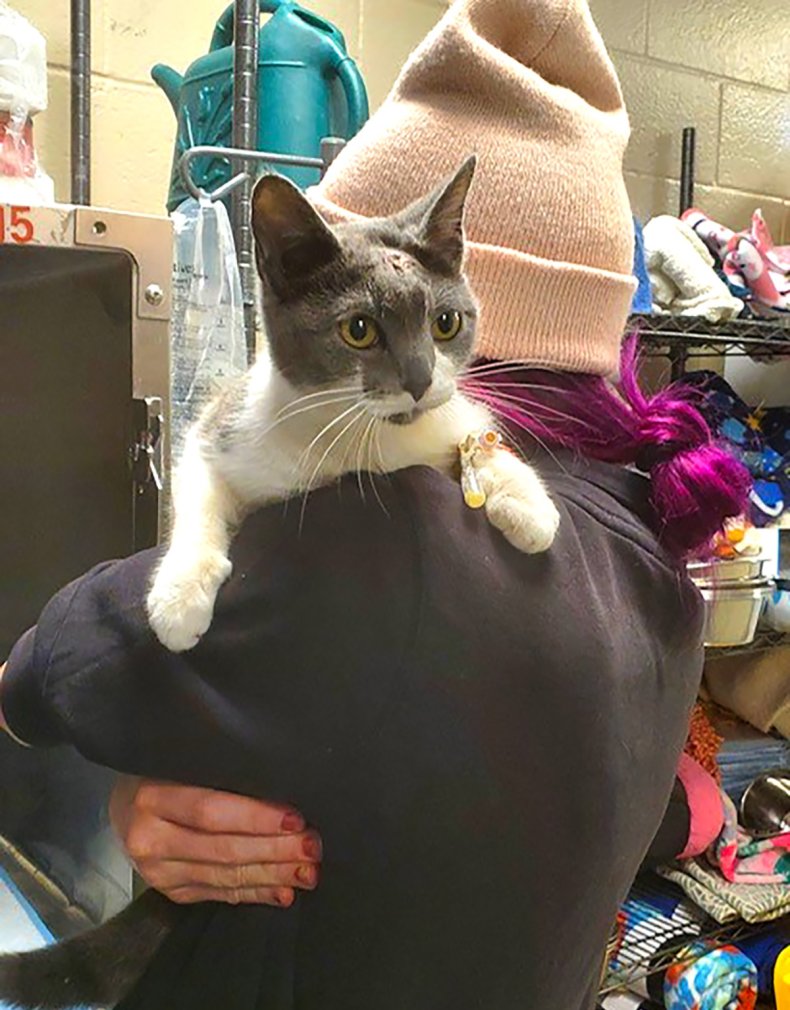 Hundreds of thousands of TikTok users have commented on and shared the traumatic video.
One comment, which has more than 94,000 likes, reads: "What in the actual hell?!!! how?! why?! omg! that's poor thing."
"I don't understand how someone can be so cruel," wrote another user with more than 12,000 likes.
Another person said: "Whoever did that deserves nothing less than life in prison."
Does your pet have a health issue that's worrying you? Let us know via health@newsweek.com. We can ask experts for advice, and your story could be featured on Newsweek.