Concerns Over COVID-19 Keep Migrants Stuck in Jail as Courts Close at Border
Nearly 30 migrants who have been in jail for up to three months as they've awaited legal hearings will find themselves waiting even longer after COVID-19 issues effectively shut down their upcoming court proceedings.
The Texas Tribune reported that hearings for the misdemeanor trespassing charges incurred by those who crossed the U.S.-Mexico border will be postponed after two county officials tested positive for COVID-19.
Over 90 individuals expecting to have their first court appearances this week faced cancellations. These individuals were arrested as part of Republican Governor Greg Abbott's "Operation Loan Star" directive aimed to crackdown on illegal immigration.
"They're in limbo," Amrutha Jindal, a Houston defense attorney whose organization represents several migrants with canceled hearings, told The Tribune. "Because this is a makeshift court, it doesn't appear they have the standard backup procedures in place that a traditional court system would for when something like this happens."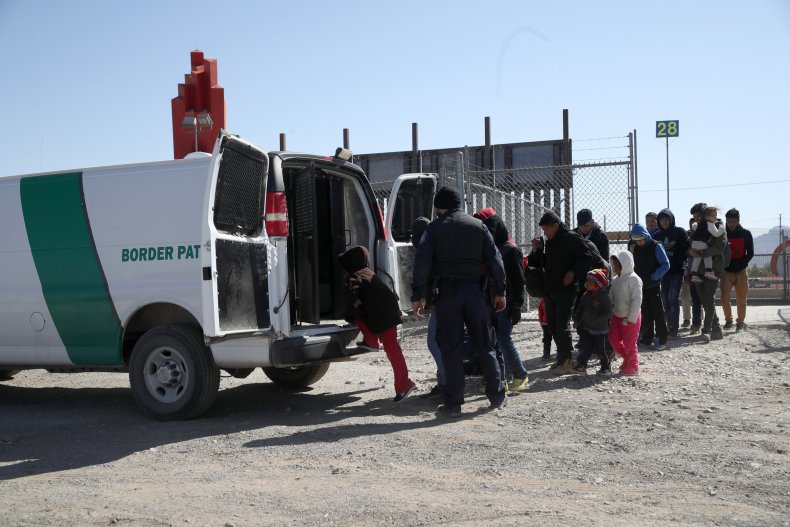 Abbott granted both Texas' Department of Public Safety (DPS) and its National Guard the power to arrest migrants for criminal trespassing. Since this directive was made, communities along the border have seen their jails and courts pushed beyond their usual capabilities.
In Del Rio, where a migrant caravan of roughly 15,000 Haitians was cleared away in September, officials are struggling to keep up with the new flow of arrests. The city has witnessed more than 1,400 arrests since Lone Star went into effect on November 7. While they said it has resulted in some deterrence, people are still coming, and the jail is suffering the effects.
"Since Operation Lone Star came in and started arresting all these individuals for human smuggling, now the county incurred a loss of revenue from the jail of almost a quarter-million dollars," Val Verde County Sheriff Joe Frank Martinez told KXAN-TV, the NBC affiliate in Austin.
Because these courts do not generally handle such a flow of cases, The Tribune reported that consistent mishaps have been made. One attorney told the paper that receiving an arraignment, where one has their criminal charges presented to them, is like "winning a lottery." Because these migrants are held for so long, defense lawyers "often" find themselves raising legal issues that surfaced during the time following one's original arrest.
"They were crushed," Kristin Etter, an attorney whose firm represents hundreds of migrants, told The Tribune upon receiving news of the postponed court dates. "This is something that they've been looking forward to for a long time, and to not only tell them that our court date is canceled but also that we have no idea when it's going to get reset...it's hard."