Confederate General Robert E. Lee's Descendant Says Statues 'Must Be Removed' and 'We Cannot Remain Complicit'
A descendant of Confederate General Robert E. Lee argued in favor of removing a statue of his ancestor at the Antietam National Battlefield in Maryland during a House subcommittee hearing Tuesday morning.
Reverend Robert Wright Lee, who identified himself as a distant nephew of the Confederate general, said the statue at Antietam and others "must be removed for a more perfect Union." He spoke before the House Subcommittee on National Parks, Forests and Public Lands to weigh in on the proposed Robert E. Lee Statue Removal Act, a bill Rep. Anthony Brown of Maryland introduced nearly three years ago.
"If we are honest, the answer is clear," Lee said. "We cannot remain complicit with these monuments. We cannot remain silent any more; if we do, our silence becomes agreement and endorsement to complicity."
Lee is a pastor at Unifour Church in Newton, North Carolina, and has for several years voiced support for efforts to remove controversial statues of his ancestor. He stepped down from a previous pastorship after his congregants allegedly criticized him for statements he made in support of the Black Lives Matter movement in the wake of a 2017 protest that turned deadly in Charlottesville, Virginia, according to CNN.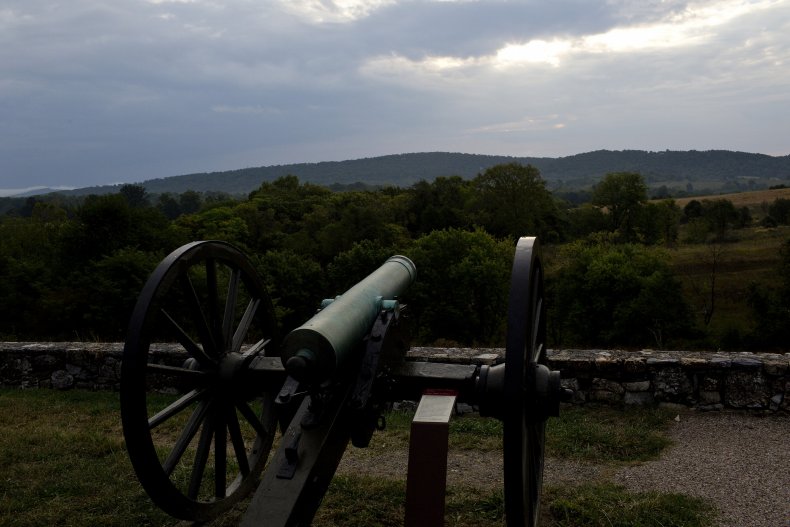 As Black Lives Matter protests swept across the U.S. in the wake of the death of George Floyd, a Black man who died while in Minneapolis police custody on May 25, Lee joined the wave of celebrities, politicians and other public figures who stood behind the movement. After Virginia Governor Ralph Northam announced the planned removal of a Robert E. Lee statue in Richmond last month, Lee said he "cried tears of joy" upon hearing the news and said it was "a day of justice."
Speaking before congressional legislators on Tuesday, Lee recalled a testimony his ancestor delivered to lawmakers during the Reconstruction Era in 1866. Lee referenced direct quotes from the Confederate general that revealed his thoughts on the ability of Black Americans to learn and whether they should have the right to vote.
Lee said he wanted to use his ancestor's statements from more than 150 years ago to demonstrate their differences in opinion. "I fully believe along with a host of other amazing citizens of this great country that Black lives matter—and for us to continue to celebrate a man who questioned the education, disparaged the right to vote of Black life, and had previously fought for the continued enslavement of Africans on the North American continent is an affront to those now suffering under the continued weight of oppression," Lee said.
Brown first introduced his bill in 2017 after the deadly protest in Charlottesville and reintroduced it in early 2019. Though the bill is aimed specifically at the statue of Robert E. Lee at Antietam, Brown said during his congressional testimony on Tuesday the act was representative of a larger debate the country is facing on race in America.
"The question before us today is straightforward," Brown said. "Do Confederate flags and monuments have any place in our national parks? To answer this question, I simply ask myself what these statues and symbols commemorate: the glorification of the Confederacy, its traitorous leaders, their cause of slavery and open rebellion against the United States of America. In my mind, there is only one side of the Civil War we should be honoring: the United States."
Brown went on to address the ways in which Confederate statues and monuments have since the late 1800s given Americans a conflicted retelling of history. "It is time for these monuments to come down," the congressman said.
Newsweek reached out to Brown's office for further comment but did not receive a response in time for publication.