Confederate Halloween Decoration Displaying Robed Figure Angers Community
Confederate-themed Halloween decorations outside one New Jersey home are causing a major stir in the neighborhood.
The home where the decorations are set up is located along a busy road in the rural town of Jackson in Southeast New Jersey. Among the items causing controversy are several Confederate Navy Jack flags and ghost-like robed figures that some said resemble members of the Ku Klux Klan. The house is also dotted with numerous "No trespassing" signs.
One nearby resident, Doreen Koptyra, was shown images of the decorations by NBC New York. While initially unconcerned about the robed figures, once she was shown the Confederate flags, her reaction changed considerably.
"I'd like to think it's just a ghost," Koptyra began. "If it was just a ghost, it'd be fine. But now that you have the flag up, that's not acceptable."
"That does look like Ku Klux Klan," another resident, Al Bazel, said. "That's not right. If they were going to do Halloween, I guess it'd be different...They gotta get on board with today, they can't live in the past."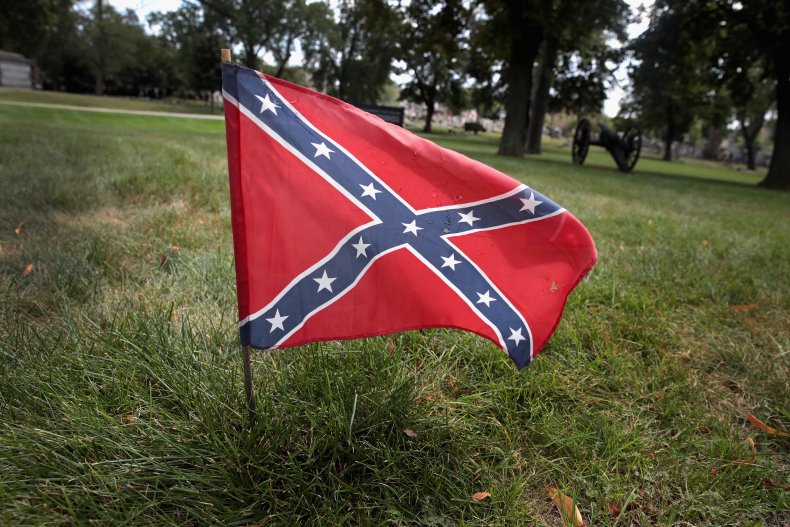 A neighbor across the street from the home had a more accepting attitude toward the decorations.
"It's Halloween, people put decorations out, it is what it is," Jeannette Benz said. "I think Halloween is Halloween."
NBC New York also attempted to talk with the homeowner about the decorations, but he declined in no uncertain terms.
"No, get the f**k out!" the man shouted from a distance.
All the outlet was able to get out of the homeowner was that he has allegedly been putting up the same decorations for years. Shortly after saying that, he attempted to block the view of the decorations with a car and gave an "obscene gesture" to the outlet's camera.
Leadership from the Toms River area NAACP chapter told NBC New York and the New York Post that it is investigating the matter.
"I think it looks like a KKK outfit rather than a Halloween costume," chapter President Bahiyyah Abdullah told the Post on Tuesday. "Having the flag above it just added to it. It's very unfortunate that a holiday that is celebrated by so many appears to be tainted in that way."
Last September, Party City generated similar Halloween season controversy when it was found to be selling Civil War soldier costumes for children, some of which were emblazoned with the Confederate Navy Jack flag. Following outcry from one mother, the company removed the items from its location in Bailey's Crossroads, Virginia.
"At Party City, we do not tolerate racism or hatred of any kind, and we stand together in solidarity with our diverse colleagues, customers, and communities," the company said in a statement. "As the leader in Halloween with more than 60 million customers per year, Party City supplies a broad assortment of costumes, none of which are meant to be offensive in any way. The costume in question was sold at a franchise location and is not produced or sold in any Party City corporate-owned stores. We have reached out to our franchisees and other partners to remove it from all retail locations ASAP. We know that as a company, we can and must do better."