Ohio Lawmakers Reject Proposal to Ban Confederate Flags and Memorabilia at County Fairs
Lawmakers in Ohio have rejected a push to ban all Confederate memorabilia at county fairs proposed by a house representative who said such imagery promoted slavery.
Democrat Juanita Brent, who represents District 12 in the state's house of representatives, had introduced an amendment to House Bill 665 being discussed to allow fairs to be held during the coronavirus pandemic.
She had hoped her proposal would result in a ban on the sale and display at county fairs of Confederate imagery, including flags.
"We have to keep Ohio's promise that everyone feels safe and secure within the United States, particularly within Ohio, and people are not going to feel safe seeing a confederate flag every time they go to the county independent fair," she told the house agriculture and rural development committee.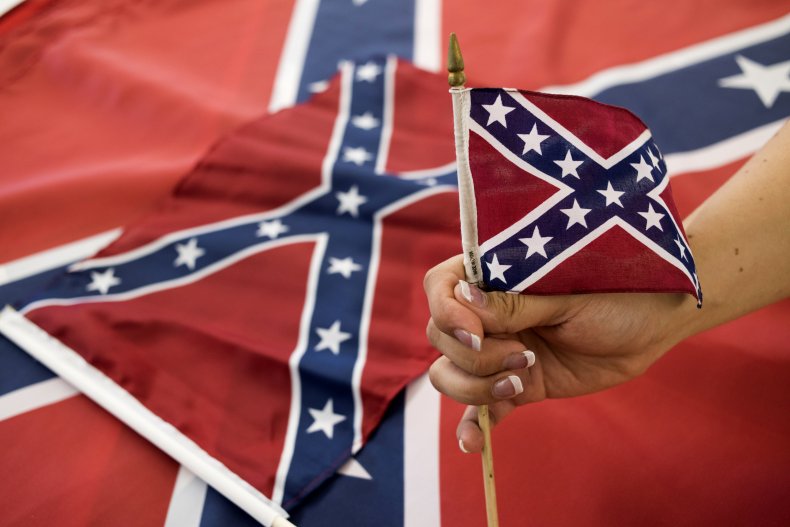 "The Confederate flag is a symbol for people who want to have slavery," she added, according to Fox 8.
Confederate flags and related memorabilia have been banned from the Ohio State Fair since 2015, but they are still sold at local fairs such as the Lorain County Fair, whose organizers said to not do so would breach freedom of speech, Fox reported.
Brent believed that as Ohio was never part of the confederacy, there was no historical reason to have its imagery on display or for sale.
"If we were trying to put this inside a museum, I would be the first one to stand up and say, 'This is part of America's history,'" she said.
"But, this is not part of Ohio's history, and we should not be encouraging it," she added.
However Republican state Rep. Don Jones said any discussion over whether to ban flags should be expanded to include all flags and that decisions on their prohibition should be made at the county level.
"We've got a lot of enemies of our country and I just don't know that this is the appropriate bill, the appropriate time. If we are going to start to ban flags, I think we ban all of those flags, not just one," he said, according to WVXU.
Brent's amendment was rejected with majority Republicans voting to table it and Democratic members voting to adopt it. When Republican committee chair Kyle Koehler (R-Springfield), ended the debate, Brent voiced objections and said: "Treasonous."
The debate over imagery from America's Civil War past continues to rage with NASCAR announcing it would ban the Confederate flag at events. It said in a statement the flag "runs contrary to our commitment to providing a welcoming and inclusive environment for all fans."
Last week, the U.S. Marine Corps announced it would ban all depictions of the Confederate battle flag at its installations. The prohibition extends to installations in the U.S. and abroad and includes banning marines wearing T-shirts or drinking coffee from mugs with the flag's imagery.
Momentum has been building for the removal of Confederate monuments throughout the country amid a debate about over race following the death of George Floyd.
Virginia Governor Ralph Northam announced a statue of Confederate General Robert E. Lee from Richmond, would be taken down, although a judge has granted a temporary injunction preventing the move.