The $2 trillion stimulus package agreement reached by Congress on Wednesday to help the nation rebound from the coronavirus pandemic won't be sufficient in safeguarding the 2020 election, experts say.
The legislation, which if passed will be the biggest fiscal stimulus package in modern U.S. history, will provide $400 million in election assistance to help states prepare for November's voting. That's just 0.02 percent of the funds provided by the entire package.
"It's not nearly enough money," Richard Hasen, an election law expert at the University of California, Irvine, told Newsweek. "This is a start, but much more will be necessary."
The Brennan Center for Justice, a nonpartisan law and public policy institute, has estimated that $2 billion will be needed to cover the costs states will incur as they adjust their electoral process to protect public health.
"Every state is going to have increased absentee balloting, even if things ebb a bit with the virus. We know costs are going way up. Absentee balloting is more expensive in terms of scanners, employees checking ballot envelopes and other costs," Hasen noted.
States are already grappling with monetary challenges as they adapt their electoral processes for the Democratic presidential primaries amid the virus' outbreak.
Kimberly Smith, the deputy director of the Defiance County Board of Elections in Ohio, said that it's already costing officials a lot just to prepare the state for a vote-by-mail Democratic primary instead of in-person voting.
"What will happen in November we don't know, but just making that shift for our primary election is eating up a good portion of our budget," Smith said. "We appreciate any federal funding we can get, but given the reality of the situation, we are hopeful they will allocate more money."
Ohio postponed its March 17 Democratic primary at the very last minute, citing concerns over the coronavirus outbreak. So far, nearly a dozen states and at least one territory (Puerto Rico) have delayed their primary contests until late May or early June to avoid spreading the virus. Many of them have taken an additional step to protect voters and poll workers by switching to a vote-by-mail system.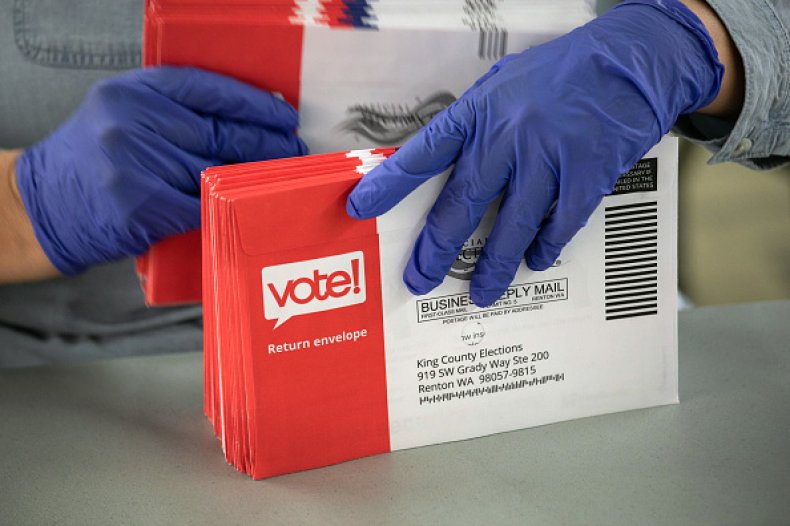 Some lawmakers are calling for a national vote-by-mail contingency plan for the general election.
Senators Ron Wyden (D-Ore.) and Amy Klobuchar (D-Minn.) introduced a bill that would require all states to allow citizens to vote on an absentee basis, as well as 20 days of early in-person voting. The proposal would provide states $500 million to make the changes.
If states don't adjust their voting process during the coronavirus crisis, experts say, turnout will drop significantly.
"I think we could see, worst-case scenario, millions of Americans disenfranchised and would not be able to have their voices heard or votes counted," said Aaron Scherb, director of legislative affairs at the nonpartisan government watchdog Common Cause.
The virus has spread to all 50 states, with the number of confirmed cases in the U.S. exceeding 54,000 and at least 737 deaths, according to the latest data from the U.S. Centers for Disease Control and Prevention. The outbreak was declared a pandemic by the World Health Organization.
Scherb noted that while Election Day is still seven months away, it could take nearly that long for states to switch their voting strategy and invest in the necessary supplies.
"We should really be able to get to a bipartisan solution to prevent the worst-case scenario from happening," he said.