Congress Can't Cut Unemployment Deal As Millions Go Over Financial Cliff
Tens of millions of people hover at the bottom of a financial cliff, having already barreled over its edge with the expiration of federal relief initiatives last week.
Enhanced unemployment benefits of $600 per week finished last weekend. The federal eviction moratorium ended July 24.
Yet Republicans and Democrats took turns Thursday blocking one another's stimulus bills on the Senate floor like a game of legislative ping-pong while millions of Americans waited for news about whether the supplement to their jobless checks would be extended. And lawmakers went home for their usual long weekend without any kind of stimulus deal, prompting skepticism from a growing number of members that a bipartisan solution will ever be reached.
"We can keep talking and hopefully making progress because no progress is being made," said Senate Majority Leader Mitch McConnell.
Republicans pushed dueling short-term unemployment extension proposals amid broad opposition from their own party to any size or scope of package over deficit concerns. It was a move that Republicans hoped would push Democrats to agree to a short-term unemployment extension, which Democrats have rejected as they demand a comprehensive package.
The first measure, spearheaded by Senator Ron Johnson (R-Wis.), would slash jobless benefits to $200 per week, or 66 percent of a worker's former wage. The second, by Senator Martha McSally (R-Ariz.), would extend the full $600 for one week as negotiations continue.
"I am not sure whether my Democratic colleagues really agree that hurting unemployed people is their side's best political strategy," said McConnell, a Kentucky Republican. "But if that is their position, they will have to vote on it for the entire country to see."
Meanwhile, Senate Minority Leader Chuck Schumer twice tried to pass the House-passed HEROES Act that tops out at more than $3 trillion. Two key provisions of the legislation would extend the $600 weekly federal unemployment boost through January 2021 and the eviction moratorium would last through March 2021.
"I don't have a lot of confidence right now," said Senator Doug Jones (D-Ala.). "The problem is going to be, as I understand it, [McConnell's] going to start playing these political games again and putting things up for a vote. That's gonna be a real problem. That's crazy. It's appalling the way that this has come down."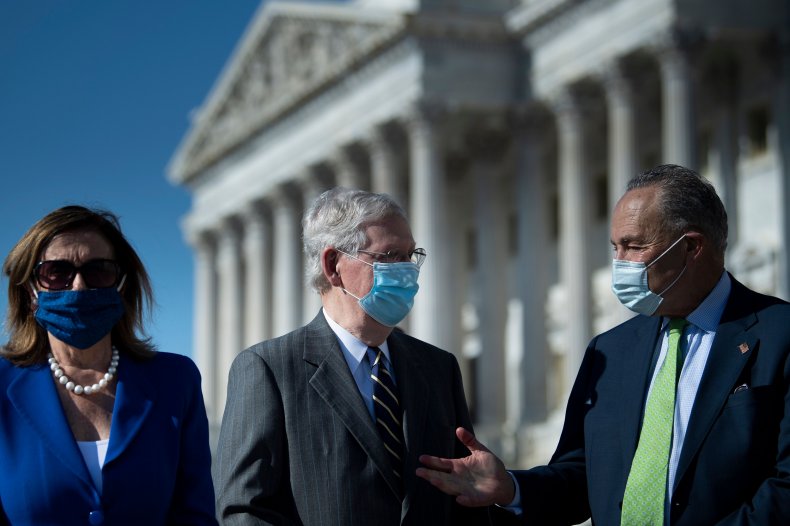 The Senate also took a procedural step Thursday that would tee up a Monday afternoon vote, should congressional leaders and the White House break their stalemate and reach an agreement over the weekend. Lawmakers could also offer amendments and use the process as another pressure tactic by forcing members to go on the record voting against differing proposals to expand jobless benefits.
But the idea of Monday bringing a rosy outcome is facing an ever-growing uphill battle, with lawmakers publicly questioning their faith in the ability to close the miles-wide gap that exists between all sides on most issues.
"Unfortunately, at this great moment of terrible trouble in our country, our Republican friends are paralyzed," said Schumer, a New York Democrat. "And when they want to do something, it's a stunt—not a real negotiation—that they know won't pass because their backs are against the wall."
"We're pretty far apart right now," Senator Lamar Alexander (R-Tenn.) said, who heads the chamber's Health Committee.
Amid the impasse, new jobless claims rose again last week, with Thursday's jobs report showing another 1.4 million applying for assistance. And the nationwide economic shutdown that persisted for much of the second quarter gave America its worst-ever gross domestic product decline of nearly 33 percent.
"I don't know how on Earth when you have some 20 [Senate] Republicans more concerned about the deficit—everybody's concerned about the deficit, or at least everybody on our side—and you're given the circumstances that we have a pandemic of politics as well as the pandemic, that's gonna be tough," said Senator Pat Roberts (R-Kan.). "I'm not quite sure how we get to a point where we can get this thing done."
In their continued endeavor to work out their partisan differences, House Speaker Nancy Pelosi (D-Calif.), White House Chief of Staff Mark Meadows, Treasury Secretary Steven Mnuchin and Schumer said they will meet Thursday evening.
"I'm not very optimistic that we will have any kind of an agreement on a comprehensive bill in the near future," Meadows said.