Congress Can't Pass a Stimulus Deal as Budget Deadline, Government Shutdown Looms
The federal government runs out of money in 57 days.
And if the gridlock on Capitol Hill over another coronavirus stimulus package is any indication of lawmakers' future behavior, the country could be heading toward a shutdown unless yet another deal is struck.
"I don't know how much of what's going on now is a division based upon different points of view on principle and how much is due to the politics of an upcoming election," Senator Mitt Romney (R-Utah) said. "If the latter is playing a significant role—on either side—that will make the budget talks subject to the same problem."
Congress hasn't even started putting next year's budget together in a bipartisan fashion. In recent decades, it's become par for the course for Congress to be behind schedule on the appropriations process.
The Democratic-led House has passed 10 appropriations bills for the fiscal year that begins Oct. 1, while the GOP-controlled Senate has approved none. Senate Republicans want to first reach agreements with Democrats before starting the process in the upper chamber.
But that may take some time—Republicans emerged from a private lunch on Tuesday to say zero progress had been made on the stimulus deal over the past week in negotiations between White House officials, Democrats and GOP leaders. Democrats remained steadfast in their demands for a broader bill that includes a full extension of weekly federal unemployment benefits as Republicans and the White House push a trimmed down version about one-third the size.
Treasury Secretary Steve Mnuchin and White House chief of staff Mark Meadows said they offered a concession to Democrats on eviction protections in a bid to dislodge from the stalemate and strike an agreement by the end of the week.
Federal shutdowns sting. But during this recession, such a scenario could exacerbate the financial problems for some workers already impacted by the pandemic.
"By far, a much bigger effect depends on the outcome of the current negotiations for another relief bill," Michael Reich, an economics professor at the University of California at Berkeley who specializes in labor and political economics, told Newsweek. "It seems likely to fall short."
November's election, too, is likely to only hinder the path toward reaching an agreement on the discretionary spending, as Republicans fight to maintain their Senate majority amid troubling poll and fundraising numbers.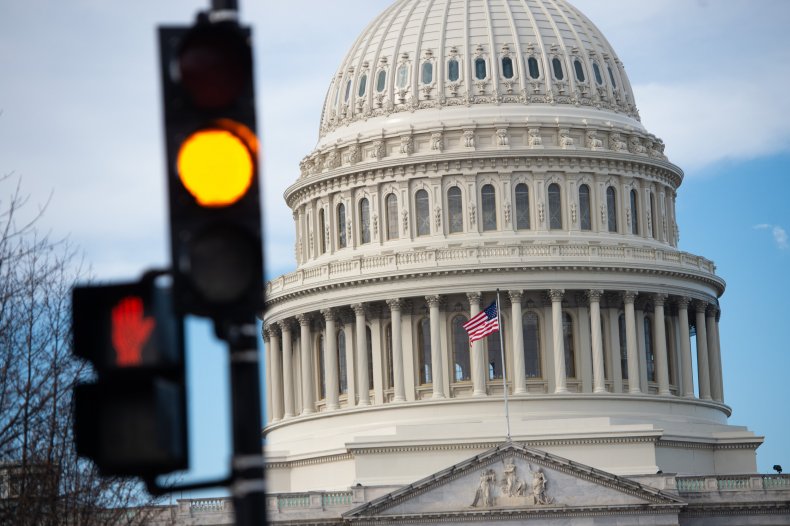 Senator Tim Kaine suggested lawmakers should use their November contests as a motivator to get the legislative priorities out of the way as quickly as possible.
"I could argue the reverse that, hey, why wouldn't everybody want to just do something so they could set that beside them and just go campaign full-time?" the Virginia Democrat, who is not up for election this year, told Newsweek.
"Sometimes, it can be it can be an incentive to try to get something done," he continued. "But I think my gut is telling me it's kind of leaning toward a CR."
The best legislators say they're looking for is to bypass the normal budget process and take alternative measures by approving a continuing resolution (CR), which would fund the government at its current level. Lawmakers would need to agree on how long the stopgap funding should last.
"If past is predicate, you imagine there's gonna be a CR," said Senator Chris Murphy (D-Conn.). "I'm willing to give it a try, but let's just be honest: you're gonna have a bunch of Senate Republicans fighting for their lives. I'm not sure how much interest there's going to be on their side to come to an omnibus budget agreement by September."
Senate Appropriations Committee Chairman Richard Shelby (R-Ala.) contended that while he and his Democratic counterpart, Senator Patrick Leahy (D-Vt.), are ready to begin negotiations, Democratic leadership wants to load the budget up with partisan priorities. Democrats insist the ball is in Shelby's court. In June, Shelby pulled the appropriations markups process from the schedule because Democrats intended to offer funding amendments related to coronavirus and police reform.
Shelby said that there's a "slim" chance his colleagues will pass a budget without needing a CR. "At the rate we're going, that's not gonna happen unless there's a 180-degree turn on the Democratic side. We're ready to go."
He suggested a CR could be tucked in a coronavirus stimulus bill. But Shelby and some of his Republican colleagues said Tuesday that those negotiations appeared to be at an "impasse."