Nation's Evictions Could Be Paused As Stimulus Talks in Congress Thaw
Trump administration officials on Tuesday said they are pushing to extend the federal eviction moratorium that expired nearly two weeks ago and protected tens of millions of renters from being ousted from their homes.
The proposal came as an olive branch from Treasury Secretary Steve Mnuchin and White House chief of staff Mark Meadows to Democrats as part of the stalled negotiations over another economic stimulus bill.
The eviction protections that Meadows and Mnuchin said they proposed to Democratic leaders in a meeting would last through the end of this year. Democrats want them extended until March 27, 2021—one year after the CARES Act became law.
Mnuchin and Meadows also set a deadline for week's end to try and reach a final agreement on a broader relief bill that would address extending the federal unemployment insurance boost. But that's an ambitious timeline, given Senate Republicans remain divided over if and how to provide more aid. In addition, Democrats want to spend more than three times what Republicans have proposed.
"The president's not only very concerned about the expiration of unemployment insurance but renters being evicted," Mnuchin told reporters at the Capitol after meeting with top Democrats. "He wants to make sure it's something we get taken care of."
The Trump officials' offer was the first sign of concrete progress made during negotiations in at least a week, as GOP senators began to feel talks had come to an impasse. Democrats refused to budge on their push for a broader stimulus that stretches beyond enhanced jobless benefits.
However, the Treasury secretary emphasized that both sides remained far from a final agreement.
"We want to be very clear: We're not at the point of being close to a deal," Mnuchin said.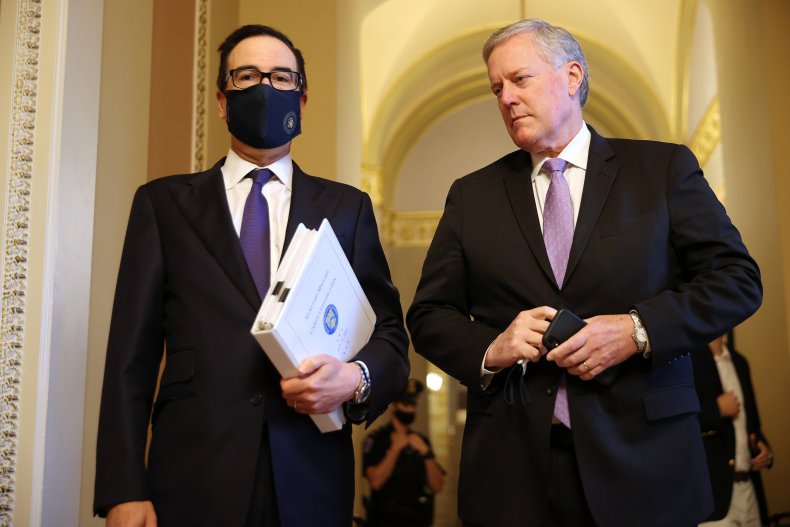 House Speaker Nancy Pelosi (D-Calif.) and Senate Minority Leader Chuck Schumer (D-N.Y.), who met with Mnuchin and Meadows, concurred. Schumer said both sides made unspecified concessions. Still, they remained what seems like miles apart.
"We're still far away on a lot of the important issues," Schumer said, flanked by Pelosi. "But we're continuing to go at it."
The four officials will meet again Wednesday.
The offer to Democrats also comes amid threats from President Donald Trump that he will take executive action to unilaterally provide relief if talks fatally stall, including to suspend evictions.
"People are being evicted very unfairly. It's not their fault, it's China's fault," Trump told reporters at a press conference. "The only thing [Democrats] really wanna do is bail out states that have been poorly managed by Democrats."
Economic relief is still likely weeks away, assuming Congress can eventually pass legislation. Senate Appropriations Committee Chairman Richard Shelby (R-Ala.) expressed skepticism over the notion they could swiftly proceed to final passage of any bill because of procedural hurdles, such as drafting such weighty and complex legislation. Shelby suggested they would need at least several days, potentially a week, to craft a bill and get it to the president's desk.
Asked if it would be possible to approve a bill by Friday if a deal were reached Tuesday, Shelby responded: "Possible? That's a strong word."