Congress Eyes Infrastructure Projects Like 5G in Next Coronavirus Stimulus Phase
The next coronavirus stimulus from Congress is still a long way out from coming to fruition, considering a $2 trillion package was just approved on Friday. But lawmakers already have their sights set on what they might want to include in a fourth piece of legislation, including several infrastructure provisions.
Expanding digital infrastructure, like broadband internet and 5G, and access to clean water are on Democrats' wish list as the coronavirus pandemic has forced much of the globe to function remotely from the safe confines of one's own home. Upgrading America's technology infrastructure, lawmakers argue, would also better serve tele-health and remote classroom teaching.
"The initiatives that we have in terms of infrastructure relate directly to the challenge at hand," House Speaker Nancy Pelosi (D-Calif.) said on a call with reporters Monday. "We have an opportunity to do something that would have an impact as soon as possible."
The virus has only "revealed a lot of inadequacies with the nation's infrastructure," contended Rep. Frank Pallone (D-N.J.).
"We are reopening hospitals that were closed. We need more community health centers in rural areas," the Energy and Commerce Committee chairman said. "Hopefully, Republicans will understand that and say, 'look, we gotta relook this nation's infrastructure, and it links to the coronavirus.'"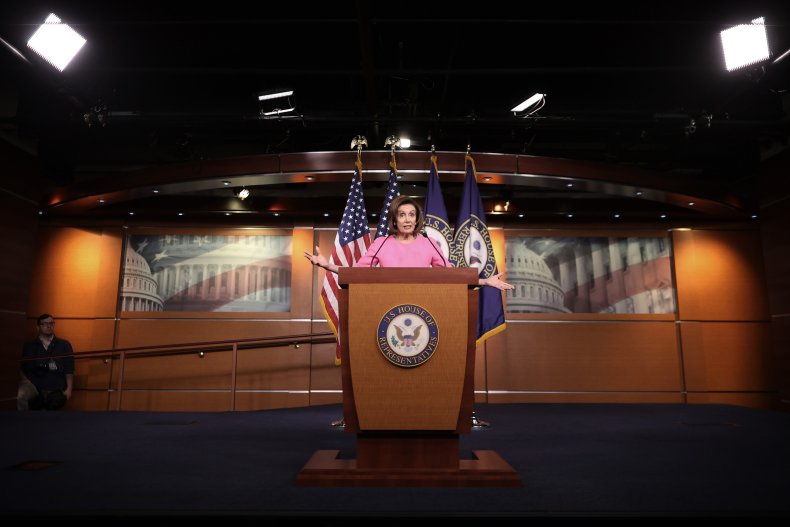 Members of Congress are looking for the next stimulus package—or Phase 4, as it's been dubbed—to act as a "recovery" piece of legislation that will likely take form a few months down the road as lawmakers won't return until the end of April, at the earliest.
And the prospect of remote voting is off the table, Pelosi told reporters, citing the challenges of implementing such a new system and passing the necessary rules changes.
"Let's not waste too much time on something that's not going to happen," she said.
Republicans have expressed a similar willingness to focus on infrastructure in Phase 4. For example, Sen. John Barrasso (R-Wyo.), a member of leadership, has told Newsweek he'd like to see his bipartisan bill to invest $287 billion in roads and bridges be included. And Senate Appropriations Committee Chairman Richard Shelby (R-Ala.) has proposed a $1 trillion infrastructure boost.
"That has always been bipartisan, and we will proceed in bipartisan way," Pelosi said.
However, Republicans are more hesitant to immediately jump to the next stimulus. The White House has signaled it will support another package, but its GOP allies on Capitol Hill would like to first see how Phase 3 plays out.
"I'm not sure we need a fourth package," House Minority Leader Kevin McCarthy (R-Calif.) said Sunday on Fox News. "Before we go to start drafting a fourth package, I'd like these three packages we just put out—remember, it's more than $2 trillion, the largest we've ever seen—to take care and get this economy moving."
In its $2 trillion stimulus, Congress included a $180 billion chunk of money for hospitals, part of which is meant for improving health care infrastructure at facilities. States will receive infrastructure grants that total $25 billion.
Also included in that third piece of coronavirus legislation were individual checks for Americans, corporate bailouts, money for small businesses and a boost to unemployment benefits. The first package focused on medical funding while the second ensured free virus testing and paid sick leave.