House Approves Final Coronavirus Stimulus After Thwarting Last-Minute Block by Republican Thomas Massie
The House passed a massive rescue package for the American economy amid the coronavirus pandemic on Friday—shooting down a high-profile effort by a Republican representative to block it.
The effort by Rep. Thomas Massie of Kentucky to force a recorded vote in lieu of a voice vote on a $2 trillion economic stimulus was shot down with bipartisan support, an extraordinary phenomenon for a chamber so consistently split by bitter partisan politics.
"I came here to make sure our republic doesn't die by unanimous consent in an empty chamber," Massie said, triggering groans from Democrats who said to "look around" at the filled room. He accused lawmakers of trying to subvert accountability and later told reporters there was "a big cover-up."
"They're trying to protect the members who are there from political ramifications," Massie continued. "If they're telling people to drive a truck, bag groceries and grow food, by golly, they could be in there and they can vote."
The legislation was eventually passed by voice vote, which was approved by the Senate Wednesday with unanimous support and was swiftly signed by the president Friday. That means checks to Americans, expanded unemployment benefits and relief for businesses could be coming in a matter of weeks.
Massie's concerns stemmed from what the $2 trillion stimulus would mean for the national debt and how American taxpayers in the future would be forced to foot the bill.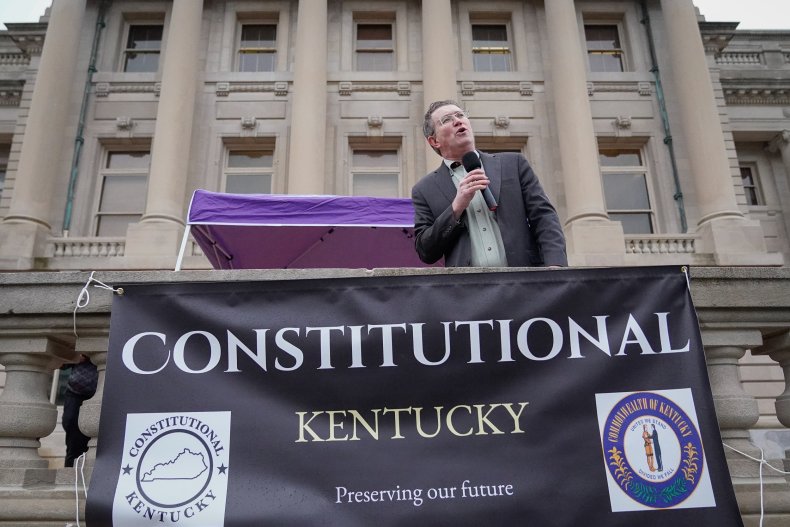 The ability to thwart Massie's effort was the culmination of hundreds of members of Congress, who spread themselves out among the seats down on the floor and above in the public gallery in order to muster a majority while practicing social distancing. Attempts by House Speaker Nancy Pelosi (D-Calif.) and Minority Leader Kevin McCarthy (R-Calif.) to persuade him not to call for a recorded vote just minutes before fell on deaf ears.
Despite the brief opposition, the bill had overwhelming bipartisan support. The legislation will provide many Americans with $1,200 checks, expands unemployment insurance, bails out large corporations, gives funding to small businesses teetering on the edge of existence and boosts relief for state and local governments.
"Let us again return to the words of his holiness, Pope Francis," Pelosi said. "May we enlighten those responsible for the common good so that they may know now to care for those entrusted to their responsibility."
"The virus is here. We did not invite it. We did not ask for it. We did not choose it," said McCarthy. "But we will fight it together until we win together."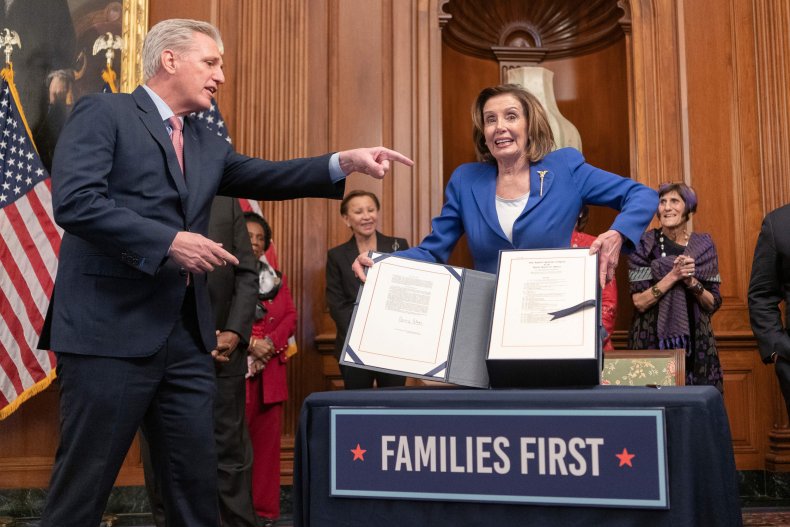 The original intention was for the legislation to be passed by voice vote with only a skeleton crew of members needed. But lawmakers were forced to scramble back to Washington, D.C., after it became clear Thursday evening that Massie would block such a procedure, forcing hundreds of members to return and ensure there was a majority present to get the bill across the finish line.
Massie's decision infuriated his colleagues on both sides of the aisle, who accused the Kentucky Republican of putting people's health and safety at risk. And the frustration was not exclusive to those in Congress.
President Donald Trump even weighed in, lambasting Massie as a "third rate Grandstander" and a "do nothing Kentucky politician" who was only seeking "publicity." Trump went so far as to say he should be booted from the Republican Party.
"I'm at least second-rate," Massie later quipped to reporters.
Massie is no stranger to stirring up controversy. He was one of four House members to oppose a bill last month that would have deemed lynching a federal hate crime, citing government overreach. And last year, he delayed the final passage of billions of dollars in disaster relief aid by again objecting to a voice vote.
Congress will now depart from Washington until after Easter as the country continues to hunker down and await the pandemic to subside. But lawmakers have their sights set on yet another stimulus package that's been dubbed Phase 4, which will begin to take concrete form in the coming weeks and months.
That legislation could touch on a wide variety of topics, including pensions, student debt, medical funding and the economy.