Congress Members Slam Donald Trump After He Threatens California and Blames Governor Newsom for Wildfires
Congressional representatives have rushed to the defense of California Governor Gavin Newsom after President Donald Trump threatened to pull federal funding from the state, which has been hit by devastating fires.
California wildfires have burned tens of thousands of acres over recent weeks, with more than 72 percent of fires being contained as of Saturday.
There have been at least three confirmed casualties linked to the fires thus far, and thousands people have been forced to flee their homes, hundreds of which have been destroyed.
In updates posted to Facebook overnight, the Cal Fire Department for Forestry and Fire Protection said the ongoing Maria and Kincade fires covered more than 87,000 acres combined, and were 70 percent and 78 percent contained respectively.
In a tweet on the situation on Sunday, President Trump hit out at Newsom, saying he would "no more" get "$$$ help" from the federal government.
He also claimed to have told the California governor to "clean" forest floors in California when they first met and accused him of doing "a terrible job of forest management," despite several of the fires this year not occurring on forested land, according to the BBC.
Speaking to the White House press corps about Newsom and the California fires yesterday, the president added: "The governor doesn't know—he's like a child. He doesn't know what he's doing. And I've been telling this for two years: They've got to take care of it."
Responding to the president, Governor Newsom yesterday tweeted: "You don't believe in climate change. You are excused from this conversation."
In a statement sent to Newsweek, Newsom also said authorities were "successfully waging war against thousands of fires started across the state in the last few weeks due to extreme weather created by climate change," adding that President Trump was "conducting a full on assault against the antidotes."
His office also noted that the federal government was the "largest landowner in the state," owning more than half of California forestland while the state government possessed just 3 percent.
Governor Newsom was also backed up by members of congress, with California Rep. Ted Lieu tweeting: "Dear @realDonaldTrump: Your federal agencies own the majority of the forest land in CA. Our state only owns about 3%.
"So when you allege a 'terrible job' you are actually referring to yourself. Also, the causes of the fires vary. Please educate yourself."
Democratic primary candidate Kamala Harris, a senator vying to become her party's nominee facing Trump at the 2020 election, also weighed in behind Newsom.
"Raking leaves is as effective at combatting the climate crisis as your phone's spellcheck is at fixing your tweets," the California Senator said. "@GavinNewsom is doing his job. Maybe you should try it."
The Minnesota Senator Amy Klobuchar also kicked back against the president's social media comments, saying: "Millions of Californians are suffering—this isn't a time for pettiness and threats."
Trump's threat to California yesterday was not the first time the commander-in-chief has talked about withholding aid from the state in the wake of wildfires.
After the deadly Camp Fire killed more than 80 people in California last year, the Los Angeles Times reported that California authorities requested $72 million of reimbursements from the federal government after battling fires on land it owned.
But the Department of Agriculture and U.S. Forest Service refused to release $9 million of that sum owed to local fire departments.
"Billions of dollars are given each year, with so many lives lost, all because of gross mismanagement of the forests," Trump tweeted at the time. "Remedy now, or no more Fed payments!"
The graphic below, provided by Statista, illustrates the growing cost of battling wildfires in California.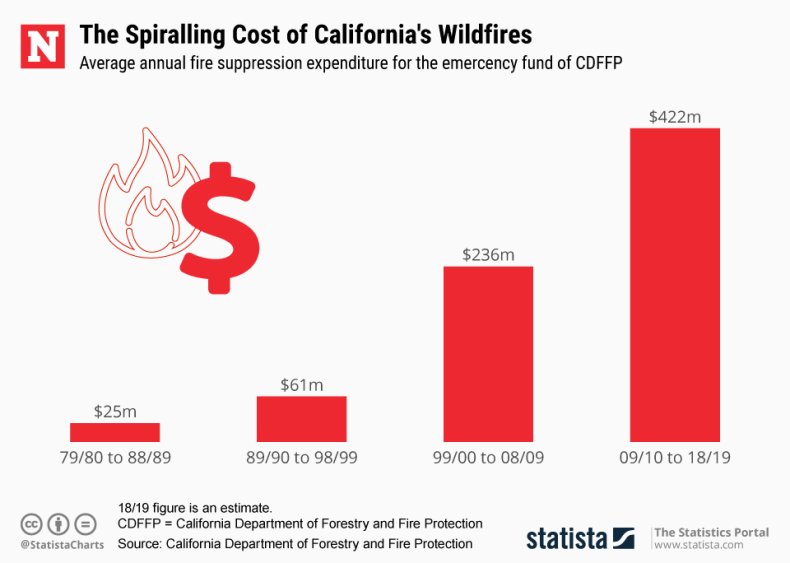 This article was updated to include an infographic.