Congress Should Refer Trump for Prosecution Over Jan. 6, Say 41% of Americans in New Poll
Forty-one percent of Americans believe that former President Donald Trump should be referred by Congress for prosecution for the events of January 6, 2021, new polling data shows.
Just over a year ago, Trump spoke at a large "Stop the Steal" rally of supporters near the White House in Washington, D.C. as Congress met in a joint session to certify the Electoral College victory of President Joe Biden. In that speech, Trump urged attendees to head to the U.S. Capitol and "fight like hell" to save their country. Hundreds of his supporters proceeded to do just that, believing the false claim that the 2020 presidential election had been stolen.
New polling conducted by The Economist and YouGov from January 2 to 4 shows that slightly more U.S. adults believe Trump should face prosecution for his actions that day than believe he should not.
The survey data showed that 41 percent answered "yes" when asked: "Should Congress refer President Trump for prosecution for obstructing Congress by trying to stop the certification of electoral votes in the 2020 Election?" Those who answered "no" totaled slightly less, at 39 percent. An additional 20 percent responded saying they were "not sure."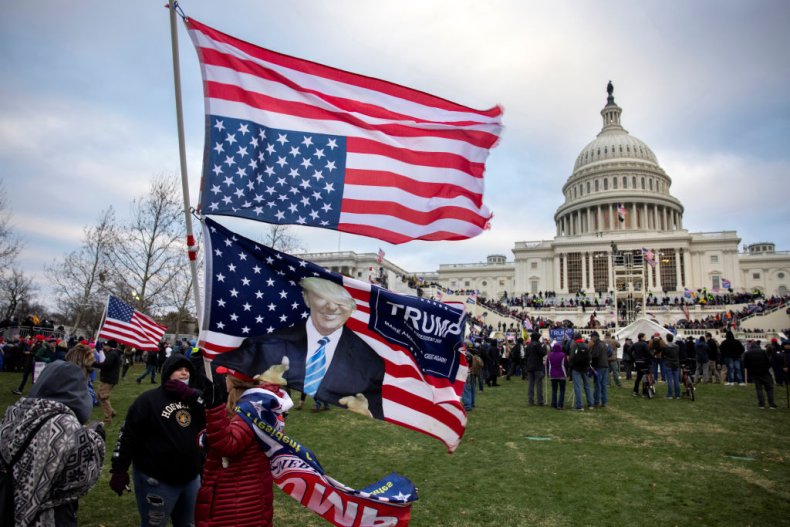 Notably, women were somewhat more likely than men to think Trump should face the referral from Congress. While 43 percent of women responded "yes," just 39 percent of males said the same. Minorities were more supportive of the former president facing prosecution as well. Some 55 percent of Black adults and 48 percent of Hispanics said Congress should refer Trump for prosecution.
The sample for the survey included 1,500 U.S. adults and had a margin of error of plus or minus three percentage points.
Whether Trump faces such a referral from Congress and prosecution from the Justice Department remains to be seen. Currently, a House select committee set up by House Speaker Nancy Pelosi, a California Democrat, continues to investigate the events of January 6. Trump and most Republicans have rejected the committee as overtly partisan, although two anti-Trump GOP lawmakers—Representatives Liz Cheney of Wyoming and Adam Kinzinger of Illinois—serve as part of the investigatory team.
While the investigation is ongoing, the lawmakers have been tight-lipped about what conclusions they will draw and whether a prosecution referral against the former president will move forward. However, Kinzinger has said he would hope that the Justice Department would pursue criminal charges against Trump if such a referral is made.
During an interview with MSNBC on Thursday, the GOP lawmaker was asked if he was "confident" Attorney General Merrick Garland would prosecute Trump if he received a referral from Congress.
"You know, I hope so. That's all I can say," Kinzinger responded. "We would expect that the Justice Department would."