Less Than a Third of Republicans Trust Government, Waning 20 Points Over Past Year: Poll
Less than a third of Republicans say they trust the U.S. government, a dramatic double-digit decline compared with a year ago, new polling shows.
Over the past year, former President Donald Trump and his conservative allies have repeatedly spread misinformation about the government and the 2020 election results. New polling from Morning Consult suggests that those falsehoods and conspiracy theories have resonated with Republican voters.
The survey results, published Thursday, show that while 48 percent of Republicans said they had "some" trust in the U.S. government in January 2021, that number has now plummeted to just 28 percent. That marks a decline of 20 points over the past year.
Meanwhile, trust in federal elections among Republicans has dipped as well. A year ago, 43 percent of GOP voters had "some" trust in the U.S. electoral system. Now, that amount has dipped by 8 percentage points to just 35 percent—or slightly more than a third.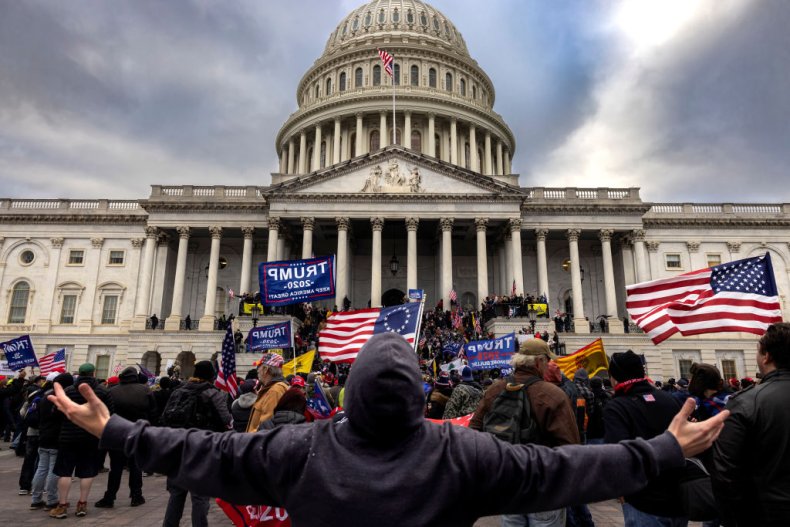 Across the board, the Morning Consult survey data found that Republicans' trust in a number of U.S. institutions has declined by small or large amounts. Trust in the Federal Reserve dipped by 18 percentage points, while trust in corporate America fell by 13 points. Even trust in the military dropped, by 8 percent.
The polling data was released one year after hundreds of Trump's supporters attacked the U.S. Capitol in an apparent effort to prevent the formal certification of President Joe Biden's Electoral College win. The mob of rioters carried out the assault after Trump told them at a nearby rally to head to the legislative building and "fight like hell."
The crowd of Trump supporters was largely animated by the former president's false claim that the 2020 presidential election result was "rigged" or "stolen" in favor of Biden. Although Trump and many of his allies continue to promote this misinformation, they have not brought forward evidence substantiating the allegation.
To the contrary, more than 60 election challenge lawsuits filed by the former president and his supporters failed in state and federal courts. Even judges appointed by Trump dismissed the legal challenges. Meanwhile, audits and recounts across the country—including those in states where pro-Trump conservatives oversaw the election—have consistently reaffirmed Biden's victory.
Despite these facts, polls have repeatedly shown that a substantial majority of Republican voters do not believe Biden is the legitimately elected president. Trump continued to push the baseless narrative that the 2020 election was "rigged" in official statements released on the anniversary of the Capitol attack.
In a Thursday statement, the former president questioned why the House select committee investigating the January 6 riot is "not discussing the rigged Presidential Election of 2020." Trump contended that this is "because they don't have the answers or justifications for what happened."
On Thursday, Biden called out Trump and his false claims about the last presidential election.
"We must be absolutely clear about what is true and what is a lie," the president said in a speech marking the anniversary of the Capitol assault.
"And here is the truth: The former president of the United States of America has created and spread a web of lies about the 2020 election. He's done so because he values power over principle, because he sees his own interests as more important than his country's interests and America's interests, and because his bruised ego matters more to him than our democracy or our Constitution," he said.
The Morning Consult surveys were conducted from January 4 to 5 and December 31, 2021. The poll results have a margin of error of plus or minus 4 percentage points.