Republican Rifts on Full Display as GOP Lawmakers Respond to One-Year Jan. 6 Anniversary
Rifts within the Republican Party were on full display Thursday as the nation marked the anniversary of the January 6 attack on the U.S. Capitol.
A year ago, hundreds of then-President Donald Trump's supporters assaulted the federal building in an apparent effort to disrupt the formal certification of President Joe Biden's Electoral College victory. Divisions within the GOP have widened since that day, with some lawmakers within the party blaming Trump for the violence while others continue to support and defend the former president.
The range of views expressed by Republicans in Congress varied on Thursday, with some condemning Trump and others attacking Biden and Democrats for focusing attention on January 6. Other GOP lawmakers remained silent, while many condemned the mob of rioters without mentioning the former president.
Although Senate Minority Leader Mitch McConnell previously condemned Trump for the January 6 attack, he did not mention the former president in his Thursday statement.
"The United States Capitol, the seat of the first branch of our federal government, was stormed by criminals who brutalized police officers and used force to try to stop Congress from doing its job. This disgraceful scene was antithetical to the rule of law," the Kentucky Republican said in remarks posted on his website.
"One year later, I am as grateful as ever for the brave men and women of the U.S. Capitol Police who served our institution bravely that day and every day since. I continue to support justice for those who broke the law," McConnell said.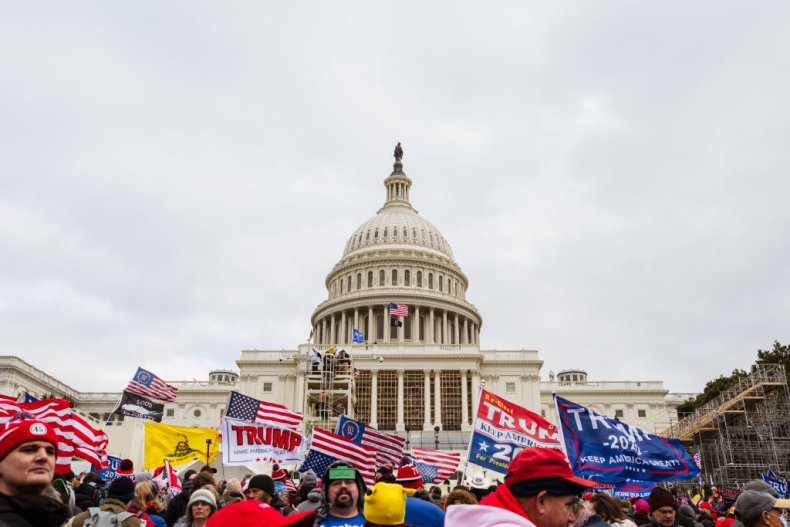 McConnell added that "the Senate did not bend or break. We stuck together, stood strong, gaveled back in, and did our job." He also suggested that Democrats were attempting to exploit the assault on the Capitol for partisan goals.
"It has been stunning to see some Washington Democrats try to exploit this anniversary to advance partisan policy goals that long predated this event. It is especially jaw-dropping to hear some Senate Democrats invoke the mob's attempt to disrupt our country's norms, rules, and institutions as a justification to discard our norms, rules, and institutions themselves," he said.
Representative Liz Cheney, a Wyoming Republican, did not mince words in condemning Trump and fellow GOP lawmakers who have downplayed the riot. Cheney served as the No. 3 House Republican until she was ousted last May because of her criticism of the former president and fellow GOP lawmakers who continue to support him.
"It's very important, if you look at what's happening today in my party, the Republican Party," Cheney said during a Today show interview Thursday.
"Rather than reject what happened on [January] 6th, reject the lies about the election and make clear that a president who engaged in those activities can never be president again, unfortunately too many in my own party are embracing that former president, are looking the other way, are minimizing the danger," she said.
The congresswoman warned that Trump continues to be a "threat" to the country. Cheney also said the former president "continues to make the same claims that he knows caused violence on January 6."
Meanwhile, GOP Representative Elise Stefanik of New York—who replaced Cheney in May as chair of the House Republican Conference—condemned the January 6 violence and attacked Democrats.
"I have consistently stressed that there is no place in our country for violence in politics on either side. I condemned those who broke into the Capitol last year, and I'm grateful for the heroic efforts of police and first responders who kept us safe that day, and who keep our communities safe every day," Stefanik said in a statement posted to her website.
The congresswoman slammed House Speaker Nancy Pelosi and criticized the Democratic leadership in Washington. "The damage created by less than one year of total Democrat control in Washington is staggering, and is devastating hardworking families across America," she said.
Republican Representatives Matt Gaetz of Florida and Marjorie Taylor Greene—two staunchly pro-Trump lawmakers—blasted the House select committee investigating the January 6 attack. Gaetz called the committee members "tyrants" on Twitter, while Greene said in a post that she does not "trust our government" because of the probe.
Senator Mitt Romney, a Utah Republican who voted to convict Trump in his first and second impeachment trials, warned that the country must learn lessons from the Capitol riot.
"We ignore the lessons of January 6 at our own peril. Democracy is fragile; it cannot survive without leaders of integrity and character who care more about the strength of our Republic than about winning the next election. I said last year that the best way we can show respect for voters who are upset is by telling them the truth," Romney said in a statement on his website.
"The responsibility that elected officials have in this regard is fundamental to reversing the malaise gripping our current politics and ensuring that our democracy endures," he added.
Trump and his conservative allies continue to falsely claim that the 2020 presidential election was "rigged" or "stolen" in favor of Biden. They have not provided any evidence substantiating the allegation, but polls show the majority of Republican voters believe the conspiracy theory—which Trump doubled down on in Thursday statements.
Representative Mo Brooks, an Alabama Republican who made controversial remarks at a "Stop the Steal" rally ahead of the January 6 attack, also reiterated his belief that the last presidential election was stolen. "#FakeNewsMedia, #Socialist #Democrats + #RINOs claim little to no voter fraud in America. Today is 1 year anniversary of voter fraud debate in Congress," Brooks tweeted on Thursday.
Despite Trump's and his allies' claims, voter fraud did not tip the 2020 race in Biden's favor. Former Attorney General William Barr, who was widely viewed as one of Trump's most loyal Cabinet members, asserted in December 2020 that there was "no evidence" to support that allegation after he had the Justice Department investigate. Furthermore, audits and recounts across the country—including in states where the election was overseen by pro-Trump Republicans—have reaffirmed Biden's win.
Senator Lisa Murkowski, an Alaska Republican who voted to convict Trump for inciting the January 6 attack in his February 2021 impeachment trial, blamed him again for spurring the violence.
"Today marks one year since the U.S. Capitol was stormed by a mob incited by our former president. Those of us who were there to fulfill our constitutional responsibilities can never erase what we saw and heard, nor will we ever forget the desecration and violence that took place," the GOP senator said in a statement.
"A year later, the sadness and anger of knowing that it was Americans who breached the center of our democracy, to thwart certification of a lawful election, remains with me," Murkowski added.
Meanwhile, Senator Lindsey Graham, a South Carolina Republican and key Trump ally, expressed shock that the rioters were able to enter the legislative building last year.
"Regardless of the reason for the assault on the Capitol, to lose control in such a fashion twenty years after 9/11 is stunning," Graham wrote on Twitter, without mentioning Trump.
"Those who defiled the Capitol on January 6 are being prosecuted, as they should be," he wrote in a follow-up post. "I have consistently condemned the attack and have urged that those involved be prosecuted to the fullest extent of the law."
As for Trump, on Thursday he again promoted his false claims about the 2020 presidential election and blasted the House select committee investigating the attack on the Capitol.
"Why is it that the Unselect Committee of totally partisan political hacks, whose judgment has long ago been made, not discussing the rigged Presidential Election of 2020? It's because they don't have the answers or justifications for what happened," he said.
Two Republicans—Cheney and Adam Kinzinger of Illinois—are members of the select committee.
"They want all conversation concerning the Election 'Canceled.' Just look at the numbers, they speak for themselves. They are not justifiable, so the complicit media just calls it the Big Lie, when in actuality the Big Lie was the Election itself," Trump said.
Former GOP Vice President Dick Cheney, who served under former President George W. Bush from 2001 to 2009, shared a starkly different perspective. The prominent Republican visited the Capitol with Liz Cheney, his daughter, on Thursday and participated in a moment of silence commemorating the tragic assault. He took aim at the current Republican leaders of the House.
"It's not leadership that resembles any of the folks I knew when I was here for 10 years," the former vice president told reporters. He previously served as a member of the House from 1979 to 1989 and in House GOP leadership from 1987 to 1989.