Former Republican VP Dick Cheney Slams GOP Leadership on Jan. 6: 'Deeply Disappointed'
Former Vice President Dick Cheney, a Republican, criticized current House GOP leaders as he visited the U.S. Capitol on Thursday to mark the one-year anniversary of the January 6, 2021 riot.
Cheney served as vice president for eight years under former President George W. Bush from 2001 to 2009. Prior to that, Cheney represented Wyoming in the House of Representatives from 1979 to 1989, serving as the Republican House Minority Whip in early 1989 and the chair of the House Republican Conference from 1987 to 1989.
He participated in a moment of silence commemorating the anniversary of January 6 in the House chamber on Thursday, telling reporters that he came to the U.S. Capitol in support of his daughter, Wyoming Representative Liz Cheney. He strongly criticized current House Republican leaders' response to last year's violence.
"It's not leadership that resembles any of the folks I knew when I was here for 10 years," Cheney said, according to CNN journalist Ali Zaslav, who shared a photo of the former vice president speaking to reporters on Twitter.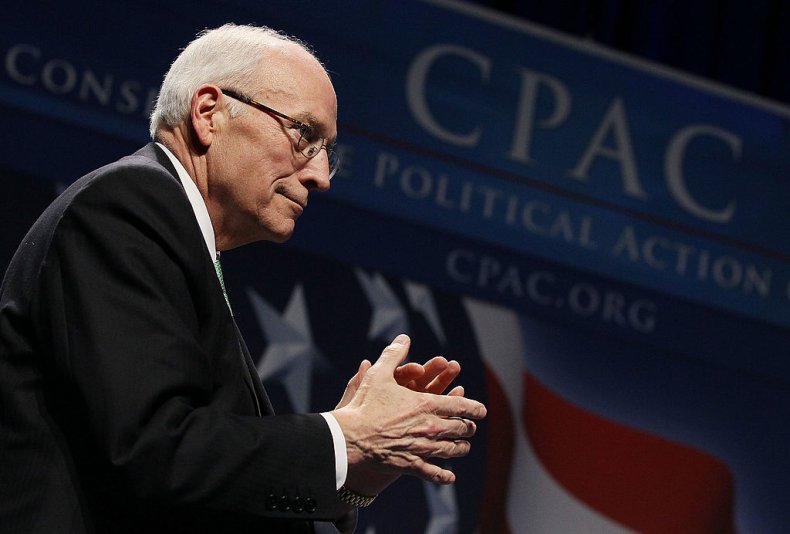 ABC News' chief Washington correspondent Jonathan Karl tweeted that Cheney made a similar assessment in remarks to him. "I'm deeply disappointed we don't have better leadership in the Republican party to restore the Constitution," Cheney said.
Cheney also told Karl that January 6, 2021, was "an important historical event" and that "you can't overestimate how important it is."
Liz Cheney followed in her father's footsteps and served as chair of the House Republican Conference until she was ousted from that leadership role in May 2021. The GOP congresswoman was removed due to her opposition to former President Donald Trump as well as her criticism of Republicans who continue to support his leadership of their political party.
The Wyoming lawmaker became the first House Republican to voice support for Trump's second impeachment in January 2021 after his supporters violently attacked the U.S. Capitol in an apparent effort to disrupt the formal certification of President Joe Biden's Electoral College victory.
"There has never been a greater betrayal by a President of the United States of his office and his oath to the Constitution," she said last January while announcing her intention to vote to impeach Trump. She was joined by nine other House Republicans.
In remarks to the Today show on Thursday morning, the congresswoman warned that Trump is still a "threat." Cheney said that the former president "continues to make the same claims that he knows caused violence on January 6."
She also took aim at fellow Republicans who have "minimized" the violence of January 6. "Anyone who denies the truth of what happened, they ought to be ashamed of themselves," Cheney said, asserting that "history is watching, and history will judge them."
Cheney now serves as the vice-chair of the House select committee investigating the January 6 riot.
Newsweek reached out to the top three House Republican leaders, Representatives Kevin McCarthy, Steve Scalise and Elise Stefanik, for comment.