Former President Donald Trump attacked Senate Minority Leader Mitch McConnell in a Saturday statement, saying the Kentucky Republican is the "best thing that ever happened" to Democrats.
Tensions have simmered between Trump and McConnell in the wake of the 2020 election, with the top Senate Republican condemning the former president for the violence of the January 6 attack against the U.S. Capitol. Trump has repeatedly attacked McConnell since then, suggesting that he should be ousted from his leadership role by fellow GOP senators.
"The Democrats are now on a new kick with their so-called Voting Rights Bill, which is a disaster for our Country and certainly the Republican Party. The problem is, good old Mitch gave away our primary negotiating weapon—the debt limit, and he got nothing for it," Trump argued in the Saturday statement shared to Twitter by his official spokesperson Liz Harrington.
"This is Democrat controlled legislation that will make it virtually impossible for Republicans to win elections. It is a scam, as is everything else being put forth by the Democrats. McConnell is the best thing that ever happened to them!" the former president said.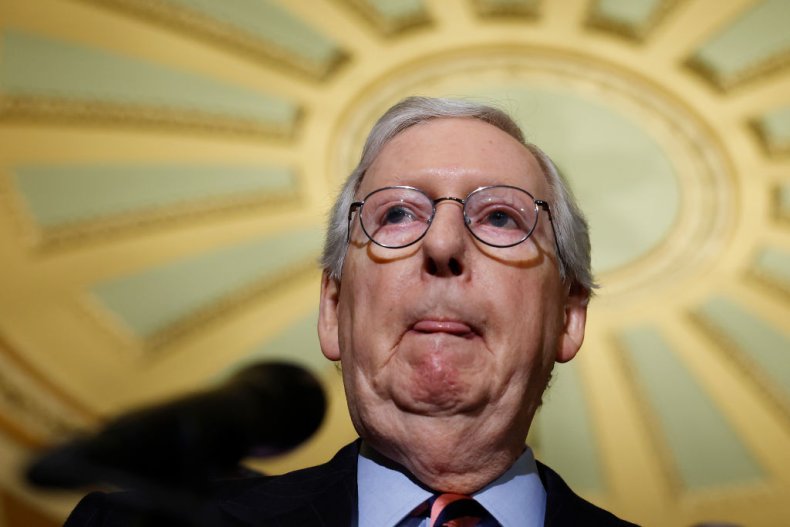 McConnell reached an agreement with Senate Majority Leader Chuck Schumer, a New York Democrat, earlier this month that allowed the debt limit to be lifted through a simple majority vote. Although no Republicans voted to approve the debt ceiling hike, McConnell and 13 other GOP senators voted to advance the deal, paving the way for Democrats to approve the increase on their own.
While Democrats are attempting to pass key voting rights legislation, it's unclear whether there is a path forward in the evenly-split Senate. Due to the Senate's legislative filibuster rule, most bills need the backing of at least 60 senators in order to become law. With just 50 members of the Senate's Democratic Caucus, and near unanimous GOP opposition to the proposed voting rights legislation, advocates have called for eliminating or reforming the filibuster.
Although Trump has said that Republicans would be hurt by the passage of voting rights legislation, it's unclear that his assessment is correct. Virginia had approved many of the election reforms that Democrats are now hoping to pass at the federal level, but Republicans still won big in the elections there in November.
Trump's feud with McConnell began after the top Senate Republican declined to forcefully back his false claims of widespread voter fraud in the 2020 election. After the January 6 attack against the legislative branch of government carried out by the former president's supporters, McConnell didn't mince words in blaming Trump for the violence.
"There's no question—none—that President Trump is practically and morally responsible for provoking the events of the day. No question about it. The people who stormed this building believed they were acting on the wishes and instructions of their president," McConnell said during a Senate floor speech in February.
Trump quickly fired back with his own statement, attacking McConnell.
"Mitch is a dour, sullen, and unsmiling political hack, and if Republican Senators are going to stay with him, they will not win again," the former president said. Since then, he has suggested that McConnell only won re-election because of his support and that he should be removed from his leadership role.
"Yeah, well, I want to thank him for the 15-point margin I had in 2014 as well," the Senate Minority Leader quipped in March. McConnell made the sarcastic comment after a reporter asked him about Trump's claim that he only won re-election due to the former president's support.
On Wednesday this past week, Trump attacked McConnell in a statement and argued he should not be leading Senate Republicans.
"How this guy [McConnell] can stay as Leader is beyond comprehension," Trump said, claiming the assessment was "coming not only from me, but from virtually everyone in the Republican Party."
Trump allies—including former White House strategist Steve Bannon and GOP Representative Marjorie Taylor Greene of Georgia—have attacked McConnell as well.
"Here's what your legacy will be. People are going to throw up in their mouth," Bannon said, directing the remarks at McConnell, during a Friday episode of his War Room podcasts. "You have betrayed the Republican Party. You've betrayed this movement. You're only there because of Trump. You never had any loyalty."
"The House of Representatives is voting after midnight tonight because @LeaderMcConnell allowed Democrats to bi-pass the filibuster and ram through the debt ceiling increase to $31.5 TRILLION," Greene tweeted this week. "Mitch is Biden's b*tch," she wrote.