Despite former President Donald Trump's criticism and opposition, 14 Republican senators voted to break the filibuster and advance legislation that will allow Democrats to raise the debt ceiling through a "fast-track" simple majority vote.
The vote came after an agreement between Senate Minority Leader Mitch McConnell, a Kentucky Republican, and Senate Majority Leader Chuck Schumer was reached this week. Although Republican senators are not expected to vote in support of increasing the debt ceiling, the Thursday vote required at least 10 Republicans to break the filibuster and allow the bill to move forward.
The vote to break the filibuster came in at 64-36, with all members of the Senate's Democratic caucus voting in favor. McConnell was joined by 13 fellow Republicans in voting to break the filibuster, including Senator John Barrasso of Wyoming, Roger Wicker of Mississippi, Shelley Moore Capito of West Virginia, Susan Collins of Maine, Roy Blunt of Missouri, Thom Tillis of North Carolina, Lisa Murkowski of Alaska, Richard Burr of North Carolina, Joni Ernst of Iowa, John Cornyn of Texas, Mitt Romney of Utah, Rob Portman of Ohio and John Thune of South Dakota.
Prior to the Thursday vote, Trump condemned McConnell and Republicans for allowing the Democrats to raise the debt ceiling.
"Mitch McConnell just folded on the Debt Ceiling, a total victory for the Democrats," the former president said in a Wednesday statement shared to Twitter by his spokesperson, Liz Harrington. "The Dems would have folded completely if Mitch properly played his hand," Trump added.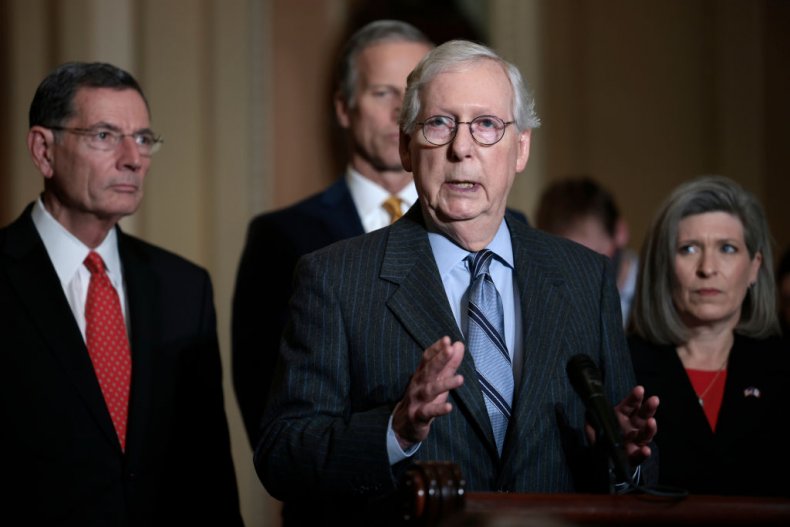 "He has all the cards to win, but not the 'guts' to play them," he concluded. Trump also called McConnell an "old crow" and a "disaster."
Newsweek reached out to press representatives for Trump and McConnell for further comment but did not immediately receive responses.
The House on Tuesday night approved a measure backed by McConnell that allows the Senate to raise the debt limit with a one-time simple majority vote, instead of requiring the usual 60 votes needed to overcome a Senate filibuster. However, McConnell had to convince at least 10 GOP senators to break the filibuster and allow the measure to pass. Now Democrats will improve a debt ceiling increase in a partisan vote. No Republicans are expected to support raising the debt ceiling.
Earlier this year, McConnell argued that Democrats should raise the debt ceiling on their own since they currently control the White House, the House and the Senate. He suggested that GOP lawmakers would not help them to increase it.
"With a Democratic president, a Democratic House and a Democratic Senate, Democrats have every tool they need to raise the debt limit. It is their sole responsibility. Republicans will not facilitate another reckless, partisan taxing and spending spree," he tweeted in mid-September.
Other pro-Trump Republicans have also been critical of McConnell and fellow GOP lawmakers working with Democrats to allow them to pass the increase. "Senate GOP leadership joined with corrupt Democrat leadership to suspend the filibuster," Representative Lauren Boebert, a Colorado Republican, said in a Tuesday Instagram video.
"Why are they doing this?" Boebert asked. "The swamp creatures are working together to raise the freakin' debt ceiling. This is totally corrupt and screws the American people right in their faces, blatantly in broad daylight."
Raising the debt ceiling is necessary to prevent the federal government from defaulting on its debt. Economists have warned that failure to increase the borrowing limit would have devastating effects on the economy, which is still recovering from the fallout of the COVID-19 pandemic. While Republicans have vocally opposed the debt ceiling increase under President Joe Biden's leadership, it was raised three times with bipartisan support under former President Donald Trump.