Trump Attacks 'Disaster' Mitch McConnell, Says Top Republican 'Folded' to Democrats
Former President Donald Trump again shared some blistering criticism of Senate Minority Leader Mitch McConnell after the top Republican lawmaker reached a deal with Democrats to allow for the federal debt ceiling to be increased.
McConnell, who represents Kentucky, and Senate Majority Leader Chuck Schumer, a New York Democrat, reached a deal that will see a number of Republicans vote to end debate on the debt ceiling increase. Then the legislation will be allowed to pass with just 51 votes. While no Republicans are expected to vote to approve raising the debt ceiling, at least 10 will vote to end debate and enable Democrats to pass the bill without their support.
Trump took issue McConnell's willingness to reach the compromise with Democratic leaders.
"Mitch McConnell just folded on the Debt Ceiling, a total victory for the Democrats," the former president said in an official statement posted to Twitter by his spokesperson Liz Harrington.
Trump argued that McConnell "gave the Democrats everything they needed."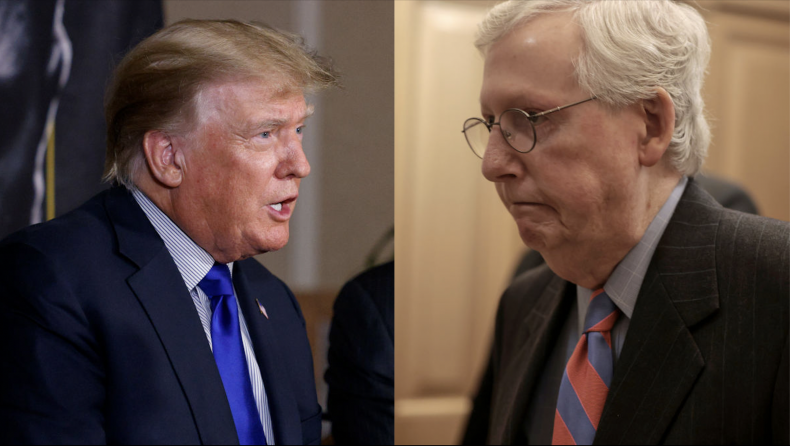 "The Dems would have folded completely if Mitch properly played his hand," he said.
"He has all the cards to win, but not the 'guts' to play them. Instead, he gives our Country away, just like he did with the two Senate seats in Georgia, and the Presidency itself. The Old Crow is a disaster!" Trump concluded.
McConnell and Trump have been increasingly at odds in the wake of the 2020 presidential election. The Kentucky Republican declined to back Trump's unconstitutional efforts to prevent the certification of President Joe Biden's Electoral College victory. He later condemned the former president after a mob of his supporters violently attacked the U.S. Capitol on January 6.
Although he did not vote to convict Trump in his second impeachment trial, McConnell did not mince words in blaming the former president for events of January 6. Trump was "practically and morally responsible for provoking the events of the day," he said in a Senate floor speech after the former president's trial.
Trump quickly responded, issuing a statement that blasted McConnell as "a dour, sullen, and unsmiling political hack."
Earlier this year, McConnell reached a compromise with Democrats for a previous temporary increase of the debt ceiling. That agreement gave Democrats about two months to find a longer-term solution but had required GOP lawmakers to vote in favor of the decision similar to now.
"Looks like the Democrats are getting far more than they ever dreamed possible, largely because of Mitch McConnell's idiotic move of giving in on the Debt Ceiling and giving them two months to get their act together," Trump said in November.
Later that month, Trump called on McConnell to step down from his leadership role due to his support for Biden's massive bipartisan infrastructure bill. The Senate Minority Leader and 18 other GOP senators voted in support of the legislation, which provides much needed funding for roads, bridges, broadband internet, public transportation and water systems across the nation.
"It's not infrastructure and we had 19 Republicans voting for it. What a shame. But Mitch McConnell gave this. That guy should resign as the leader," Trump said during a November 26 interview with Fox Business.
Newsweek reached out to McConnell's press secretary for comment but did not immediately receive a response.