Trump Fumes After McConnell Shrugs Off His Threats, Meets With Schumer on Debt Ceiling
Senate Minority Leader Mitch McConnell met with Majority Leader Chuck Schumer on Thursday to discuss putting partisan differences aside and moving forward on reestablishing America's debt ceiling. Former President Donald Trump wasn't pleased.
"We had a good discussion about several different issues that are all extant here as we move toward the end of the session, and we agreed to keep talking and working together," McConnell, a Kentucky Republican, said of his meeting with Schumer, a New York Democrat.
Since October the debt ceiling vote, which must be passed by December 15 in order to avoid a government default, has been pushed back as Republicans seek ways to derail the Biden administration's $1.7 trillion social safety bill. The debt ceiling was set to expire earlier and only was extended by two months after some Republicans agreed to end a filibuster that was holding up the vote.
America has never defaulted, and economists widely agree that such a move could spark an economic crisis. Trump has shrugged off such predictions, saying the passage of President Joe Biden's bill would have worse economic implications. Upon news of the McConnell-Schumer talks, the former president voiced his displeasure.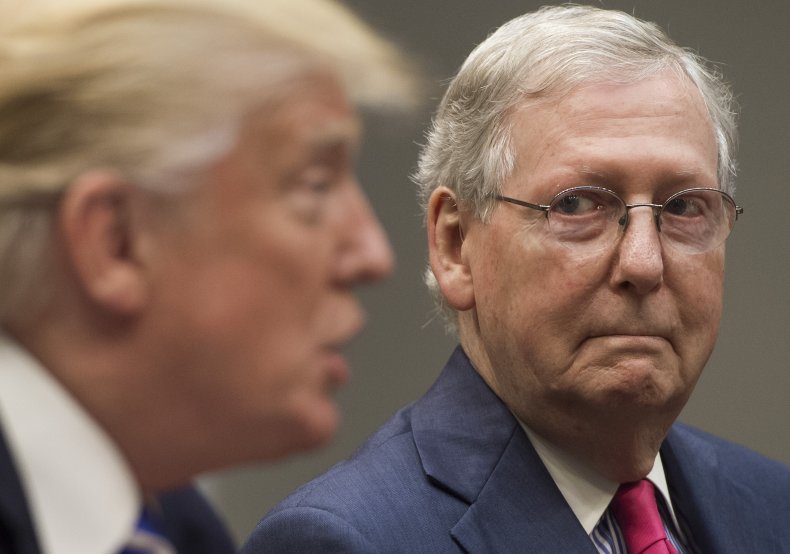 "Looks like the Democrats are getting far more than they ever dreamed possible, largely because of Mitch McConnell's idiotic move of giving in on the Debt Ceiling and giving them two months to get their act together," Trump wrote. "They are destroying our Country! We have been put in a much worse negotiating position, but we have the 'Trump Card,' and it's called the Debt Ceiling."
"If they don't drop this horrendous, Communistic style Bill that will be ruinous to all we stand for as a Country, we should not approve a Debt Ceiling increase. The Old Broken Crow [McConnell] has to be willing to play this hand, not like last time when he folded up like a cheap umbrella," Trump wrote. "McConnell should not have given a two month reprieve, but it is what it is. Win with the Debt Ceiling or resign!"
Trump has attacked McConnell a lot recently, calling on the minority leader to resign if Democrats succeed in passing Biden's social safety net bill. With the Democrats having a nominal majority in the Senate (50 senators plus Harris' tie-breaking vote), McConnell possesses little means to thwart the bill if Democrats rally behind it and elect to pass the measure through a reconciliation vote. Nonetheless, he has been the subject of Trump's ire since he placed blame on the former president for the January 6 Capitol insurrection.
Democrats passed the House version of Biden's $1.7 trillion Build Back Better bill on Friday morning. It awaits confirmation in the U.S. Senate, where its fate will likely hang on the votes of moderate Democratic Senators Joe Manchin of West Virginia and Kyrsten Sinema of Arizona. Manchin has remained quiet in where he stands on the current version of the measure.
"I'm still looking at everything," he told reporters. "When the final bill comes out, when the [Congressional Budget Office] score comes out, then we'll go from there."