Senate Filibuster in the Crosshairs Again as Democrats Push Voting Rights
After nearly a year of House and Senate rule, Democrats have yet to advance a number of key pieces of their and President Joe Biden's agenda. And the reason is a pesky foil they run up against time and time again: the Senate filibuster, which in a 50-50 split chamber requires bipartisan buy-in before most legislation can be taken up for debate.
The Senate's filibuster rule has forced Democrats to increasingly turn to work-arounds that allow them to pass legislation with a simple majority, which they can achieve with the 50 Democrats in the chamber and occasionally a tie-breaking vote from Vice President Kamala Harris. In a recent instance of side-stepping the filibuster rule, Democrats were able to raise the federal government's debt limit on a party-line vote, but only after a handful of Republicans gave them permission to do so.
Democrats continue to grapple with how to pass big-ticket agenda items that address their campaign promises, especially those that don't deal with the budget and can't be passed through the reconciliation process. Whether they should continue to chip away at the filibuster, or end it all together, has been a frequent subject since before Democrats took power in the 2020 elections. At the forefront of such discussions in recent weeks has been voting rights legislation that supporters say is crucial to protecting access as Republicans embrace tighter voting restrictions in some states and as new Congressional district maps are being drawn.
According to the non-partisan Brennan Center for Justice at the New York University School of Law, at least 19 states have enacted 33 new laws in the past year that have created stricter voter identification requirements, scaled back early voting periods, shortened vote-by-mail deadlines and implemented other new restrictions.
Supporters of such legislation argue that it's intended to prevent voter fraud. Opponents argue that it's meant to suppress voters, particularly people of color.
"We're all focused on it. We understand that the moment is urgent, and we've got to get this stuff done," U.S. Senator Raphael Warnock, a Georgia Democrat who has been at the forefront of the push for voting rights legislation, told reporters Thursday. "People on the left and the right agree that there's something awry, and yet we haven't had a debate about that."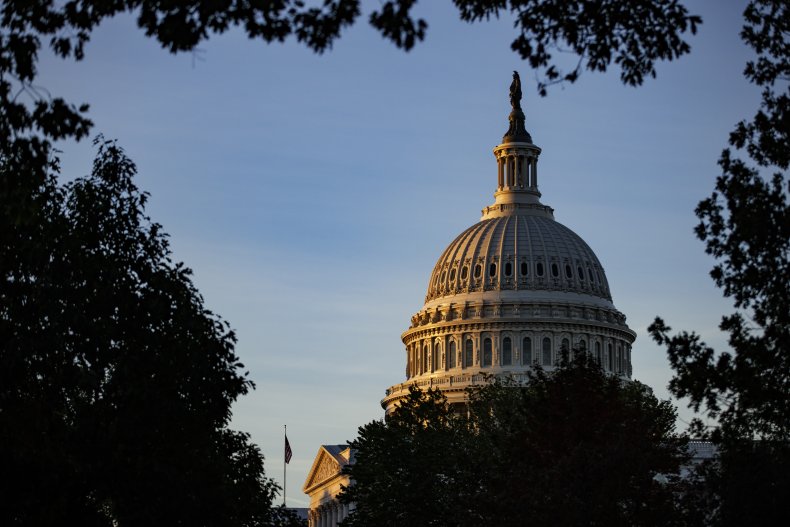 U.S. Senate Majority Leader Chuck Schumer, a New York Democrat, has said there is a "universal view" among Senate Democrats that legislation must be passed on voting and elections laws. This week, he reiterated that he thinks it's a "critical and urgent priority."
"The fight to protect voting rights is far from over in the Senate," Schumer said. "Just because Republicans will not join us to defend democracy does not mean that Democrats will stop fighting. This matter is too important not to act, even if it means we must act alone to get the Senate working."
Warnock is the first Black senator to represent Georgia, a state where Jim Crow-era laws and intimidation tactics have historically made it more difficult for Black voters to cast ballots. It is one of several states that previously had to seek federal approval for changes to election laws because of its discriminatory past, until 2013 when the Supreme Court struck down the preclearance requirement in the Civil Rights Act of 1965, deeming it outdated.
In an impassioned floor speech this week, Warnock stressed to his colleagues that he didn't understand how Democrats could agree to side-step Senate rules for items like raising the debt ceiling but not for voting rights.
"We changed the rules to protect the full faith and credit of the United States government. We've decided we must do it for the economy, but not for our democracy?" Warnock asked on the Senate floor. "While I deeply believe that both our democracy and our economy are important, I believe that it is misplaced to change the Senate rules only for the benefit of the economy when the warning lights on our democracy are flashing at the same time. I happen to believe that our democracy is at least as important as the economy."
His speech drew renewed attention to the issue, and Warnock later told reporters he believes a "robust conversation" is continuing and he hopes that senators can find a path forward by the end of the year, if not hold a final vote by then. However, the Senate is expected to soon go on its break for the holidays so that timeline seems unlikely.
Any effort to push through voting rights legislation would require buy-in from the full Democratic caucus, and at least two members—U.S. Senators Joe Manchin of West Virginia and Kyrsten Sinema of Arizona—have resisted efforts to bypass the Senate filibuster, which requires 60 votes for most legislative consideration in its current form. But both have voiced support for voting rights legislation laid out in two key bills—the John R. Lewis Voting Rights Act and the Freedom to Vote Act.
The bill named for civil rights icon and late Georgia Congressman John Lewis, who died in 2020, aims to restore parts of the 1965 Voting Rights Act that were struck down in 2013, including a requirement that certain states with histories of voter discrimination seek federal approval for most legislation regulating elections. The Freedom to Vote legislation, which was hashed out as a scaled-back proposal countering a more sweeping House-approved measure, would make voter registration easier, institute minimum early voting periods and allow federal legal challenges to new congressional maps in an effort to combat partisan gerrymandering that could effectively disenfranchise some voters.
Manchin, who oversaw state elections in West Virginia as their secretary of state from 2000 to 2004, met privately this week with groups of senators to try to forge a path forward, though he declined to discuss specifics when asked by reporters at the Capitol this week. "I'm just trying to make the Senate work," he said.
Sinema, meanwhile, has expressed concern that opening an avenue bypassing the filibuster to push through elections legislation would also be handing Republicans a tool they could use to push through their own legislative priorities if and when they ultimately regain control of the Senate.
A Sinema spokesperson said in a statement to Newsweek that the senator has always backed the 60-vote threshold to prevent "radical reversals in federal policy," but she's open to hearing a debate on the filibuster's future.
"If there are proposals to make the Senate work better for everyday Americans without risking repeated radical reversals in federal policy, Senator Sinema is eager to hear such ideas and—as always—is willing to engage in good-faith discussions with her colleagues," her spokesperson said.
Indeed, Republicans have sent warnings to their Democratic colleagues that they could face retribution if the GOP regains control.
Senator Lindsey Graham, a South Carolina Republican, told reporters Thursday that he resisted temptation to drastically change the filibuster rules when the GOP held Senate control in the last term.
"I've got zero sympathy for [the Democrats'] desire to change the rules to pass the most radical agenda in the history of the country," he said. "They've got a base that wants an agenda that's bad for the country, and the only way they can do that is change the flavor of the body."
The recent debt ceiling increase, achieved with a party-line vote, was made possible through a bipartisan agreement whereby several Republicans voted in favor of allowing Democrats to pass the bill with a simple majority vote. It was essentially a filibuster carve-out agreed to by Republicans who wanted to prevent the federal government from defaulting on its debt, but didn't want to have to vote for the $2.5 trillion bump itself.
It's doubtful that Republicans would cooperate in such a manner on a more contentious issue like voting laws.
To advance trillions in coronavirus recovery efforts and Biden's proposed expansion of the social safety net, the Senate turned to a process known as reconciliation that is limited to legislation regarding taxes and spending but requires only a simple majority vote.
Reconciliation isn't an option for election reform.
So Senate Democrats have been exploring other means to achieve the same ends, including requiring that their Republican colleagues actually speak the full time if they want to filibuster, rather than allowing a filibuster-by-default vote. They have also considered requiring 60 votes to cut off a debate, rather than to start a debate, so that Republicans will be forced to make floor arguments against legislation.
"I don't want to get into the weeds of the path, because it's a dynamic process," Warnock told reporters Friday. "But I do think that there is a sense that we are in a moment in a country where the American people don't even get to see us debate the issues that matter, like voting rights, and so I certainly would support a process where there's actual debate."
With a simple majority vote—which would require support from all 50 senators in their caucus—the Democrats could also adopt a filibuster exception specifically for voting rights. The chamber has made more than 160 such exceptions over the past five decades, including a GOP-driven effort in 2017 that paved the way for then-President Donald Trump's Supreme Court nominees to be approved on a simple majority vote, thus requiring no Democratic support.
"I don't participate that much in the Senate rules discussions, but I do know that there are three members of the Supreme Court whom Senator Mitch McConnell got there with the simple majority by taking exception to the filibuster," House Speaker Nancy Pelosi told reporters this week. "If those three people can have a job for life–affecting the lives of the American people—I don't see why we couldn't have legislation that stops the voter suppression."
The different approaches—allowing filibuster exceptions for certain items but not others—have also been frustrating for advocates who had hoped to see more movement on voting rights, as well as other Democratic priorities, including immigration, climate change and reproductive rights after Democrats won control of the House, Senate and White House in 2020.
"[Republicans] have been willing to make exceptions to the filibuster when it suits their agenda," Sean Eldridge, founder and president of Stand Up America, a grassroots non-profit that has advocated for the elimination of the filibuster, told Newsweek. "I think most Americans are watching and seeing that when our senators really care about something, they will find a way to get legislation passed. We saw that on the debt ceiling where senators made an exception to the filibuster to protect our economy."
Eldridge said that the year started with a lot of cynics who doubted that voting rights legislation had a shot at passing. But he's staying optimistic about recent talks and believes there has been progress.
"I think a lot of that [progress] is because of the public outcry we've seen across the country, including from our members, demanding action to protect our democracy and the freedom to vote," he said. "There's a coordinated attack on our democracy, and we really need Senate Democrats to fulfill their campaign promises."
Jennifer Victor, a political science professor at George Mason University, told Newsweek the Senate's move to gradually chip away at the filibuster, or find work-arounds, reflects how Congress often operates.
"That type of incrementalism is par for the course," she said. "Most of the time it's drip, drip, drip that eventually turns into a puddle."
Warnock said he at least wants a good-faith, open debate on the issue.
"We've said to our Republican friends, if you don't like this provision or that provision, let's talk about it, offer some amendments," he said. "Let us reason together, let us have a debate out in the open so that the American people can hear it."
He said he believes in bipartisanship but he hasn't seen serious interest from enough Republicans to advance the issue.
"If Democrats alone must raise the debt ceiling, then Democrats alone must raise and repair the ceiling of our democracy," Warnock said.
With the 2022 elections ahead, Democrats face a shrinking window. Election years, which require campaign travel, often produce little substantive legislation and the president's party historically loses seats in midterms. Recent polls have also reflected the uphill battle that Democrats face in holding onto their majorities, particularly in the House. Real Clear Politics' analysis of recent polls shows Republicans with an average advantage of 2.3 percentage points over Democrats when voters are asked which party they plan to vote for in the 2022 elections. FiveThirtyEight's analysis puts the GOP advantage at about 1.4 percentage points in the generic congressional vote query.
Supporters of Democrats' proposed voting rights legislation point out that new voting restrictions passed by Republican-controlled state houses around the country could end up tilting the scales in 2022, if Democrats don't find a way to counter them.
"It just makes no sense. If the rules are not working for people, we shouldn't just keep doing the same thing," said Eldridge, the Stand Up America leader. "The idea that we wouldn't act when we have an opportunity right now makes no sense to me, and I think it makes no sense to most Americans.