Mitch McConnell Poses 'Direct Challenge' to Trump, Has 'Betrayed' GOP: Steve Bannon
Senate Minority Leader Mitch McConnell, a Kentucky Republican, poses a "direct challenge" to former President Donald Trump and has "betrayed" the GOP, former White House strategist Steve Bannon believes.
Bannon, who served as the CEO of Trump's 2016 campaign and then as a chief strategist in the former president's administration, slammed McConnell during the Friday episode of his War Room podcast. His remarks came after McConnell gave an interview to Spectrum News this week in which he spoke favorably of the work being done by the House select committee investigating the pro-Trump January 6 attack against the U.S. Capitol, calling the events of that day "horrendous."
That raised some eyebrows as McConnell was among 35 Senate Republicans who blocked a bill in May to create a bipartisan commission to investigate the riot.
"He is a direct challenge to President Trump, and Trump is trying to lead this country through these horrible times," Bannon said. "Mitch McConnell, that dirt bag right there, gave the Biden regime $2.5 trillion to fund their madness."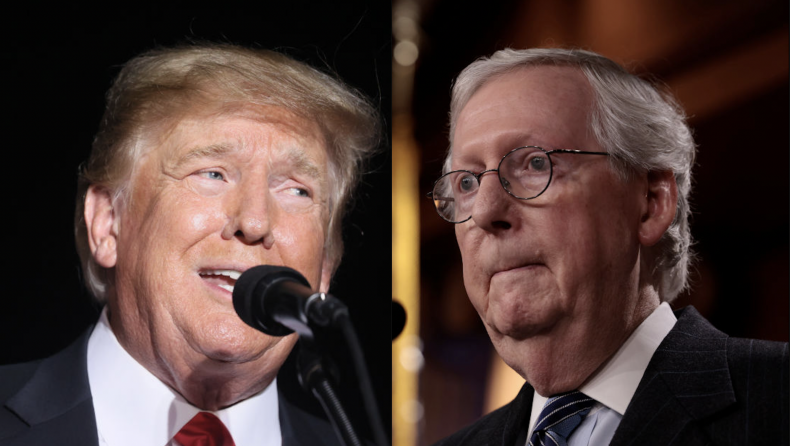 Earlier this month, McConnell struck a deal with Senate Majority Leader Chuck Schumer, a New York Democrat, to allow the debt ceiling to be lifted through a simple majority vote. While no Republicans voted to approve the debt ceiling increase of $2.5 trillion, McConnell and 13 other GOP senators voted to advance the deal that allowed Democrats to pass the increase with a simple majority vote. Trump and other pro-Trump GOP lawmakers have been highly critical of McConnell and the deal.
Bannon went on to predict that McConnell would not be the Senate majority leader again if Republicans take back the majority. Bannon said his prediction was "as sure as the turning of the Earth." He called McConnell a "little wimp," claiming that he "loves" being referred to as "leader."
"Here's what your legacy will be. People are going to throw up in their mouth," Bannon said, directing the remarks at McConnell. "You have betrayed the Republican Party. You've betrayed this movement. You're only there because of Trump. You never had any loyalty."
In an interview broadcast Thursday on Spectrum News, McConnell expressed interest in the work being done by the January 6 select committee in the House. He suggested he viewed their investigation as important.
"I think the fact-finding is interesting. We're all going to be watching it," the top Senate Republican explained. "It was a horrendous event, and I think what they're seeking to find out is something the public needs to know."
Trump and McConnell have repeatedly clashed following the January 6 attack against the U.S. Capitol. Hundreds of Trump supporters violently stormed the legislative building on that day in an apparent effort to prevent the formal certification of President Joe Biden's Electoral College victory. The assault came after Trump spoke at a nearby rally and urged his supporters to "fight like hell" after he had lied for months about the outcome of the 2020 election.
"There's no question—none—that President Trump is practically and morally responsible for provoking the events of the day. No question about it. The people who stormed this building believed they were acting on the wishes and instructions of their president," McConnell said during a Senate floor speech in February.
"The leader of the free world cannot spend weeks thundering that shadowy forces are stealing our country and then feign surprise when people believe him and do reckless things," he asserted.
The former president quickly fired back, attacking the top Senate Republican. "Mitch is a dour, sullen, and unsmiling political hack, and if Republican Senators are going to stay with him, they will not win again," Trump said. He has since repeatedly suggested that McConnell only won re-election because of his support—as Bannon suggested on Friday.
McConnell sarcastically mocked the claim from Trump in March comments to reporters. "Yeah, well, I want to thank him for the 15-point margin I had in 2014 as well," the GOP senator said with a laugh and smile.
This past Wednesday, Trump released an official statement saying, "How this guy [McConnell] can stay as Leader is beyond comprehension." The former president said his assessment was "coming not only from me, but from virtually everyone in the Republican Party."
"He is a disaster and should be replaced as 'Leader' ASAP!" Trump said.
Newsweek reached out to McConnell's press secretary for further comment but did not immediately receive a response.
Trump officially pardoned Bannon right before he left office on January 20. The former White House official had been charged with fraud connected to a crowdfunding campaign he had launched to fund the former president's much-touted border wall with Mexico. He has since become a key promoter of Trump's baseless claims that the 2020 election was "rigged" or "stolen" in favor of Biden.
Bannon was subpoenaed to testify before the House select committee investigating the January 6 attack against the Capitol, but he refused to comply. The House then voted—with some Republican support—to hold Bannon in contempt of Congress in late October. The Trump loyalist was then indicted by a grand jury last month.