Steve Bannon has been indicted for defying a subpoena from the House panel investigating the riot at the U.S. Capitol on January 6.
The Department of Justice (DOJ) announced Friday that Bannon was charged with one contempt count involving his refusal to appear for a deposition and a second count involving his refusal to produce documents to the select committee.
Bannon could face 30 days to one year in jail for each count of contempt of Congress, as well as a fine between $100 and $1,000.
"Since my first day in office, I have promised Justice Department employees that together we would show the American people by word and deed that the Department adheres to the rule of law, follows the facts and the law, and pursues equal justice under the law," Attorney General Merrick Garland said in a statement. "Today's charges reflect the Department's steadfast commitment to these principles."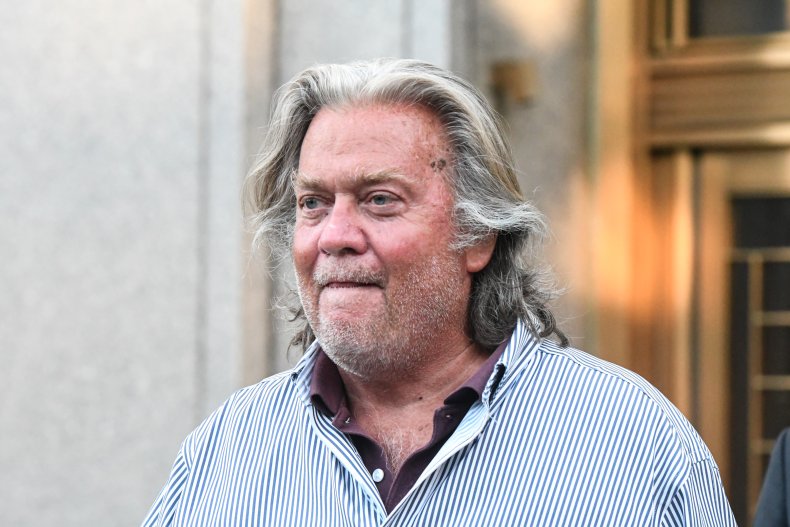 Bannon, once an adviser for former President Donald Trump, has refused to cooperate with lawmakers. The former White House official has argued executive privilege protects him from having to turn over records, even though he was not working in federal government when the Capitol riot took place.
Bannon was among the first wave of former Trump officials to be called by the January 6 committee to testify, along with former White House Chief of Staff Mark Meadows, former Deputy Chief of Staff Dan Scavino Jr. and ex-Pentagon Chief of Staff Kash Patel.
The full House of Representatives voted last month to hold Bannon in contempt, with nine Republicans joining Democrats in the vote. The matter was then referred to the DOJ.
The January 6 select committee said Bannon reportedly communicated with Trump on December 30, 2020, and urged him to focus his election efforts on January 6th. They also said Bannon reportedly attended a gathering at the Willard Hotel on January 5th, which served as a command center for efforts to block the certification of President Joe Biden's victory.
"Mr. Bannon is also quoted as stating, on January 5th, that '[a]ll Hell is going to break loose tomorrow," the committee said.
The House panel this week announced more targets of its investigation, including several advisors and allies of the former president. On the list were Trump adviser Jason Miller and the former president's onetime National Security Adviser Michael Flynn.
The committee has also issued orders to dozens of social media and technology giants to preserve their records in relation to the ongoing probe.
Representative Adam Kinzinger, one of two Republicans serving on the January 6 committee, told CNN he hopes the indictment against Bannon sends a "chilling message" to other witnesses who consider not cooperating.
"You may not like the investigation," Kinzinger said. "You may think nothing wrong was done, but you're not going to be able to avoid it, and that is important for the people of the United States to be able to have their voice heard, to be able to get answers through Congress."