Donald Trump Wants Mitch McConnell Ousted Over 'Unfrastructure' and 'Build Back Worse' Bills
Former President Donald Trump has issued a statement calling for the replacement of Republican Senate Minority Leader Mitch McConnell, blaming the longtime Kentucky senator for helping Democrats with their "unfrastructure" and "Build Back Worse" bills, both key aspects of President Joe Biden's agenda.
"Mitch McConnell has given away the Unfrastucture Bill and will soon be giving away the Build Back Worse Bill, which will change the very fabric of our society," Trump's Wednesday statement began. "This was all made possible by the two-month extension he gave the Democrats, the separation of the two Bills, and, most importantly, his lack of courage in playing the Debt Ceiling Card."
"He has grabbed defeat from the jaws of victory!" Trump's statement continued. "How this guy can stay as Leader is beyond comprehension—this is coming not only from me, but from virtually everyone in the Republican Party. He is a disaster and should be replaced as 'Leader' ASAP!"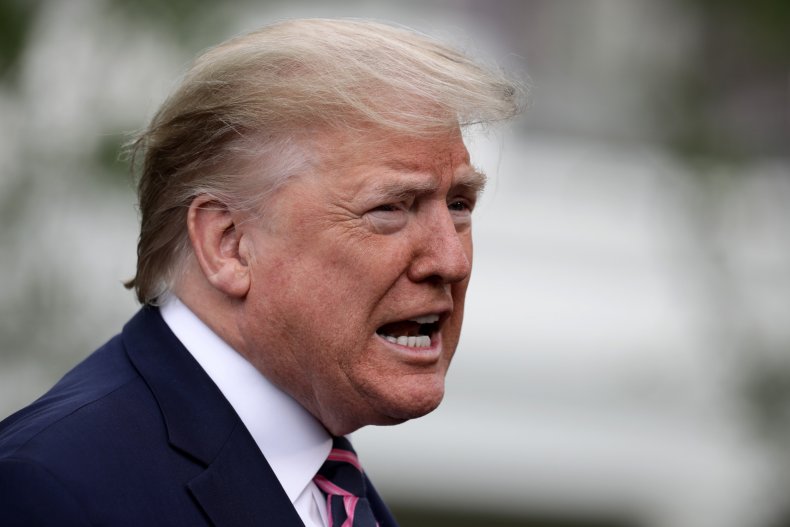 Trump's statement referred to McConnell's role in helping Democrats avoid a government shutdown over the debt ceiling.
McConnell had originally said that he wouldn't assist Democrats in raising the debt ceiling because they hadn't sufficiently discussed their future spending bills with Republican lawmakers.
However, in early October, McConnell gave Democrats a two-month extension to avoid a vote to raise the debt ceiling until December. He gave them the extension, he said, because he wanted Democrats to say the specific figure that they sought for the new debt ceiling. That amount was nearly $30 trillion, largely to pay for budget items approved during the Trump presidency.
McConnell had also said that he would force Democrats to raise the debt ceiling using a process called reconciliation, which would allow Democrats to pass measures through the Senate with a simple majority vote. He and other Republicans said they preferred reconciliation so that Democrats alone would be responsible for whatever consequences the debt increase might pose.
However, in early December, McConnell changed course. At that point, McConnell said that he would allow Democrats to avoid using reconciliation by finding 10 Senate Republican votes to approve a raising of the debt ceiling by Democrats using a one-time simple majority vote.
Some Republicans, like Trump, criticized McConnell's move for helping Democrats, since they can now use reconciliation to pass the $1.75 trillion "Build Back Better" human infrastructure bill. The bill is a hallmark of Biden's agenda and features funds for fighting climate change and expanding healthcare.
But McConnell and other Republicans had ample reason to assist Democrats in raising the debt ceiling. A U.S. government shutdown would cause global economic effects that would haunt both Republicans and Democrats in the midterm elections.
Nevertheless, Trump regularly criticizes any Republican who assists Democrats in their legislative aims.
In early November, Trump said that the 32 congressional Republicans who voted for a $1.2 trillion bipartisan infrastructure bill "should be ashamed of themselves." He also called them RINOs, an acronym for "Republicans in name only," an insult to GOP members who supposedly don't represent the party's values.