Congressman Eric Swalwell Outs 'Radicalized' Man Who Allegedly Threatened Him and His Family
Democratic California Representative Eric Swalwell has identified a "radicalized" man who allegedly threatened him and his family.
"A man DM'd I should be shot," Swalwell wrote in a Thursday evening tweet. "For my family's safety, I asked Twitter for help ID'ing him. When Twitter fell short (thanks for trying!) I asked the guy his name (stringing him a bit) & why he threatened me. Meet Jeremy Marshall who told me he was radicalized by Tucker Carlson."
Swalwell's tweet included screenshots of his direct message exchange with the man.
"Traitor hopefully u get hung one day" and "Traitor u should be shot," the man said in the first screen-shotted text exchange.
Swalwell then responded, "Hi! I'm Eric. What's your name?" After confirming that he was the actual congressman, and not an assistant, the man asked Swalwell about his connections to an "Asian spy."
The "Asian spy" the man mentioned is Christine Fang, a suspected Chinese intelligence operative who associated with the congressman in 2014 and 2015. While Swalwell's critics have accused him of being compromised by Fang and the Chinese government, Swalwell has said that he cut off ties with Fang once the FBI warned him about her in 2015.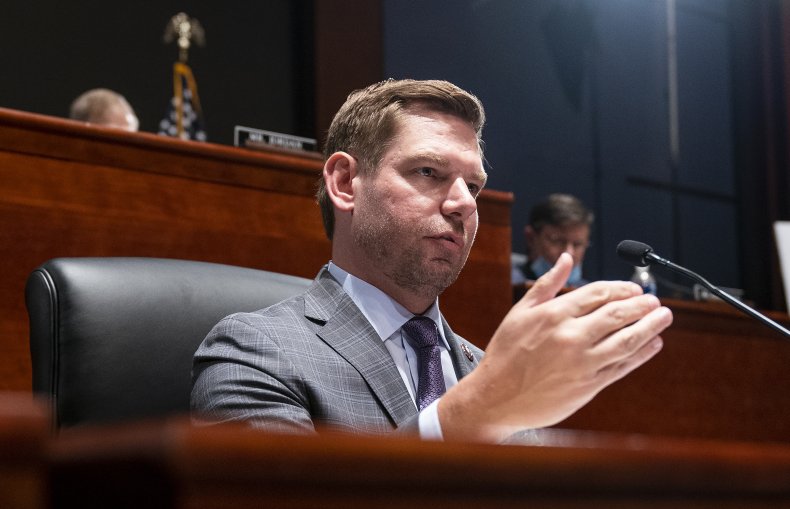 As the message exchange continued, Swalwell eventually gained the man's trust and asked him his full name. The man revealed himself as a resident of Vancouver, Canada. Swalwell told him that he'd like to meet the man the next time he was in his area.
The man demurred, saying, "if I give you my last name I said some mean things to u that I shouldn't have based on this convo so could get in some trouble."
Swalwell responded, "Oh no way. We are totally cool," adding, "No offense taken."
The man replied, "Wow u blow my mind actually! I'm actually sorry for what've I've said ur more personable than I could have imagined." The man then identified himself as Jeremy Marshall.
Swalwell then began asking the man about his profession. When the man identified himself as a contractor, the congressman asked him about the name of his company, saying that he had family members looking to renovate their home.
The screenshots shared by Swalwell didn't include the ones where the man allegedly threatened his family. Swalwell later admitted to his Twitter followers that he has no family in Vancouver. He only said it to get more identifying information about the man.
In another message exchange, the man said that he had been influenced by right-leaning podcaster Joe Rogan. The man also said, "Tucker Carlson slammed u too much when he started saying you had multiple STD's. So at least he went so overboard he can't be believed anymore."
In a follow-up tweet, Swalwell wrote, "Bottom-line: the lies from Tucker and others are radicalizing people across not just America but the world. And the lies are inspiring people to make threats of violence against lawmakers. Tucker & Co. know this. And that's why they tell their lies. They want to incite the mob."
Carlson has targeted Swalwell in previous installments of his Fox News program.
On Carlson's June 20 broadcast, the Fox News host referred to Swalwell as "a not very bright third-string Democratic congressman from the East Bay" looking to "sell out to China."
Carlson then said that campaign finance records obtained by Fox News showed that Swalwell had illegally spent thousands in campaign contributions on personal uses. However, Carlson provided no proof that any of the expenses were actually illegal.
The Fox News host also claimed that Swalwell had sex with Fang, the aforementioned alleged spy, but Carlson offered no proof. Carlson had cited an unnamed informant for the claim.
After Marshall realized that his text messages had been posted online by Swalwell, he contacted Swalwell again saying, "Touché guess u got ur revenge a tone of not so nice messages right back at me. I'm deserving I'll agree. Karma sucks."
Swalwell responded, "You don't deserve hate or violence any more than my family does. That's wrong."
Swalwell then wrote via Twitter, "Finally, please do not threaten/harass Jeremy. Let the law/Instagram hold him accountable."