Congressman Suggests Turkey Could Be 'Kicked Out' of NATO: 'I Don't Think They're An Ally Today'
Congressman Eric Swalwell suggested Tuesday that Turkey could be "kicked out" of the North Atlantic Treaty Organization (NATO) because of its invasion of Syria, saying he didn't view the nation to be acting like an ally.
"Turkey is also a NATO ally and I don't think they want to be kicked out of NATO, which I think is also something that I think may be on the table," Swalwell, a Democrat who represents California's 15th District, said in an interview with CNN. "We should in a bipartisan way seek to ... change Turkey's behavior."
He then criticized President Donald Trump for his handling of Syria policy and relations with Turkey, arguing that leadership should "come from the top."
"If in secret phone calls with Turkeys leaders [Trump's] essentially giving them a greenlight, and then when he gets the blowback from the American press and people at home changes the policy," Swalwell said, "you know, Turkey, how do they interpret that? That's very confusing for them."
"I don't think they're an ally today, but that can change," he asserted.
Trump has received significant bipartisan backlash to his decision to withdraw U.S. troops from northeastern Syria, allowing for Turkey to move in with its forces. The president's decision came after a phone call with Turkey's President Recep Tayyip Erdoğan last Sunday. A source with Trump's National Security Council told Newsweek last week that the president got "rolled" by Erdogan during the call.
"President Trump was definitely out-negotiated and only endorsed the troop withdraw to make it look like we are getting something—but we are not getting something," the official said.
As a result of Trump's decision, Turkey has moved into Syria and targeted the Kurdish-led Syrian Democratic Forces (SDF), which had been a key U.S. ally in the fight against the Islamic State (or ISIS). Turkey has long been in conflict with the Kurds, and Republican and Democratic lawmakers predicted accurately that Erdogan's forces would target the group. Now the Kurds have allied themselves with the Syrian government led by President Bashar al-Assad, a foe of the U.S. Hundreds of ISIS affiliates and some ISIS fighters have also escaped from detention camps in the chaos surrounding the Turkish advance.
The president has now implemented economic sanctions against Turkish officials but continued to defend his decision to withdraw U.S. forces. Top Republican and Democratic lawmakers are pushing for harsher sanctions, and pushing for the president to reverse the withdrawal, which they argue will embolden ISIS as well as American foes Iran and Russia.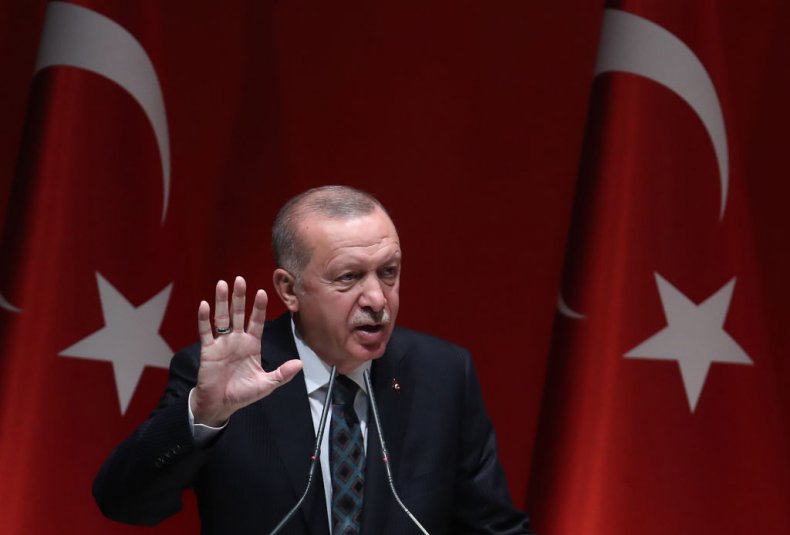 Swalwell is not the first member of Congress to suggest Turkey could be removed from NATO due to its actions. GOP Senator Lindsey Graham of South Carolina, who has been one of the harshest critics of Trump's decision despite normally aligning with the president, said last week he would call for Turkey's "suspension from NATO."
However, despite the lawmakers' remarks, NATO has no mechanism allowing the 29-nation alliance to expel a member. Although members can voluntarily withdraw under Article 13 of the treaty, there is no such avenue to force a country out. A new article would have to be written, and that would be subject to approval by all members, including Turkey. It would seem highly unlikely that Turkey would voluntarily withdraw or agree to an article that could allow it to be kicked out.
"The historical record is that NATO deals with these problems by privately sanctioning the member violating alliance values, but does not officially terminate their membership," Jorge Benitez, an expert on NATO with the Atlantic Council think tank recently told Stars and Stripes.