Republican Rep Says Kurds Allying With Syrian Government 'Not an Ideal Outcome,' But Blames Congress Over Trump
Republican Congressman Michael Burgess classified the Kurds decision to ally with the Syrian government as "not the ideal outcome," but argued that Congress was responsible, not President Donald Trump, who last week ordered U.S. troops to withdraw from northeastern Syria.
The U.S. considers the Syrian government, which is led by President Bashar al-Assad, to be an enemy. American foes Russia and Iran also back Assad, who is also supported by the Lebanese militant group Hezbollah, which the U.S. classifies as a terrorist organization. Until last week, the Kurds – or the Syrian Democratic Forces (SDF) – were allied with the U.S., which was backing the group in the fight against the Islamic State (or ISIS).
However, Trump's decision to withdraw the U.S. military left the group feeling abandoned and exposed to Turkey. Turkish forces quickly advanced into Syria after the American withdrawal, which came after Trump spoke with the country's President Recep Tayyip Erdoğan last Sunday. Turkey has long viewed the Kurds as an adversary, and Turkish-backed forces reportedly began attacking and killing Kurdish fighters and civilians.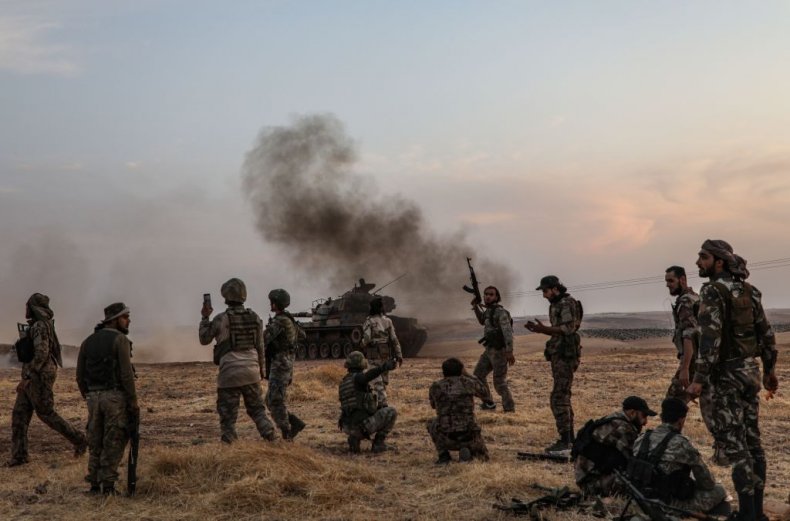 Pressed on these developments in a Monday interview with CNN, Burgess attempted to shift blame away from Trump and onto Congress. "It's not an ideal outcome but look, this was not just the president," the GOP representative from Texas argued. "The Congress had a role here and didn't step up and fulfill it."
Throughout his interview, Burgess argued correctly that Congress had never formally authorized an American offensive in Syria. But he also lamented that the Turkish advance came while Congress was on a recess, suggesting that was the reason—not Trump's withdrawal—that the Kurds had been attacked and decided to ally with Assad's government.
"I support the president in his effort to remove the United States from entanglements abroad that have diminished our treasury and sacrificed United States lives," Burgess asserted.
Despite Burgess's defense of the president, many leading Republicans in Congress have slammed Trump for withdrawing U.S. troops from Syria. The move has allowed hundreds of ISIS affiliates and several ISIS fighters to escape from detention camps. ISIS has also appeared to ramp up attacks in the wake of the American pull-out.
"Frankly it's weak," Republican Representative Adam Kinzinger of Illinois said during an interview with CBS' Face the Nation on Sunday. "I don't see how it follows through on the president's promise, his biggest promise in the campaign, to defeat ISIS. Because I think it's going to resurge," he said.
Although a large number of Republican lawmakers have lobbed similar criticism at Trump's decision, GOP Congresswoman Liz Cheney of Wyoming argued on Monday in an interview with Fox News that Democrats are somehow responsible for Turkey's aggression against the Kurds.
"I also want to say that the impeachment proceedings that are going on and what the Democrats are doing themselves to try to weaken this president is part of this," Cheney, the daughter of former Vice President Dick Cheney, argued. "It was not an accident that the Turks chose this moment to roll across the border."