Retired Admiral Warns Trump's Syria Withdrawal 'Will Absolutely' Allow ISIS to Reform
Retired U.S. Navy Admiral James Stavridis has warned that President Donald Trump's decision to withdraw troops from northern Syria "will absolutely" allow the extremist group the Islamic State (ISIS) to reform.
"Pulling them out will absolutely allow the reforming of that mass of Islamic State fighters," Stavridis, who previously served as the North Atlantic Treaty Organization's (NATO) Supreme Allied Commander, said during a segment of MSNBC's Morning Joe on Thursday. He had previously pointed out that intelligence reports show that 20,000 to 30,000 ISIS fighters had simply "melted away" and remained in the region.
The four-star admiral also warned that Trump's controversial pull-out sent a bad message to U.S. allies and could embolden other U.S. adversaries, such as Iran and Russia, which are both involved in the Syrian conflict. He asserted that it was a difficult moment for U.S. troops who had developed bonds with the Kurdish-led Syrian Democratic Forces (SDF) troops whom they have fought alongside.
"This is heart-rending for anybody who has shed blood, who has deployed forward," Savridis explained. "I'm getting so many inputs from all around the military ... they know how this hurts at a very personal level."
"It's not only the betrayal of the Kurds," the retired commander explained, "it is the way it is going to allow those embers on the floor of the forest fire that we thought were out to kind of re-flash..."
The White House controversially announced at the beginning of the week that U.S. troops would withdraw from the northern region of Syria, which shares a border with Turkey. The move came after Trump spoke with Turkish President Recep Tayyip Erdogan on Sunday in a phone call during which he agreed to the withdrawal, effectively allowing Turkey to move in to take control of the area. Although Turkey is allied with the U.S. through NATO, the country has also long been in conflict with the Kurds.
Republican and Democratic lawmakers in Washington have largely criticized the president's decision, including prominent Trump defenders. They have raised the same arguments as Stavridis, blasting the president for "abandoning" the Kurds after using the group in the fight against ISIS.
Contrary to Trump's insistence that he wasn't abandoning the Kurds and had threatened to target Turkey's economy if any actions were taken against the group, Erdogan has moved his forces aggressively into Syria. According to the Syrian Observatory for Human Rights, at least 16 Kurdish troops were reported killed as Turkish ground troops moved in Wednesday. An additional 33 members of the SDF were reportedly wounded.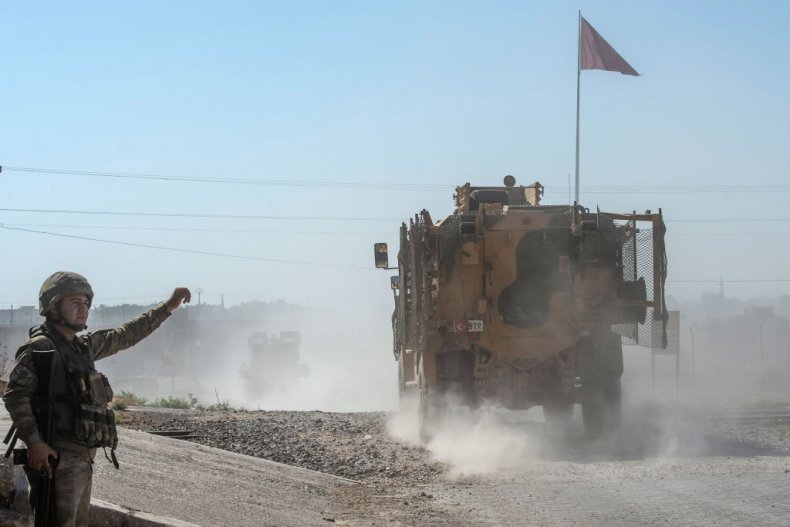 "NEWSFLASH: Erdogan and humane do not belong in the same sentence. Worst is yet to come," Republican Senator Lindsey Graham of South Carolina tweeted on Wednesday. While Graham is typically a close Trump ally, he has been one of the loudest voices condemning the president's Syria decision.
Independent Senator Bernie Sanders of Vermont, who is currently a front-runner for the Democratic Party's presidential nomination, also criticized Trump's decision Wednesday. Sanders typically pushes for withdrawing U.S. troops from conflicts and regularly opposes U.S. military involvement in foreign countries.
"I condemn Trump's reckless decision to abandon our Kurdish allies to their fate at the hands of Turkish President Erodogan," Sanders tweeted. "The President of the United States should not make significant national security decisions impulsively, by tweet, after a single phone call."
"Kurdish fighters have fought and died in our joint effort to eliminate ISIS. They should not be abandoned in this way," the senator wrote.