Republican Senator Lindsey Graham blasted President Donald Trump repeatedly on Monday after it was reported that U.S. troops would be withdrawn from northern Syria as Turkish troops moved in militarily.
Graham, a Trump loyalist, has previously been critical of the president's foreign policy, specifically as it relates to the Middle East. The congressman from South Carolina voiced his strong opposition to the latest White House policy decision on Monday, calling into Fox News to rant against the move and posting a thread of tweets outlining his criticism.
"ISIS is not defeated. This is the biggest lie being told by this administration," Graham asserted during a call to Fox & Friends. He also argued that Trump's decision was "a big win for Iran and [Syrian President] Basha al-Assad [and] a big win for ISIS."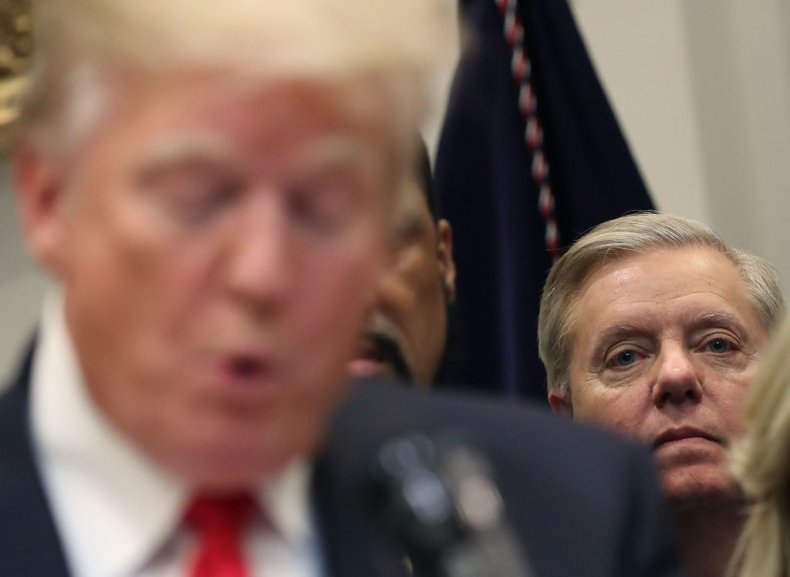 The U.S. has long been opposed to the Assad regime, however it sent troops to Syria to fight against the Islamic State (or ISIS) extremist group, which Assad's government was also fighting with the support of Iran. Trump has repeatedly claimed that the extremist group has been defeated and that the U.S. mission has been accomplished, despite significant pushback from many Republican and Democratic lawmakers.
"The most probable outcome of this impulsive decision is to ensure Iran's domination of Syria," Graham wrote on Twitter. "The U.S. now has no leverage and Syria will eventually become a nightmare for Israel." He also lamented the fate of the Kurds, a group which has been backed by the U.S. in its fight against ISIS. However, the Kurds have also long been in conflict with Turkey, which the U.S. will now allow to move in militarily.
"By abandoning the Kurds we have sent the most dangerous signal possible – America is an unreliable ally and it's just a matter of time before China, Russia, Iran, and North Korea act out in dangerous ways," Graham tweeted.
Several other prominent Republicans lashed out at the president's decision.
"The Trump administration has made a grave mistake that will have implications far beyond Syria," Senator Marco Rubio (R-Fla.) wrote on Twitter. "It would confirm #Iran's view of this administration & embolden then [sic] to escalate hostile attacks which in turn could trigger much broader & more dangerous regional war," he argued in a follow-up tweet.
Rubio also fact-checked Trump's suggestion on Twitter that his administration had single-handedly defeated ISIS.
"We degraded ISIS using Kurd's as the ground force. Now we have abandoned them & they face annihilation at the hands of the Turkish military," Rubio wrote, sharing a tweet from Trump defending the move. "ISIS could now be reinvigorated when 1000's of jailed fighters break out when the Kurdish guards are forced to leave to go fight Turkey."
Representative Adam Kinzinger, (R-Ill.), argued in a tweet that Trump had ordered "America to once again abandon our friends and give Russia & Iran exactly what they want. This is wrong."
Even Nikki Haley, a Republican who previously served as the governor of South Carolina and Trump's former ambassador to the United Nations, harshly criticized the president's decision.
"We must always have the backs of our allies, if we expect them to have our back. The Kurds were instrumental in our successful fight against ISIS in Syria. Leaving them to die is a big mistake," she tweeted.
Last December, Trump's Secretary of Defense Jim Mattis resigned due to Trump's efforts to withdraw troops from Syria.
"My view on treating allies with respect and also being clear-eyed about both malign actors and strategic competitors are strongly held and informed by over four decades of immersion on these issues," Mattis, a former U.S. Marine Corps general, wrote in his resignation letter at the time.
"We must do everything possible to advance an international order that is most conducive to our security, prosperity and values, and we are strengthened in this effort by the solidarity of our alliances," he added.
Graham criticized the president's Syria policy at the time as well, raising the same concerns that the U.S. would be seen as abandoning its allies while also allowing ISIS to grow once again. Brett McGurk, who served as the U.S. special envoy to the coalition fighting ISIS until he resigned last December along with Mattis, also criticized the president's decision then and now.
"Donald Trump is not a Commander-in-Chief. He makes impulsive decisions with no knowledge or deliberation. He sends military personnel into harm's way with no backing," McGurk tweeted on Monday morning. "He blusters and then leaves our allies exposed when adversaries call his bluff or he confronts a hard phone call."
Despite the criticism from prominent Republicans, George Friedman, the founder and chairman of Geopolitical Futures, told Newsweek that the Trump administration's decision was an attempt to balance its historic alliance with Turkey and its concern for the Kurds. Turkey is a member of the North Atlantic Treaty Organization (NATO) and coordinates with Washington by treaty.
Friedman said the decision shows "that the United States remains committed to an old and treaty bound ally, Turkey, and will seek to accommodate Turkey without breaking relations with the Kurdish community." He added: "the world is a complicated place and the U.S. is involved in complicated places. Either position would be seen as betraying some ally."