Trump Accused of Betraying Kurds and Giving ISIS New Life After Green-lighting Turkey Invasion of Northern Syria
President Donald Trump has been accused of guaranteeing "future bloodshed and instability"—in addition to having "a complete lack of understanding"—after a major U.S. ally in the Middle East was double-crossed and public assurances to the contrary were betrayed.
The stern words from experts and former military officials follow an announcement from the U.S. on Monday that it would green-light a Turkish offensive into northern Syria, effectively abandoning Syrian Kurds—key longtime allies of the U.S. in fighting ISIS in the region—to face Turkey's military on their own.
The move follows a call between Trump and Turkish President Recep Tayyib Erdogan on Sunday in which the "long-planned operation into northern Syria" was permitted to go ahead, a White House press statement said.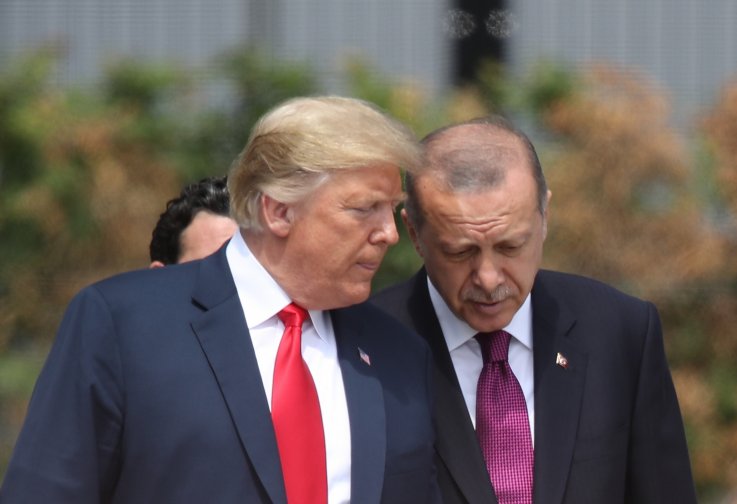 US President Donald Trump and Turkish President Recept Tayyib Erdogan at Natio Headquarters in July 2018. The pair agreed a deal on Sunday in which Trump is accused of betraying Kurish allies in the region.
Getty
It comes after the Kurdish-led YPG, a major backer of the Syrian Democratic Forces (SDF), were previously given guarantees by the U.S. that if they withdrew from the Syrian-Turkish border in order to create a "safe zone," they would receive U.S. support in keeping the Turks at bay.
The Kurds agreed to the measure at peace talks in August to show their seriousness about stability in the region—having been instrumental in clearing the area of ISIS—but Monday's announcement directly contradicts what they were told.
"Today, President Donald Trump spoke with President Recep Tayyip Erdogan of Turkey by telephone," the White House statement said. "Turkey will soon be moving forward with its long-planned operation into northern Syria.
"The United States Armed Forces will not support or be involved in the operation, and United States forces, having defeated the ISIS territorial 'caliphate' will no longer be in the immediate area."
Trump himself had previously tweeted he would "devastate Turkey if they hit [the] Kurds."
Brett McGurk, the former special presidential envoy to the global coalition to defeat ISIS, who quit following similar grievances about Trump's "impulsive" decision making, was quick to condemn the move.
"Will @POTUS stand up for American personnel deployed in Syria on his orders?" he said on Twitter. "Or is he looking for an excuse to pull them all out?"
"A Turkish attack will increase risks to our people, fracture the SDF, and enable ISIS's resurgence. Clear picture.
"Donald Trump is not a Commander-in-Chief. He makes impulsive decisions with no knowledge or deliberation. He sends military personnel into harm's way with no backing. He blusters and then leaves our allies exposed when adversaries call his bluff or he confronts a hard phone call."
Newsweek has contacted McGurk for further comment.
David Ignatius, a Washington Post journalist covering the military for over 30 years, also weighed in with condemnation of the president.
"This comes after we asked the SDF to dismantle all obstacles and pull back from the border, in the promise that this would stop a Turkish intervention," he said on Twitter. "In fact, it appears to have enabled one.
"In addition to abandoning allies, Trump is opening way for Turkish power grab in NE Syria that is a guarantee of future bloodshed and instability. The Syria mission was a rare success for U.S. military power in the Mideast—now being squandered to appease Erdogan's ambitions."
In a statement released followed Monday's announcement, the SDF strongly also condemned the U.S. decision to withdraw troops and said it would defend the Kurdish-majority region— known to Kurds as Rojava—"at all costs".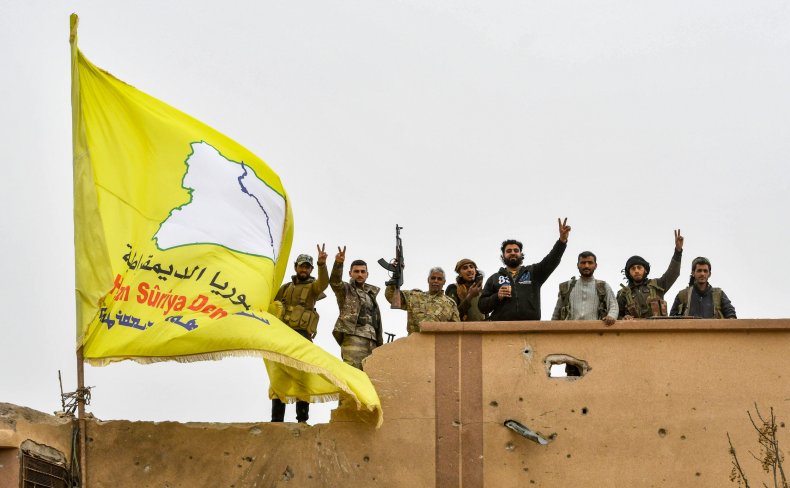 "Despite all the efforts we did to avoid conflict, our commitment to the security mechanism agreement and taking necessary steps on our end, the US forces did not carry out their responsibilities and have withdrawn from border areas with Turkey," an SDF spokesperson said.
"Turkey's unprovoked attack on our areas will have a negative impact on our fight against ISIS and the stability and peace we have created in the region in the recent years.
"As the Syrian Democratic Forces, we are determined to defend our land at all costs. We call on our Kurdish, Arab, Assyrian, and Syriac people to strengthen their unity and stand by the SDF in defense of their land."
On Monday, various sources reported the withdrawal of troops and trucks from the Turkey-Syria border.
Turkey said it will use the lands to house refugees and create "the conditions necessary for the return of Syrian refugees to their native country," but critics suggested the move was about extending Turkey's border, and made the revival of ISIS more likely, as well as increasing the probability of an allegiance between the SDF and Syrian President Bashar al-Assad.