BTS Unveils Final 'Connect, BTS' Exhibition in New York City With Antony Gormley Installation
K-pop royalty BTS have unveiled the final leg of their global art project Connect, BTS in New York City with an exhibition in Brooklyn featuring an installation by acclaimed British artist Sir Antony Gormley.
A series of exhibitions have been unveiled in London, Berlin, Buenos Aires and Seoul before the latest one in New York City. Each temporary exhibition from the project showcases the work of an artist chosen by BTS to be featured in the project.
The final installment—titled "New York Clearing"—is an outdoor installation featuring a swirling thin metal line "looping and swooping" continuously without a beginning or an end. Displayed at Brooklyn Bridge Park Pier 3, its "evocation of energy will be seen against the skyline of Manhattan and converse with the city across the waters of the East River," the project's website describes.
BTS were "deeply intrigued" by Gormley's thoughts on the concept of space and his belief that his work is about the experience and "creating an energy field," the band described in a letter to Gormley inviting him to be featured in the project.
"Understanding the artwork itself as an open space that is completed by the presence and participation of its viewers is an idea that is familiar to us...our performances are completed only by the support and participation of our fans, ARMY," BTS wrote in the letter.
The band hopes the latest exhibition will allow viewers to "collectively create new energy from their experiences in the work," BTS said in the letter.
Newsweek subscription offers >
"New York Clearing" will be on display until March 27. The exhibitions in London, Seoul and Buenos Aires are available for viewing until March 15, 20 and 22, respectively.
Connect, BTS, which was launched last month, features the work of 22 artists from around the world and aims to "redefine the relationships between art and music, the material and immaterial, artists and their audiences, artists and artists, theory and practice," according to its website.
The artistic director of Connect, BTS—Daehyung Lee—was previously the curator of the Korean Pavilion at the Venice Biennale in 2017.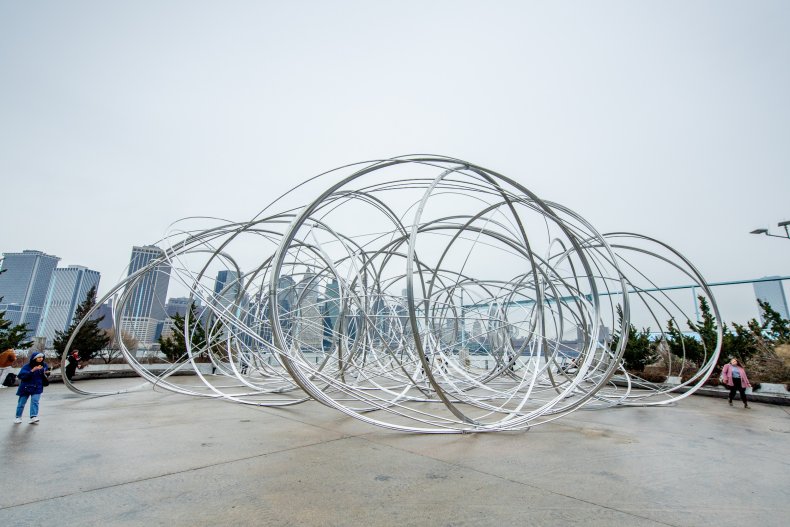 BTS have released the dates for their latest world tour, which include 15 concerts in the U.S. and Canada, the tickets for which are on sale from today.
The band have had a busy start to the new year, having performed at the Grammy Awards for the first time last month. They are the first Korean act to perform at the historic awards show on the biggest night of the music industry.
Last month, their album Love Yourself: Answer was officially certified by the Recording Industry Association of America as a platinum album, making them the first Korean act to have a platinum-selling record in the U.S., while their song "IDOL" also went platinum.
BTS Unveils Final 'Connect, BTS' Exhibition in New York City With Antony Gormley Installation | Culture