Conor McGregor lashed out at Machine Gun Kelly, after the two were seen getting into a confrontation at the MTV Video Music Awards on Sunday.
In photographs and video footage widely circulated online, UFC fighter McGregor, 33, was seen swinging at Kelly, 31, on the red carpet at New York City's Barclays Center, before security personnel held him back.
According to TMZ, McGregor attempted to approach Kelly to greet him with a handshake before he was pushed back by the musician's security.
Video footage shared on Twitter showed a furious McGregor throwing his drink, said to be aimed at Kelly and his girlfriend, Megan Fox, before their respective teams held them back and prevented things from escalating further.
And shortly after the confrontation, McGregor dismissed Kelly, real name Colson Baker, as a "vanilla boy rapper" while speaking with Entertainment Tonight.
When asked about what happened between them, the Irishman responded: "Absolutely nothing. I don't know. He showed up, and I don't know. I don't know the guy."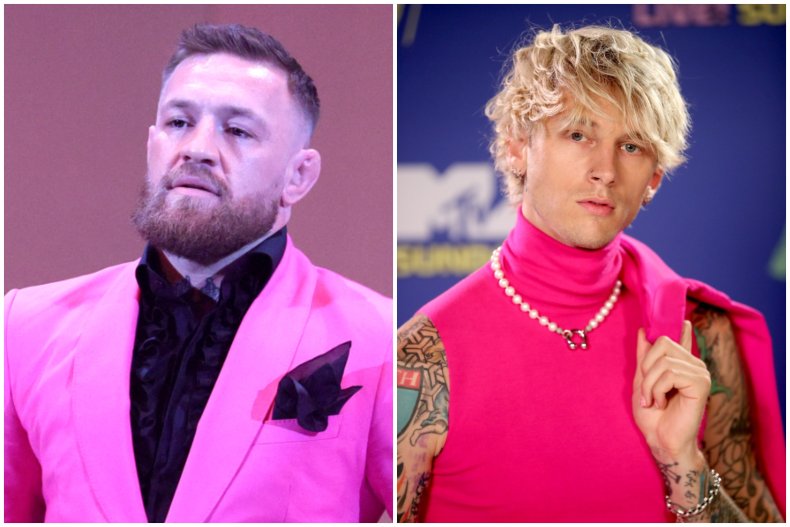 "Nothing happened with me, I only fight real fighters, people that actually fight, you know what I mean," he went on. "I certainly don't fight little vanilla boy rappers. I don't even know the guy. I don't know anything about him, except that he's with Megan Fox."
There were also reports that McGregor had attempted to get a picture with Kelly—a claim shot down by a spokesperson for the fighter.
"Conor McGregor did not ask anyone for a picture, nor did he instigate this incident," the spokesperson told The Independent. "He does not know Machine Gun Kelly, outside of the fact that he attended Conor's fight this past July."
Newsweek has contacted representatives of Conor McGregor and Machine Gun Kelly for comment.
During the star-studded awards ceremony, McGregor, who attended with partner Dee Devlin, was all smiles as he presented an award to Justin Bieber.
Kelly was also onstage, performing his track "Papercuts" with Travis Barker. The musicians were welcomed to the stage by their respective partners, Fox and Kourtney Kardashian, with Fox introducing the pair as: "Our future baby daddies."
McGregor was seen walking with the aid of a cane, which he has been using since he was defeated by American Dustin Poirier in the Octagon in July, during a match that saw him break his leg and ended with him being carried out on a stretcher.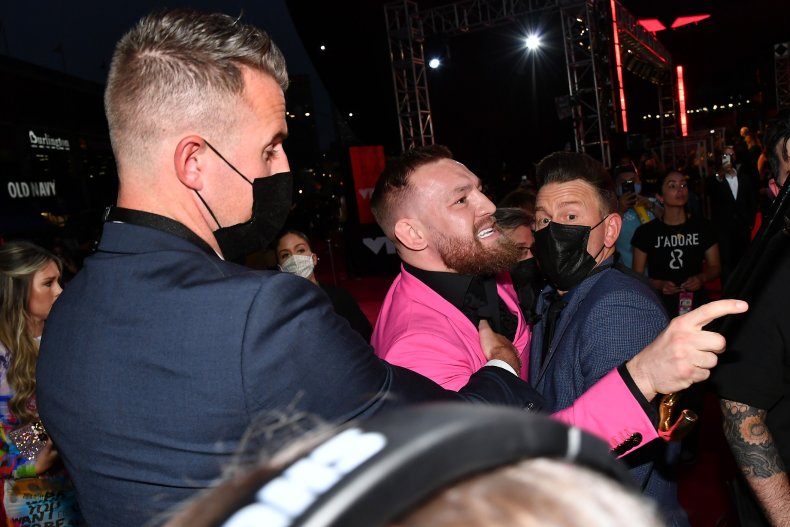 "I was injured going into the fight," McGregor said, following the showdown, per the Daily Mail. "People were asking me when was the leg break—at what point did the leg break? Ask Dana White. Ask the UFC. Ask Dr. Davidson, the head doctor of the UFC.
"They knew. My leg—I had stress fractures in my leg going into that cage. There was debate about pulling the thing out because I was sparring without shin pads, and I was kicking."
McGregor's ankle issues were confirmed by UFC President, Dana White, in a later interview with MMA Junkie.
White said: "He had asked if he could tape his ankles coming into this fight and he got clearance to do it from the Nevada State Athletic Commission and then he opted not to tape them. I don't know why. He has chronic arthritis in his ankles."
He went on: "It's going to take him a year to recover from this one before he can come back, so I don't know. We'll see.
"The fight game is a tough game and the kid has cemented a massive legacy for himself and made a lot of money. We'll see how the rest of his career plays out."