Conor McGregor Predicts Sons Will Follow in His Fighting Footsteps
Conor McGregor has shared his prediction that his two sons will be following in his footsteps to become professional fighters.
The UFC fighter, 33, is the father of sons Conor Jr., 4, and Rían, who was born in May. He and partner Dee Devlin also share 2-year-old daughter Croia.
And in a Q&A session with his fans on Monday morning, McGregor spoke about the possibility of his offspring one day jumping into the octagon.
Sharing a photo of McGregor posing alongside his eldest child, one fan enquired: "Do you believe Conor Junior will follow your steps?"
"That kid of mine is going to do whatever he wants in this world," the Irishman responded. "I will support him all the way tho whatever he chooses! I feel he will do it tho.
"I feel his younger brother Rían will also. Interesting times ahead. I will be happy just as long as they are happy."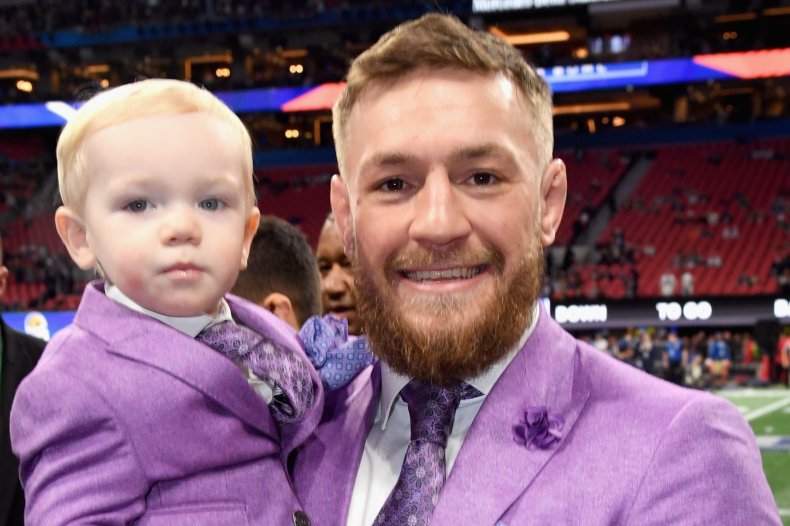 During the chat with his fans on Twitter, McGregor also discussed his business success outside of the octagon, as he projected that he would be a billionaire by the age of 35.
Back in 2017, when he was just three months into fatherhood, McGregor spoke candidly about how becoming a parent had changed his approach to his craft.
"I am in awe of my little son," he gushed in a video shared by MMA Weekly on YouTube. "The other day, we were comparing pictures side by side of when I was that age and he was that age and we're identical.
"And I'm like, yes, because he's gonna look exactly like me and he has my name. It's a legacy. I am just in awe of my little man."
He went on: "As far as how it's made me as a fighter, it's certainly made me more focused, more disciplined. I must be disciplined. I can't slack off. I can't float around and do what I used to do. I must train, recover, go home to look after my boy, rest, train again.
"And it just keeps life more structured for me, so it's actually helped me as a fighter, and as a man. With business and with training, everything is more structured and that's the way it should be. That's the key to get to the high, high level—you must have structure. It's been eye-opening and amazing... There's so much good times ahead."
In July, McGregor was defeated by American Dustin Poirier in the octagon, during a match that saw him break his leg and ended with him being carried out on a stretcher.
"I was injured going into the fight," said McGregor following the showdown, per The Daily Mail. "People were asking me when was the leg break—at what point did the leg break? Ask Dana White. Ask the UFC. Ask Dr. Davidson, the head doctor of the UFC.
"They knew. My leg—I had stress fractures in my leg going into that cage. There was debate about pulling the thing out because I was sparring without shin pads, and I was kicking."
Confirming McGregor's ankle issues in a later interview with MMA Junkie, UFC President Dana White said: "He had asked if he could tape his ankles coming into this fight and he got clearance to do it from the Nevada State Athletic Commission and then he opted not to tape them. I don't know why. He has chronic arthritis in his ankles."
He went on: "It's going to take him a year to recover from this one before he can come back, so I don't know. We'll see.
"The fight game is a tough game and the kid has cemented a massive legacy for himself and made a lot of money. We'll see how the rest of his career plays out."