Conservative Host Slams Republicans for Forgetting Their 'Principles' In Support of Trump's Emergency Declaration
Conservative CNN host S.E. Cupp took aim at Republican lawmakers in the opening of her Saturday evening television show, slamming them for apparently abandoning their traditional "principles" in support of President Donald Trump's national emergency declaration regarding the United States' border with Mexico.
"Knock, knock Republicans, anybody home?" Cupp, who identifies as a Republican but has been a staunch critic of Trump, said. "Any Republicans in Washington have a problem with this? Remember conservatism? Limited government? You know, your principles?" she asked in frustration.
"You'd think at least a few of them would remember how much executive overreach offended them when the last guy did it," the conservative pundit pointed out.
Laying into Trump directly, Cupp argued that "for all his talk about job creation, the president just killed a bunch of them." She assessed that by "taking over the purse strings," Trump had "rendered the jobs of all 535 members of Congress obsolete."
"If the president can now just override Congress on spending, they may as well all pack up and go home," the host said. "Will any Republican lawmakers say no to this?" she asked, lamenting that no GOP lawmaker that she had invited would agree to appear on her show to discuss the national emergency declaration.
Trump officially declared on Friday that the situation on the southern border with Mexico was a national emergency, launching what many analysts have classified as a "constitutional crisis." The move came in a last ditch effort to fund and construct his long touted border wall in fulfillment of his most prominent campaign promise to his political base. After failing to secure the necessary funds for the wall from Congress, Trump took executive action in a bid to reappropriate funds already approved by lawmakers to build the structure.
Critics of Trump's border wall have long pointed out that illegal immigration remains at historic lows and that the structure would do little to stop the flow of illicit drugs across the border, as about 90 percent come into the country undetected through legal ports of entry. When it comes to Trump's insistence that criminals are crossing the border illegally, experts have pushed back by pointing to multiple studies showing that undocumented and documented immigrants commit crimes at lower rates than native-born U.S. citizens.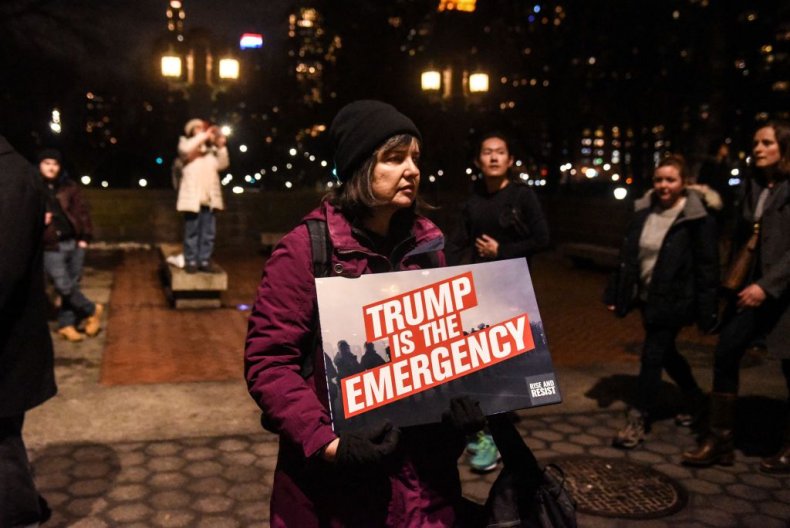 "We're going to confront the national security crisis on our southern border, and we're going to do it one way or the other," Trump said on Friday. "We have an invasion of drugs and criminals coming into our country," he added.
Democratic Speaker of the House Nancy Pelosi and Senate Democrat Leader Chuck Schumer pushed back, saying : "This is plainly a power grab by a disappointed president, who has gone outside the bounds of the law to try to get what he failed to achieve in the constitutional legislative process."
Several lawsuits were launched or announced against the president's move by the end of the day on Friday, according to The New York Times. The decision would also use imminent domain to confiscate land from private citizens who own property along the border, which has already led to lawsuits against the president by at least three landowners. Democratic lawmakers have introduced legislation to block the president's declaration while the House Judiciary Committee has also announced it will investigate the emergency claim.