Conservative Rasmussen Reports Shows Trump Trailing Biden by 8 Points in Wisconsin After Kenosha Unrest
Polling by the conservative Rasmussen Reports shows President Donald Trump trailing Democratic presidential nominee Joe Biden by 8 percentage points in the key swing state of Wisconsin following protests and unrest in the city of Kenosha.
The poll, conducted by Rasmussen from September 1 to 2, showed Biden with the backing of 51 percent of Wisconsin voters, while Trump was supported by just 43 percent. That's a lead comfortably outside the poll's margin of error, which is plus or minus 3 percentage points.
Although Trump was backed by 90 percent of Wisconsin's Republican respondents in the survey, Biden was supported by 93 percent of Democratic voters. He also led Trump by double digits (17 percentage points) among independent voters unaffiliated with either party.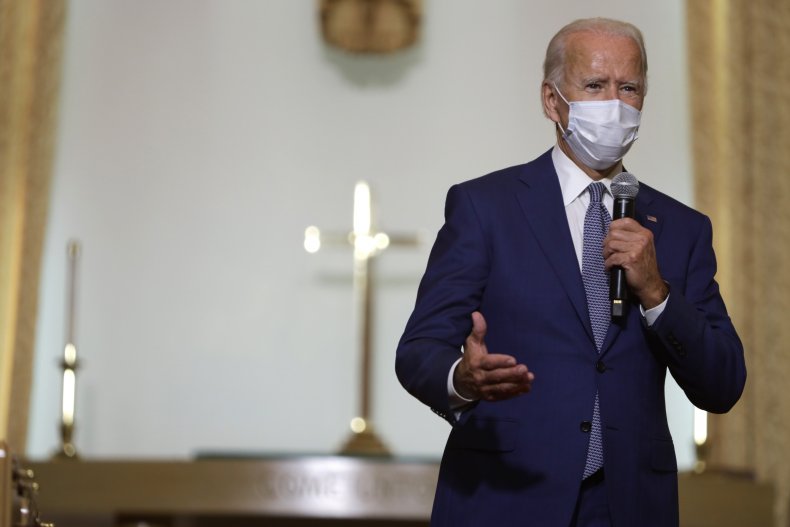 Notably, the Wisconsin poll was conducted as Trump visited the state in the wake of the Kenosha unrest. The president traveled to the state for a controversial trip—which was opposed by Wisconsin's Governor Tony Evers, a Democrat, and Kenosha Mayor John Antaramian, also a Democrat—last Tuesday afternoon. Biden traveled to the state a couple of days later on Thursday of last week.
Demonstrations broke out in Kenosha following the August 23 shooting of Jacob Blake, a 29-year-old Black man. An onlooker captured the incident on video, which quickly went viral online. The video showed a police officer shooting Blake seven times in the back just outside his vehicle as his children sat in the backseat. Blake survived the shooting but has been paralyzed and remains hospitalized.
The shooting came after a summer marked by widespread Black Lives Matter and anti-racism protests across the country, which came in the wake of George Floyd's death in Minneapolis police custody. On May 25, Floyd was detained by police in the incident, which was captured on video by onlookers. The clip shows a police officer kneeling on Floyd's neck for nearly nine minutes despite his "I can't breathe" pleas. The unarmed Black man later was pronounced dead at a nearby hospital.
Demonstrators in Kenosha and across the country have demanded major police reforms, slamming systemic racism in the U.S. justice system. Although most of the demonstrators were peaceful, rioters joined the Kenosha protests and caused millions in damages to the city. Far-right white nationalists then came into the city carrying guns, claiming they wanted to protect Kenosha against the violence.
One of those right-wing demonstrators, 17-year-old Kyle Rittenhouse, has been arrested and charged with fatally shooting two men and seriously injuring a third on August 25. A review of Rittenhouse's social media showed that he is a strong supporter of law enforcement and the president.
Other recent polls out of Wisconsin show results similar to Rasmussen's. Morning Consult's Wisconsin tracking data currently shows Biden with 51 percent support in the state, compared with 43 percent that back Trump. On September 2, when Rasmussen's polling was concluded, Morning Consult showed Biden with 52 percent support, compared with Trump's 42 percent.
Rasmussen Reports has often been cited by Trump, as it generally shows higher approval ratings for the president. For instance, Rasmussen currently shows Trump with a 51 percent national approval rating, while most other polls suggest it's in the low 40s. But the conservative company's most recent national election survey showed Biden leading Trump by 4 percentage points, with the backing of 49 percent of voters, compared with 45 percent who support the president.