Conservative Spanish-Language Networks Race to Influence Latinos In 2024
Ivan Garcia-Hidalgo remembers decades ago when presidential candidate Jack Kemp scolded his party for ignoring Hispanic voters, as he did in front of a heavily-Democratic, League of United Latin American Citizens (LULAC) audience in 1987.
From the late 1980s all the way to the 2016 cycle, Garcia-Hidalgo would tell fellow Republicans that Hispanics were going to come over to the Republican side, and much like Kemp, he was told to give up the dream.
But after consecutive cycles where Republicans continue to erode Democratic margins with Latino voters, Hispanic Republicans now feel they have the wind at their backs to make serious inroads.
Garcia-Hidalgo has started Americano Media, and told Newsweek that he has raised more than $20 million to date. He is looking to raise an additional $35 million to $50 million from the kind of donors who traditionally give to Republican candidates and political action committees.
Garcia-Hidalgo is a true believer, and that's an essential quality as he seeks to enter the Spanish-language media space occupied by longstanding giants Univision and Telemundo. He peppers his Facebook posts with the hashtag #FreeSpeechImbalance, touting his view that conservatives need a Fox News in Spanish.
"If you look at media in Spanish, it's how it was in English before Fox," he told Newsweek from Miami. "Everything is center to the left, nothing is center-right in Spanish at the national level, except Americano. Before us there was nothing—that's free speech imbalance."
Garcia-Hidalgo argues that Spanish-speaking conservatives are the "thirstiest" news consumers and that his company is best positioned to reach them first.
Americano Media is also expanding from radio to television with an eye toward growing its digital offerings after the 2024 election, when it believes television and digital will reach a "convergence" point. They see cable TV being surpassed in the next five years by digital, where Hispanics have always been early adopters as a disproportionately younger population than other demographic groups.
But even among fellow Republicans there are doubts about the network's strategy.
A Hispanic Republican presidential campaign veteran told Newsweek that Americano is trying to reach a "subset of a subset of a subset" of an audience. They argue that the first bucket is Hispanics who are Spanish-dominant, then come those who are conservative, followed by those who like to consume conservative news on TV and radio.
But Garcia-Hidalgo said data he is using show there is a significant available audience, with room for the network to grow. Broader media surveys have shown that among Hispanics consumers of English-language news, 41% get their news from Fox News.
While the company is beginning with Spanish-language content and interviews with Republican leaders captioned in Spanish, it sees a future in which they could offer content in English and even in "Spanglish."
"We're not here to become to become the Spanish-language Breitbart, that's not the goal," Alfonso Aguilar, the network's political director, told Newsweek. "The goal is to engage every single Hispanic. We recognize we're navigating uncharted waters, but we want to engage those who identify as conservative, those not involved in politics, and those who perhaps are Democrats but haven't understood conservative positions."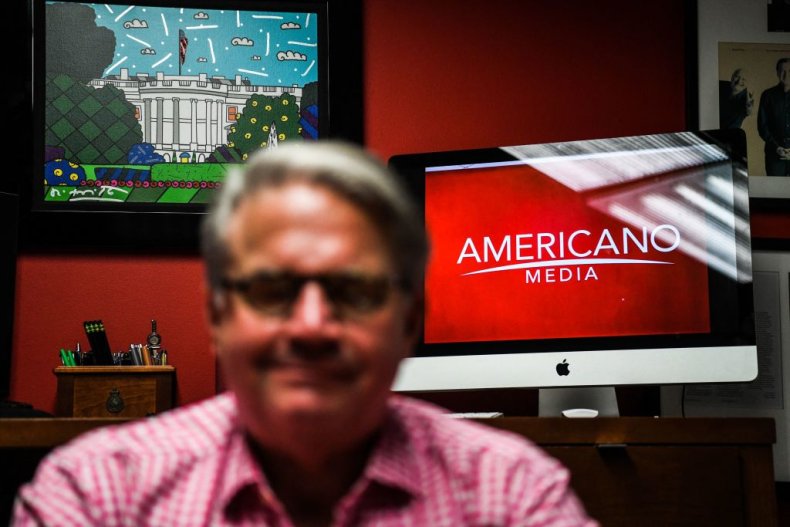 Garcia-Hidalgo argues that the Fox News "entire audience is not conservative," and is looking for content offerings that are as "entertaining" as the network led by Rupert Murdoch and Roger Ailes pioneered.
Here, too, there could be growing pains for Americano.
Donald Trump's ascent as a leader of the Republican Party has coincided with the rise of Republican and conservative surrogates made in his image: brash and ready to battle on-air and on social media.
But Garcia-Hidalgo is taking his company in a different direction.
"We want to bring back civil discourse to politics in Spanish," he said, "with no yelling at each other, no shutting people down."
And he's not going to accept aggressive on-air behavior from guests, either.
"If somebody shows up yelling like a lunatic," Garcia-Hidalgo said, "we would thank them for coming and won't invite them back."
"There are plenty of places to yell at the sky and go nuts," he added, "but people are tired of that."
Still, that measured approach doesn't mean the network's CEO isn't all too happy to take shots at Democrats and media efforts started by those on the other side of the aisle.
He took aim at the Latino Media Network, which was started by Obama White House alum Stephanie Valencia and Clinton campaign and union veteran Jess Morales Rocketto and saw an $80 million investment from various donors, led by a group affiliated with George Soros.
"George Soros helped us by dragging us into this radio thing," Garcia-Hidalgo said, citing the liberal billionaire as a donor to Latino Media Network. He argued that a consequence of the launch of Latino Media Network is that he now gets requests every day from around the country to syndicate Americano's content. Garcia-Hidalgo said his company is about to close a deal to be on a major radio station in Puerto Rico all day, except during the 6 a.m. to 9 a.m. morning-drive slot.
Latino Media Network's investment was led by Lakestar Finance, which is affiliated with Soros Fund Management, but the company also has dozens of donors including celebrities like Eva Longoria, as well as other entrepreneurs and media leaders.
It now owns 18 stations in the largest U.S. markets and in eight of the top 10 Latino markets including Los Angeles, New York, Houston, San Antonio, Chicago, Dallas, Miami, McAllen, and Las Vegas, as well as a footprint reaching upwards of a third of the U.S. Hispanic market.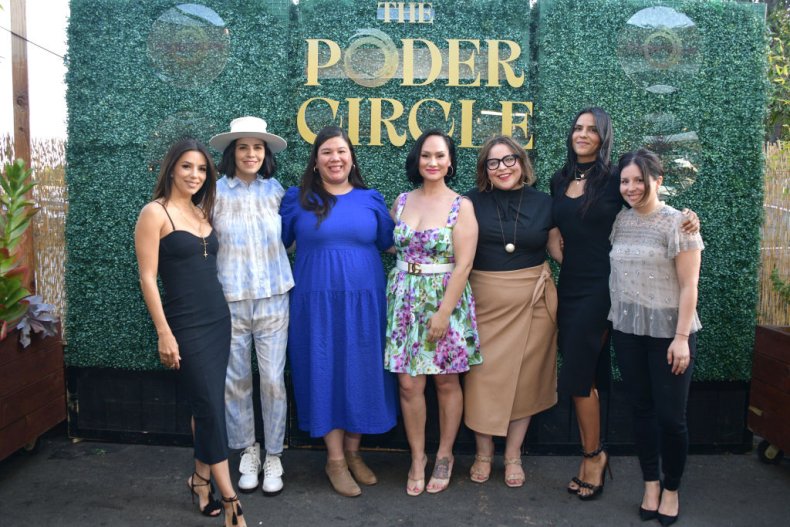 But the company's spokesperson Sonia Diaz told Newsweek it was unfortunate that Americano was trying to make the conversation a partisan or ideological one, arguing that the two entities are like apples and oranges.
Diaz said that the Latino Media Network a multi-platform media company with a mission of increasing Latino representation in media, at a time when the demand for Spanish-language content has reached an all-time high. She said the stations currently offer, and will continue to feature, music, entertainment, sports, and news, as well as information on entrepreneurship and business, health, financial well-being, technology, and local news.
"At a time when Latinos are driving population growth in the United States, it is critical to have more media platforms serving them, not less," Diaz said, "and even more importantly, media platforms that are built, owned and operated by our community."
Another network vying for the conservative Hispanic audience is Dallas-based Voz Media, which has programming deals with DirecTV and Verizon Fios.
In recent days the Voz website has featured headlines like "Fauci's latest mandate: vaccines for all and silence on the origin of COVID," as well as "Woke hunt continues against Scott Adams, who has been left without a publisher," a story on the Dilbert comic creator who is being dropped after his racist comments emerged.
Voz Media CEO Orlando Salazar said he received a divine directive to start his company.
"People like me didn't have a place to get news and nobody else was doing this," he told The Dallas Express. "The Lord kind of said, 'Well, why don't you do it?' And so I did."
Fernand Amandi, the Florida-based former Hispanic vote pollster for both of Obama's presidential campaigns, conceded that the "fatal mistake" Democrats made was to cede ground in the media wars during the last several cycles.
"They're starting to wake up to the fact that you can't just cede the airwaves to MAGA Republicans and let them have it all to themselves," he said, acknowledging these networks could have an "impact on the margins." He also said efforts like this could likely "erode" some of Univision and Telemundo's Spanish-language audience.
But he doesn't think companies like Americano will gain enough audience to succeed.
"The fundamental problem the MAGA conservative Republicans have is the vast majority of Hispanics reject their philosophy, and we've seen that in three consecutive elections," he said, referring to 2018, Trump's loss in 2020, and 2022 going much better for Democrats than expected. "They're competing for a very small piece of the pie, one that they mostly have already eaten."
In Florida, however, Americano sees room to run with Latinos in the state. They're following the strategy of someone who saw great success in November: Governor Ron DeSantis.
After DeSantis coasted to re-election with 59% of the Latino vote and flipped traditionally-Democratic Miami-Dade County, Americano is following his lead and investing along the I-4 corridor in Orlando and in south Florida in Miami.
"DeSantis proved Miami-Dade and the I-4 corridor are the Hispanic vote battlegrounds," Michael Caputo, an executive with Americano and former Trump 2016 campaign advisor, told Newsweek.
With Garcia-Hidalgo also serving as a Trump 2020 campaign surrogate, there is a distinct Trumpian flavor to Americano. Asked if other leading contenders for the Republican nomination like DeSantis would be treated fairly on Americano, should he run, Garcia-Hidalgo stressed that the network will have no horse in the race.
"I think the governor is doing a great job," he said, noting that Florida Lieutenant Governor Jeanette Nuñez serves as a spokesperson for DeSantis on Americano. "He could be a force in 2024, but I don't know if he runs. He could be a force in the GOP for a long time."
The network plans to start a series called Camino a la Casa Blanca—The Road to the White House—which they hope will include sit-down interviews with announced candidates like Nikki Haley and prospective candidates like Mike Pompeo. They also hope to continue adding Democrats to their shows for debates.
Next for Americano is a growing partnership with iHeart Radio.
Beyond a marketing campaign, Americano will be part of the company's app, which it says has been downloaded three billion times and boasts 160 million registered subscribers across 280 platforms, which include refrigerators, cars, phones, computers, and televisions. Americano plans to make these announcements likely next week.
"Some people say content is king," Garcia-Hidalgo said, "but iHeart is King Kong."
Americano has the resources and a strategy it's implementing ahead of 2024, but Aguilar said that in addition to outreach to its audience, part of its challenge is also "inreach" to fellow Republicans who might not understand the opportunity available.
"It's about helping our conservative colleagues understand what the Hispanic community is all about," he said, "that they're not natural-born Democrats, and not a monolithic community—that work needs to be done,"
"Frankly," he added, "we can help promote an understanding of the Hispanic community."
Americano's success, and conservative efforts to grow their Latino support, may hinge on how much this interest turns into real, tangible outreach efforts from Republican candidates and their campaigns.
In that way, it recalls the Washington Post's 1987 coverage of Kemp being the only Republican to speak to LULAC, which caused "disappointment and disillusionment" due to the failure of Vice President George H.W. Bush and the others to appear.
"If the Republican Party hopes to increase the gains it has made in recent years," LULAC president Oscar Moran said at the time, "this type of response is not going to enhance that process and may reverse it."