Conservatives Outraged by Gina Carano Firing, Urge People to Cancel Disney Plus
The firing of Gina Carano from The Mandalorian has caused outrage among conservatives who are condemning cancel culture for the action taken by Lucasfilm.
The actress and ex-MMA fighter, who is a vocal Donald Trump supporter, shared a post on Instagram that compared being a Republican today to the experience of Jewish people during the Holocaust.
This led to her being terminated from her role on the Disney+ Star Wars series on Wednesday night.
"Gina Carano is not currently employed by Lucasfilm and there are no plans for her to be in the future," a Lucasfilm spokesperson said in a statement, per The Hollywood Reporter. "Nevertheless, her social media posts denigrating people based on their cultural and religious identities are abhorrent and unacceptable."
The situation has seen a huge reaction on both ends of the political spectrum with two hashtags—#FireGinaCarano and #CancelDisneyPlus—both widely circulating on Twitter.
Many conservative voices are defending Carano for sharing her views and calling for others to cancel their Disney+ subscriptions.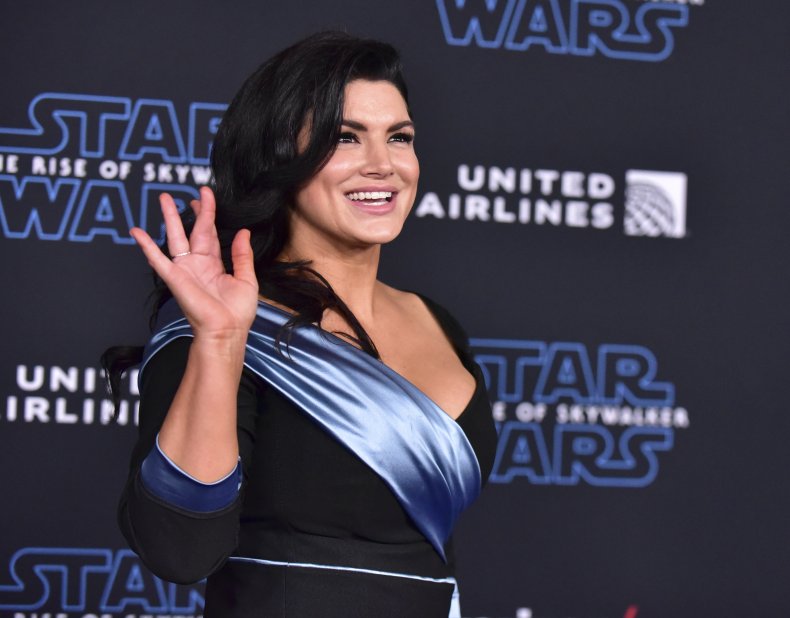 Carano got some praise from conservative political commentator Tim Pool, who tweeted: "Gina Carano is awesome."
Similarly, far-right social media personality Mike Cernovich showed his support in condemnation of cancel culture, tweeting: "The blacklisting of Gina Carano is proof that the left views anyone who dissents as people who must be destroyed. They hate you. Don't live in denial or pretend otherwise. Stop trying to be friends or debate them. They want you in gulags. Get your mind in the fucking game!"
While YouTuber Dave Rubin added: "Disney has cancelled @ginacarano, so I'm cancelling my @disneyplus. We need to stop giving these people our money and we must build new franchises. Gina, if you'd like to come on the show to discuss anything let me know."
Comedian Tim Young called on his followers to cancel their Disney+ subscriptions.
"I don't usually get in on these things, but #CancelDisneyPlus," he said. "Disney is OK with human rights abuses in China... but not free speech that offends leftists in America."
In another tweet, he added: "If you question the left's narrative... they'll label you multiple "-ists" and try to cancel you. This game is getting VERY old."
While author Mollie Hemmingway tweeted: "We canceled our @Disney subscription tonight. @ginacarano."
Meanwhile, many are satisfied with Lucasfilm for terminating Carano.
"Gina Carano has fallen to the dark side of the force," said author Don Winslow.
"If you're not caught up on this story, Gina Carano mocked people's preferred pronouns, mocked safety measures during a pandemic, and compared being criticized to the holocaust. She made the choice to say these things. Lucasfilm made the choice not to work with her anymore," said comedian Joseph Scrimshaw.
Yvette Nicole Brown of Community fame joked: "Can someone tell #GinaCarano to google Roseanne?"
Composer Sam Hulick welcomed the news, tweeting: "FINALLY. #FireGinaCarano. It was her post where she likened political divisiveness to the Holocaust that was the final straw."
"Someone likened Gina Carano's posts to being 'unprofessional.' By that logic, is me speaking out against The GOP's atrocities unprofessional and worthy of firing? No. Spewing dangerous, false, malicious rhetoric about the election, COVID, and the Holocaust is why she was fired.," said TV writer Gennefer Gross.
Carano has yet to comment on her termination.
The situation has also seen United Talent Agency drop Carano as a client, a spokesperson confirmed to THR.