Gina Carano has been fired from her role as Cara Dune from Disney+'s The Mandalorian over offensive social media posts.
The actress and ex-MMA fighter is no longer a part of the cast of the Star Wars series after she shared a post on social media that compared being a Republican today to the experience of Jewish people during the Holocaust.
"Gina Carano is not currently employed by Lucasfilm and there are no plans for her to be in the future," a Lucasfilm spokesperson said in a statement, per The Hollywood Reporter. "Nevertheless, her social media posts denigrating people based on their cultural and religious identities are abhorrent and unacceptable."
Carano, a vocal Donald Trump supporter, came under heavy criticism after posting the offensive Instagram post.
It read: "Jews were beaten in the streets, not by Nazi soldiers but by their neighbors... even by children... Because history is edited, most people today don't realize that to get to the point where Nazi soldiers could easily round up thousands of Jews, the government first made their own neighbors hate them simply for being Jews. How is that any different from hating someone for their political views?"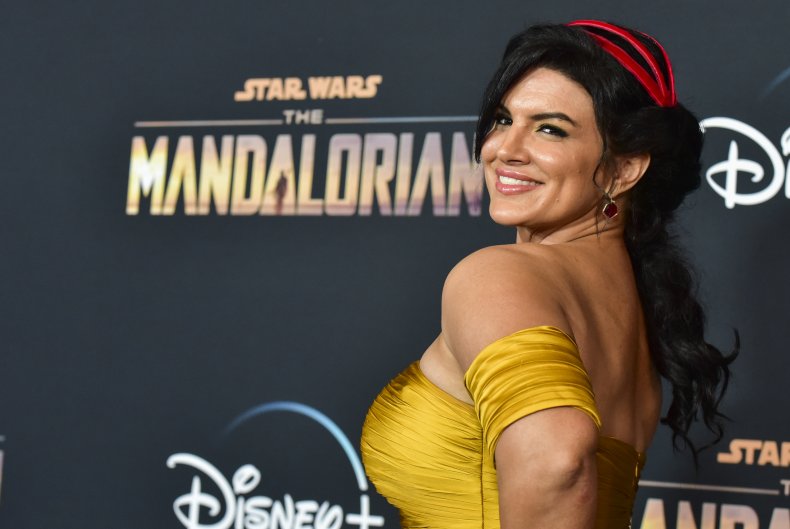 On Wednesday, the hashtag #FireGinaCarano began trending following Carano's post.
Her character appeared in several episodes of the second season of The Mandalorian.
However, this is not the first time the actress has been at the center of controversy over her political views.
In November of 2020, she shared a meme on Twitter that appeared to criticize mask-wearing during the coronavirus pandemic—leading to Star Wars fans petitioning for her to be cut from the show.
She also previously shared false information on her Twitter about the 2020 election result, pushing baseless voter fraud claims.
"We need to clean up the election process so we are not left feeling the way we do today. Put laws in place that protect us against voter fraud," she said on November 5.
Back in September, she was accused of transphobia after making a joke that mocked the use of pronouns.
After being asked by social media users to add her pronouns to her bio, she added the words "boop/bop/beep" to her Twitter name, in apparent ridicule of the convention which seeks to normalize their inclusion to avoid the misgendering of trans people.
On Wednesday, before news of her termination from The Mandalorian was announced by Lucasfilm, Carano posted a picture to her Instagram story that included the phrase: "Jeff Epstein didn't kill himself"— a reference to conspiracy theories that the convicted pedophile was murdered.
Carano has yet to comment on the situation.
The situation has also seen United Talent Agency drop Carano as a client, a spokesperson confirmed to THR.