Conservatives Score Victories in Local Elections on Bad Night for Democrats
Republican and conservative candidates made notable gains in local elections held on Tuesday in states including California and Wisconsin.
With crucial 2022 midterm elections just months away, Tuesday's votes could be an indication of the electorate's mood as Republicans hope to regain the House of Representatives and the Senate and potentially stymie President Joe Biden's agenda.
Republican Connie Conway was leading in the bipartisan primary for California's 22nd district as of Thursday morning. She is running to replace former Republican Representative Devin Nunes.
Conway had won 34.8 percent of the vote, with an estimated 63 percent of votes counted, according to figures published by the California Secretary of State's office available on Thursday morning. Her nearest opponent, Democrat Lourin Hubbard, had won 19.7 percent of the vote.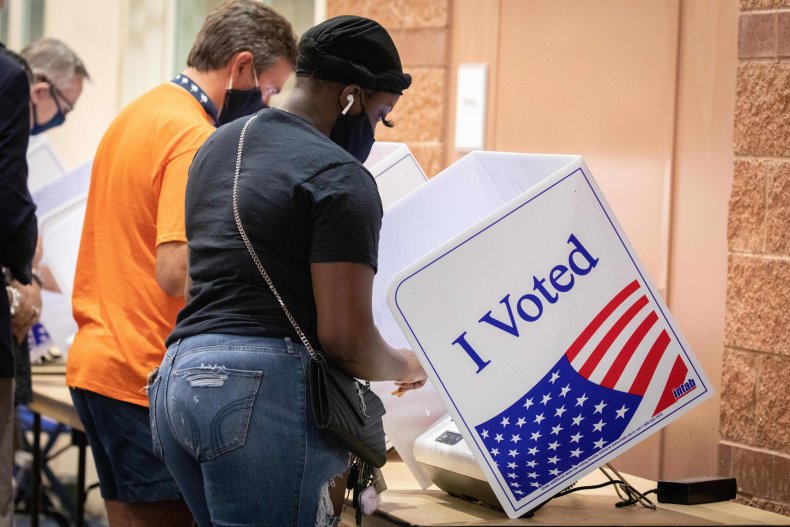 Conway will advance to the runoff election in June but the final results for the second place in the runoff could take some time as mail-in ballots can arrive as late as April 12.
If no candidate wins more than 50 percent when all the ballots are counted, the two top vote-getters will face each other in a runoff election on June 7. However, the ultimate winner will only serve until January 2023 as the district was eliminated during redistricting.
Republican candidates also had strong showings elsewhere on Tuesday night.
Samantha Kerkman defeated Rebecca Matoska-Mentink, a Democrat, in the race for executive of Kenosha County, Wisconsin.
Kerkman becomes the first woman to serve as executive of the county. In 2016, former President Donald Trump became the first Republican presidential candidate to win Kenosha County since Richard Nixon.
There was another success for conservative women in Wisconsin on Tuesday as Waukesha County Judge Maria Lazar defeated incumbent Judge Lori Kornblum for a seat on the Court of Appeals for District II.
Kornblum had been appointed to the court by Democratic Governor Tony Evers last year, while Lazar enjoyed the backing of conservative groups in her bid to unseat Kornblum. Lazar maintained a lead of around 10 percent with some 90 percent of ballots counted.
Republican candidate Mitch Kaye led Democrat Dustin McCormick in the so-called "jungle" election for a seat in the Georgia House representing the 45th district. Kaye won 42 percent to McCormick's 39.8 percent with all precincts reporting and the two men will face each other in a May 3 runoff.
Republican National Committee spokesperson Emma Vaughn told Newsweek in a statement on Wednesday: "Voters across the country cast their ballots for Republicans and our proven agenda, rejecting Biden and Democrats' collapsing agenda."
"The Republican National Committee worked hand in glove with our state parties to deliver resounding victories for Republican candidates up-and-down the ballot. Republicans are proving we can compete and win even in the deepest of blue states, districts and cities—Democrats will be forced to answer to the American people for their failures in November," Vaughn said.
Conservatives also appear to have had success at the school board level. In the Waukesha school board election, three challengers—Karrie Kozlowski, Marquell Moorer and Mark Borowski—were triumphant.
Though that school board was a nonpartisan contest, all three winning candidates were backed by the Republican Party of Wisconsin.
In the Menomonee Falls, Wisconsin school board race, the self-described "Moms on a Mission" all won election. Nina Christensen, Shelley Holzman and Chris Stueland succeeded in a contest where they had expressed concern about books provided to children.
Stueland had said on Facebook that she had no interest in banning books but said "what we are interested in doing is protecting students from sexually explicit content without parental knowledge."
Christensen had been among a number of parents who organized a protest against masks, while Stueland also expressed concern about mask mandates.
Two conservatives triumphed in elections for the Elmbrook School Board in Brookfield, Wisconsin, according to Fox 6 News political reporter Jason Calvi, while in Lee's Summit, Missouri, mothers Heather Eslick and Jennifer Foley won their school board races.
Eslick has been critical of equality and diversity programs and argued against initiatives that are "identity-based" in their focus. Foley has also been critical of diversity programs.
Newsweek has asked the Democratic National Committee for comment.
Update 04/07/22 05.11 a.m. EDT: This article was updated to include a statement from the RNC and more information about the special election in California's 22nd district.