Will Republicans Pushing for a Constitutional Convention Succeed?
Experts have raised concern over a Republican plot to amend the Constitution by creating a never-before-seen Constitutional Convention, although they downplayed the chances of its success.
The grassroots plan, being pushed by figures such as former Sen. Rick Santorum and Donald Trump lawyer John Eastman, was highlighted in a lengthy report by Insider detailing how Republicans have spent years gathering momentum for an idea previously considered to be far-fetched.
Under Article V in the Constitution, amendments can be made to the documents if a two-thirds majority of Congress supports a change—which is how the 27 amendments have been approved so far—or if two-thirds of U.S. states can call for a convention to amend it, which has never been done before.
With Congress becoming increasingly divided, it has become harder for any amendment to the current Constitution to be passed, even on some of the less contentious issues.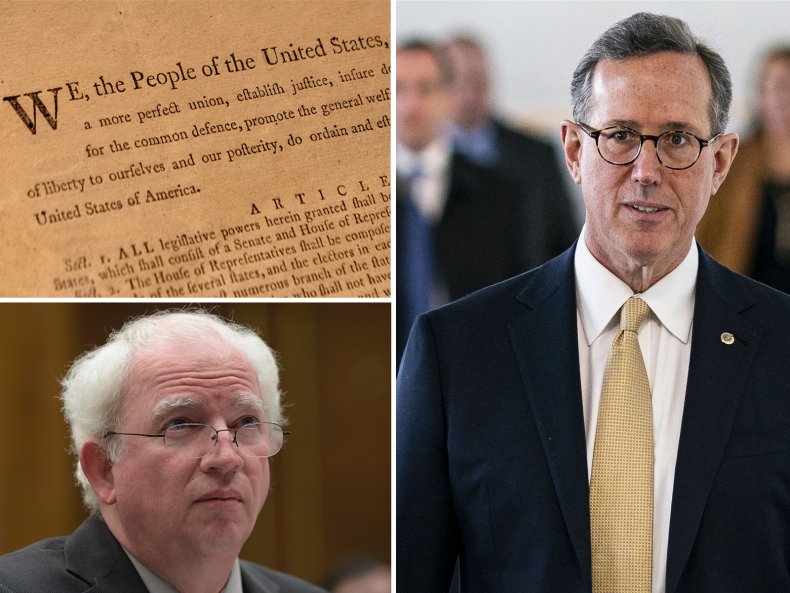 In order for a Constitutional Convention to be approved, 34 states would need to back the measure. Currently, 19 GOP states have joined the conservative movement headed by the nonprofit Convention of States, with four of those joining in 2022 alone.
While still needing more than a dozen states if they have any hope of succeeding, Rob Natelson, a constitutional scholar who is working with the grassroots movement to push for a Convention, believes that there's a chance of it happening in the next few years.
"My guess is we would probably have about an even chance of a Convention over the next five years," Natelson told Insider.
Speaking to Newsweek, Eric J. Segall, professor of law at Georgia State University College of Law, downplayed suggestions that there will soon be enough support for a Constitutional Convention.
"They need 34," Segall said. "When they get to 27, 28, I'll start to worry."
Segall added that while there are a number of clauses and amendments in the Constitution that he believes should be changed—such as giving federal judges life tenure or having a two-month gap between a presidential election and the inauguration day—the country is too divided currently to discuss alterations to the document.
"America is at a very, very critical point," he said. "I have no prediction as to how it's gonna go, but it's not gonna go the way of backing a convention."
Carolyn Shapiro, law professor at the Chicago-Kent College of Law, said that while it is "certainly possible to imagine" that enough U.S. states would support a Constitutional Convention, doing so could be "extraordinarily devastating to the continued existence" of the United States as a single nation.
"It's very troubling to see the movement potentially gaining momentum during a time when the country as a whole is struggling so much with our multi-racial democracy," Shapiro told Newsweek.
"Where we have strong authoritarian tendencies emerging, we have structures in place that might give those authoritarian tendencies the ability to gain power and increasingly gain power. The Constitutional Convention might very well facilitate that."
Shapiro added that while it is conservative figures who are spearheading the calls for a Constitutional Convention, the movement's goal "transcends" party politics.
"It's not so much about the Republican Party as it is about certain ideological commitments that are, to me, deeply problematic, troubling and anti-democratic, which would make it very hard for the country to continue as a functional nation," Shapiro said.
According to Insider, the conservatives' aim is to change the Constitution in order to eliminate national education requirements, making it harder for any territory such as Washington D.C. to achieve statehood, and to make it "more difficult, or impossible" for those like Dr. Anthony Fauci, the White House chief medical adviser, to remain working within the government for decades.