Elizabeth Warren: There's a 'Constitutional Responsibility to Invoke the 25th Amendment,' If Donald Trump Is Unfit
Senator Elizabeth Warren has defended claims that the FBI and Justice Department looked into whether President Donald Trump's Cabinet would consider invoking the 25th Amendment to remove the president from office.
Warren, a Massachusetts Democrat, has launched a presidential exploratory commmittee in advance of a 2020 presidential run, made the comments during a news conference following a rally in Las Vegas on Sunday.
"My point here is that if they believe that Donald Trump cannot fulfill the obligations of his office, then they have a constitutional responsibility to invoke the 25th Amendment," Warren said, The Nevada Independent reported. "Their loyalty under law is not to him personally. It is to the Constitution of the United States and to the people of United States."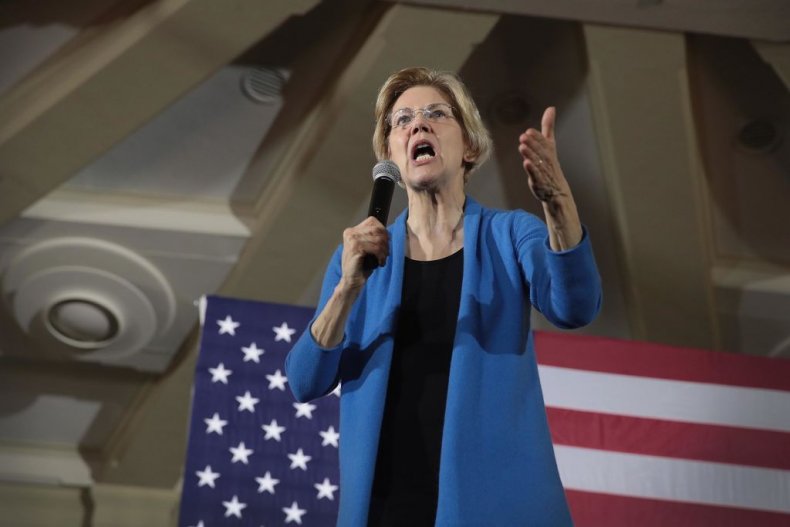 In comments during an interview with CBS News's 60 Minutes on Sunday, some of which were reported last week, former Acting FBI Director Andrew McCabe said there were meetings held at the Justice Department to discuss removing Trump using the 25th Amendment.
"Discussion of the 25th Amendment was simply, Rod [Rosenstein] raised the issue and discussed it with me in the context of thinking about how many other Cabinet officials might support such an effort," McCabe told 60 Minutes correspondent Scott Pelley.
The 25th Amendment allows for the president's removal if the vice president and the majority of the Cabinet believe he or she is not fit to carry out the duties of the office.
Trump supporters have lashed out at McCabe's account, calling any such move a "coup" against the president. Trump has also blasted McCabe and Rosenstein, saying: "He and Rod Rosenstein, who was hired by [former Attorney General] Jeff Sessions (another beauty), look like they were planning a very illegal act, and got caught," in a Monday morning tweet. "This was the illegal and treasonous 'insurance policy' in full action!" the president argued in a second Twitter post.
Senator Lindsey Graham, a Republican from South Carolina, told CBS News's Face the Nation that he will use his power to investigate McCabe's claims, calling them "beyond stunning."
"Through good reporting by 60 Minutes, there's an allegation by the acting FBI director at the time that the deputy attorney general was basically trying to do an administrative coup, take the president down to the 25th Amendment process. The deputy attorney general denies it," Graham said. "So I promise your viewers the following, that we will have a hearing about who's telling the truth, what actually happened."
Last week, a spokesperson for McCabe downplayed his involvement in any discussions about the 25th Amendment. The spokesperson said he did not "participate in any extended discussions about the use of the 25th Amendment, nor is he aware of any such discussions," according to The Hill.