How Netflix's 'Convergence' Shines a Light on COVID Heroes From Around the World
Convergence: Courage in a Crisis is the moving documentary on Netflix about the strength and kindness of ordinary people during the height of the coronavirus pandemic throughout 2020.
The two-hour-long film is not your ordinary COVID-19 documentary. For example, Convergence: Courage in a Crisis is not about the origins of the virus, the spread, and subsequent response (or lack of) from governments across the world. There's also very little mention of lockdown highs and lows and the vaccine roll-out, topics which dominated our news for over a year.
Instead, Convergence: Courage in a Crisis shines a light on the unlikely COVID heroes from around the world, whilst simultaneously giving a stage to social injustice and health care inequality which were exacerbated by the pandemic.
At the heart of Convergence: Courage in a Crisis is the people. Across two hours, the film manages to encapsulate the incredible individual stories of nine ordinary people, the majority of them who voluntarily put themselves on the frontline, helping to battle the rapidly spreading virus.
For example, there's Dr. Armen Henderson, a Miami-based doctor who, outside of fighting COVID in the hospitals, takes to the streets to fight against social injustice and help Miami's homeless. Wenhua Lin, a young vlogger from Wuhan, China also features. He joined the first voluntary medic team in the city, driving Wuhan's health care workers to and from work and delivering medicines. Dr. Rosa Luz López worked tirelessly to make sure her young patient Aldair survived COVID in Lima, Peru and Renata Alves in the Paraisópolis favela in São Paulo voluntarily became an ambulance GPS navigator.
Convergence: Courage in a Crisis also features interviews with WHO's Director-General Dr. Tedros Adhanom Ghebreyesus (based in Geneva) who powerfully states "there is no vaccine for misguided nationalism," when criticizing the un-coordinated response of governments to the pandemic. Professor Sarah Gilbert, a vaccinologist at the University of Oxford who co-developed the Oxford-AstraZeneca COVID-19 vaccine, also appears to discuss the effectiveness of the vaccine and the research process.
Convergence: Courage in a Crisis co-director Hassan Akkad also features in the film. During 2020, he documented his job as a cleaner at a local hospital, taking viewers inside the realities of a COVID-19 ward.
Speaking to Newsweek, Akkad described his time working as a hospital cleaner as being similar to a "war zone" but he was motivated to help the NHS.
"It generally felt like a war zone. I purely did it because the hospital was a nine-minute walk from home and if something were to happen to me, or my partner at the time, I would have had to go to that hospital. And I really like London since I moved from Syria, London is like home to me so it's just connected the dots and it felt natural to do it and it didn't feel like a superhero thing to me. They just needed a cleaner."
The scale of Courage: Convergence in a Crisis is seriously impressive. Spanning the entire world, Convergence was shot by 10 different teams across 10 different locations, including the U.K., Peru, India, the U.S, Iran, and Brazil.
At the beginning of the pandemic, director Orlando von Einsiedel had put out a call to filmmakers across the globe, asking them to document the unique stories unfolding in their communities right before their eyes. He caught the attention of Mauricio Monteiro Filho in Brazil, Akkad in the U.K., Amber Fares in the U.S., Juhi Sharma in India, Belgian director Lieven Corthouts, Wenhua Lin in Wuhan, New York and India based filmmaker Juhi Sharma, Mohammad Reza Eyni and Sara Khaki in Iran, and Lali Houghton and Guillermo Galdos in Peru.
Convergence director von Einsiedel described the Netflix film as the "avengers" version of a documentary.
He continued: "When we did this none of us had any idea what was going to happen. We were all in it together, so it's very difficult to navigate. I think what did emerge in almost everyone's case in the filming of storylines was this sort of failure of government and civil society rising up. That sort of became the key, driving narrative but it was important to include stories that didn't directly address that story like Sara and Mohammad in Iran, I think their story represents most of the things we experienced."
He added: "It was very clear at the beginning, that this couldn't be a project just done out of London, it needed to be done globally. It needed to be this incredible collaboration.
"There was definitely a desire to try and I guess, capture the world, focus on people and key parts of the world but then I suppose in the end, we were actually drawn to where the virus was having the worst effect and that actually tended to be countries often, governments, by populist leaders."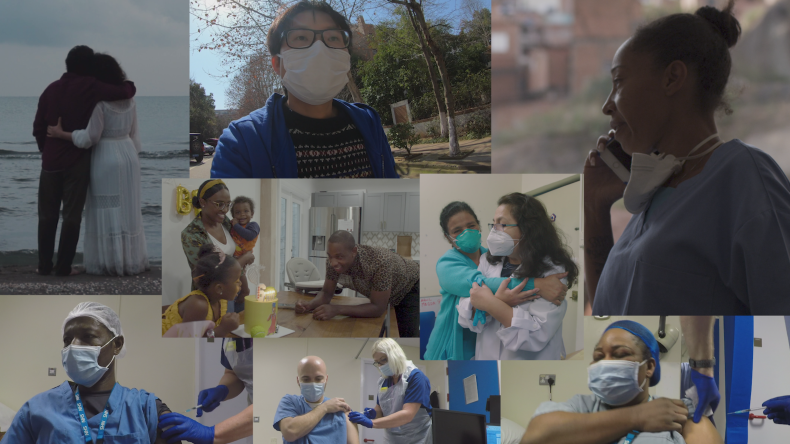 Overall, it is the message of Convergence: Courage in a Crisis that makes the Netflix documentary different from other documentaries out there on the topic. Yes, it is sad and shocking, but it stops short of being bleak. By shining a light on the ordinary people who became unsung heroes, Convergence: Courage in a Crisis is incredibly uplifting, proving that people coming together really can change the world.
Akkad said: "I hope it carries the message that the pandemic isn't the first and won't be the last crisis we face as a global community and the best way to move forward is if we work together. I mean, the idea of the film is convergence and the way it got made is that people got together to make the film.
"It's a big world out there, it's a bit mad right now. Our film isn't an easy film to watch but it's got a positive message. It's like a manifesto on how we can keep this world right."
Convergence: Courage in a Crisis is streaming on Netflix now.