'Convergence' Netflix: Meet Miami Doctor Armen Henderson
Convergence: Courage in a Crisis on Netflix is an ambitious documentary about nine unsung heroes and the acts of kindness they carried out during the height of the COVID-19 pandemic. Dr. Armen Henderson, a Miami-based doctor at the University of Miami, is one of those incredible people who not only fought on the COVID frontline in hospital but took his place in the battle for social justice.
Outside of his hospital shifts, Henderson took to the streets to ensure Florida's homeless got the protection they needed. He also was a strong voice in the Black Lives Matter protests of summer 2020, following the killing of George Floyd on May 25, 2020.
Speaking to Newsweek, Academy Award-winning director Orlando von Einsiedel said Henderson was a "central part" of the documentary as he represented the people fighting against social injustice.
He explained: "Dr. Armen Henderson's story spoke very much to that [social injustice and the killing of George Floyd], to what was happening there and then Renata's [Alvez] story in Brazil, the protests that her community was doing, it was separate to Henderson's Black Lives Matter protests but the anger... they had very similar reasons for coming onto the streets to fight against injustice and deep-seated inequities and try to get the government to do something and be better basically."
Who is Dr. Armen Henderson?
Dr. Armen Henderson is a doctor of internal medicine at the University of Miami. He is also an assistant professor of medicine at the hospital.
During the coronavirus pandemic, Henderson volunteered on the streets of Miami with the advocacy group Dream Defenders, testing the homeless for coronavirus and passing out supplies such as tents and food.
Henderson also helped run a showering facility where the homeless could look after their personal hygiene. He also offered health advice, helping with small injuries and changing bandages.
Throughout Convergence: Courage in a Crisis, we see Henderson, a devoted family man, juggle with work, helping the homeless, and the Black Lives Matter protests.
Henderson also reflects on the moment he was arrested by a white officer outside his home in April 2020, just one month before George Floyd's death.
At the time, Henderson was preparing to deliver supplies, such as tents and PPE, to the homeless. The entire incident was captured on Henderson's home security surveillance footage, which features in the Netflix documentary.
The officer, Sergeant Mario Menegazzo, was later found to have violated multiple policies by Miami's Civilian Investigative Panel, reported the Miami Herald.
The panel, who reported its findings to the city's police chief, found Menegazzo was "discourteous" to Henderson and had not followed proper procedure, including not wearing a face mask during the pandemic, improperly handcuffing Henderson, not notifying dispatch, and pointing his finger in Henderson's face after he had been handcuffed.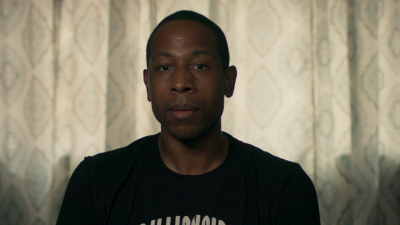 The internal affairs investigation found similar conclusions, except they concluded the officer was justified in handcuffing Henderson after concerns were raised over the illegal dumping of trash.
Speaking at the end of Courage: Convergence in a Crisis, Henderson reflects: "We try to dream about a society in which we live in that is devoid of these disparities and imagining things like that, it helps me to be the type of physician I am today.
"Knowing that we are fighting for something that we may not see the changes is part of tradition. I want to build a world in which I know my children are going to thrive and other children are going to thrive. We are going to keep fighting and continue to what we have to do."
Convergence: Courage in a Crisis is streaming on Netflix now.