Convicted Bank Robber Charged in Capitol Riot Case Says He 'Can't Take' Stolen Election
Mark Ponder, who admitted to robbing a bank and a taxi driver, told the FBI that he believed the 2020 presidential election was stolen and he participated in the riot because he couldn't stand for the American people being robbed.
Ponder is one of 400 people who have been charged in the Capitol riot and is accused of assaulting a federal officer with a pole. Emotions were running high that day, according to Ponder, and he was frustrated that former Attorney General William Barr and the Supreme Court didn't step in to investigate and hear the case of a stolen election.
"I really feel as though it was stolen," Ponder told the FBI, according to court filings. "You cannot stand if someone is going to take it from you. If you are going to get robbed. And you go to work every day, and you go outside and somebody robs you. That's something you can't take, right?"
A decade before Ponder qualified his behavior as being based on a belief that a person can't stand for being robbed, he was convicted on two separate robbery offenses. In 2008, he admitted to entering a PNC bank, demanding money and walking out with $2,469. A week later, he admitted to stealing a taxi after he forced the driver and a passenger out of the vehicle, according to court documents.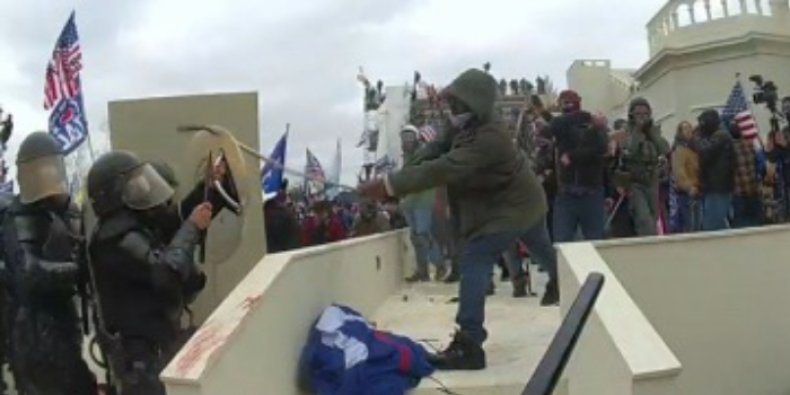 Prosecutors highlighted his criminal history in its push for a judge to order he be detained until his trial. They argued that his record demonstrates a "long-term disregard for authority" and an unwillingness to conform his actions to the law.
Ponder's attorney, Joseph Conte, had no comment.
During a physical altercation with an officer, the pole Ponder was allegedly using broke and he then struck an officer with his own round shield, according to the criminal complaint. He then retrieved another long pole and continued to strike officers.
Ponder was arrested at the riot, and he told the officers arresting him that they knew "deep in their heart" that the freedom their fathers and grandfathers fought for were being given away. At some point, he told them, they'll have to "make up their mind what side they're going to take."
The defendant told the FBI he generally "stands with" law enforcement but was angry with officers on January 6 because he saw them as "part of the problem." The altercation wasn't a personal attack on the officer, Ponder said, but he'd "come this far, I can't quit now."
He expressed regret for assaulting the officer and was concerned that the officer was hurt, according to court documents.
"At a moment when 'emotions were high' Ponder was willing to abandon the lawful methods of social change in favor of violence and to attack the very officers he claimed to support," prosecutors wrote.
Given his criminal history, the weight of the evidence against him and the danger that he poses to the community, the prosecution argued, there were no conditions or combination of conditions that a judge could set for his release that would keep the public safe.