Convicted Murderers on Death Row Die of Coronavirus Complications
The California Department of Corrections and Rehabilitation (CDCR) reported Friday that two convicted murderers slated to be executed by the state have died from complications related to COVID-19.
Scott Thomas Erskine, 57, and Manuel Machado Alvarez, 59, died at hospitals outside of San Quentin State Prison where both men were held. Erskine had been on death row since December 27, 2004, while Alvarez was put on death row on September 20, 1989.
The CDCR did not release any other information about the two men's deaths. Newsweek has reached out to the CDCR for further information.
San Quentin State Prison has seen at least 1,100 cases of the coronavirus as of July 1. It is reportedly the prison hardest hit by the pandemic in the CDCR.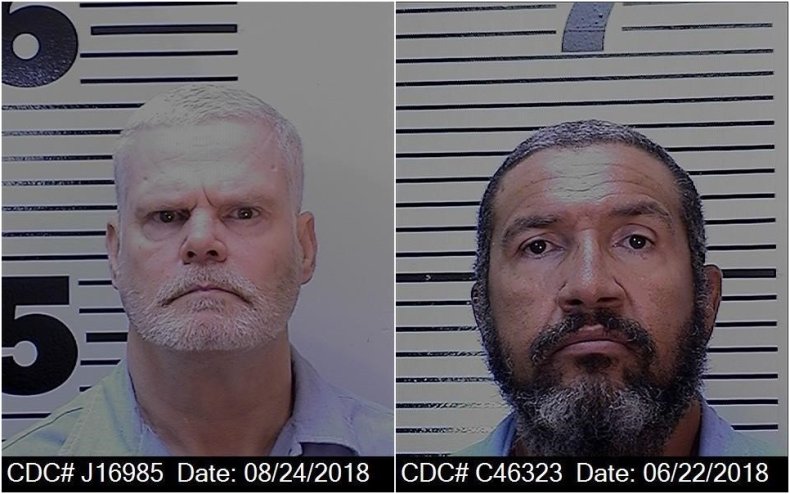 Erskine was convicted in 2004 for the 1993 rape and murder of 9-year-old Jonathan Sellers and 13-year-old Charlie Keever, after the San Diego Cold Case squad reopened the investigation into their deaths. Semen found in Keever's mouth at the time of death matched Erskine's DNA. His DNA was also found on two cigarette butts found near the bodies.
Erskine's public defender did not deny that his client was the murderer, but argued that a car accident that happened when Erskine was 5 years old had given him severe brain damage making it difficult for him to tell right from wrong.
Erskine was also convicted of the 1989 rape and murder of Renee Baker, 26, after investigators in Palm Beach County, Florida linked him to DNA found at the crime scene. Investigators believe he may have been involved in other unsolved murders.
Alvarez, along with Belinda Denise Ross, were charged in connection to the murder and robbery of Allan Birkman, 35, in 1987. Alvarez stabbed Birkman to death in a shopping center in Sacramento County when Birkman refused to give the pair the $60 in cash he had withdrawn from a nearby ATM.
A few hours later, Alvarez then knocked Greta Slatten, 78, unconscious and stole her new car. Slatten had parked at a convenience store near her apartment. Alvarez saw her inside, and waited by a public telephone for her to exit her car, where he hit her and stole her car and purse.
Ross was found guilty as an accessory to Birkman's murder and robbery, and sentenced to eight and a half years in prison. Alvarez was sentenced to death on September 14, 1989 for the robbery and murder of Birkman, the robbery of Slatten, and a rape Alvarez committed two days before the murder.