Cook Fired for Writing 'Let's Go Brandon' on School Menu Sign, Leaving Job Early
A Vermont school has fired its head cook for writing a controversial euphemism on a menu calendar, then left work early.
Walden School, a pre-kindergarten through eighth-grade school in West Danville, Vermont, fired Alex McGregor for writing "Let's Go Brandon" on the school's menu calendar. The school's termination letter to the former head cook said that the phrase was "on school property in a location where it would easily be seen by students and staff." They also cite him not working his entire shift for three days without an explanation as further reason to terminate his employment.
McGregor told the local newspaper Caledonian Record that the menu calendar he wrote the phrase on was out of sight from many students. However, the Caledonia Central Supervisory Union Superintendent disagreed.
"This is not about having political opinions or making political statements...this is about taking advantage of a profane euphemism in an elementary school," Mark Tucker told reporters.
"Let's Go Brandon" has been used as a rallying cry that translates to "F**k Joe Biden." NBC Sports reporter Kelli Stavast, who was wearing a large headset, had told NASCAR driver Brandon Brown in an interview after his win that they were chanting his name instead of the latter vulgar chant. "Let's Go Brandon" quickly gained traction among conservatives, having been chanted at various rallies and QAnon-backed churches since the race.
As for NASCAR, the racing organization has distanced itself from the chant that originated at one of their events. "Do we like the fact that it kind of started with NASCAR and then is gaining ground out elsewhere?" said NASCAR President Steve Phelps to reporters earlier this month. "No, we're not happy about that."
For more reporting from The Associated Press, see below: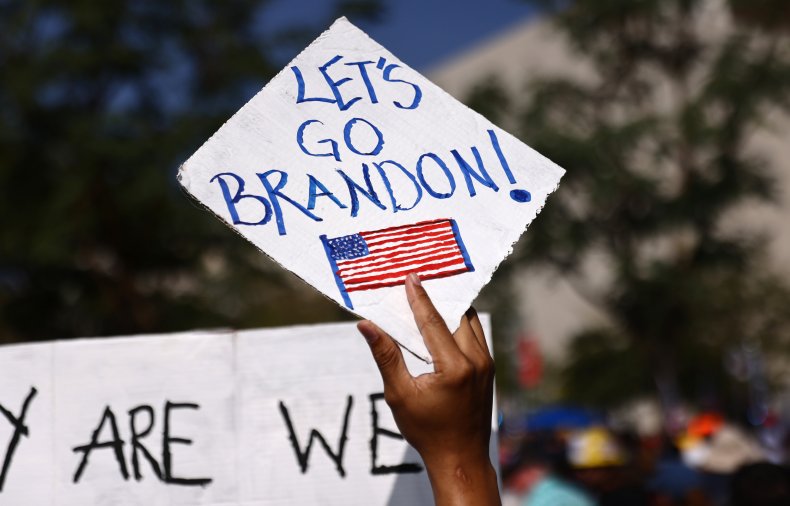 McGregor also said the phrase doesn't necessarily translate into "F**k Joe Biden."
Vermont's newly elected GOP chair held a rally in the town of Brandon earlier this month. Newsweek previously reported that Florida Governor Ron DeSantis held a similar rally in the state's town of the same name. He held the rally to sign a bill that limited COVID-19 restrictions and vaccination mandates across the state.
"I told Floridians that we would protect their jobs and today we made that the law," said DeSantis in a statement. "Nobody should lose their job due to heavy-handed COVID mandates and we had a responsibility to protect the livelihoods of the people of Florida."
"People saw it and went to the principal, and he went and took photographs of it," Tucker said.