DeSantis Signs Bill Limiting Mandates in Brandon, Florida, to Chants of 'Lets Go Brandon'
Florida Governor Ron DeSantis signed legislation on Thursday limiting COVID vaccine mandates across the state.
A special session of the Florida Legislature passed the bill on Thursday and DeSantis chose to sign the bill into law in Brandon, Florida where the crowd chanted "Let's go Brandon" after the signing ceremony.
The chant "Let's Go Brandon" is actually a code adopted by conservative Republicans for "F*** Joe Biden," which has recently grown in popularity, the Associated Press reported.
Though DeSantis said at a press conference after the signing ceremony that the Tampa suburb was only selected because he thought it was "a great American city and that the people here are fantastic," his campaign said it chose Brandon as the location for the signing ceremony as a way to challenge the vaccine mandates issued by President Joe Biden's administration, according to the AP.
The new legislation is meant to "protect parents' rights to make healthcare decisions for students," according to a statement by the governor's office.
"I told Floridians that we would protect their jobs and today we made that the law," said DeSantis in a statement on Thursday. "Nobody should lose their job due to heavy-handed COVID mandates and we had a responsibility to protect the livelihoods of the people of Florida."
The measure calls for fines for businesses that fire their employees over vaccine mandates without accepting their exemptions and prohibits educational institutions and government entities from imposing COVID vaccine mandates.
"In Florida, government entities (including public schools) cannot mandate masks, though businesses can have their own mask policies if they choose," a spokesperson at DeSantis' office told Newsweek on Thursday. "Government and businesses are prohibited from mandating vaccines for employees or requiring vaccine passports as a condition of entry or service."
Florida employees can now choose from multiple vaccine exemptions, including ones related to religious and medical concerns, as well as pregnancy.
The law also allows parents to sue schools that impose mask mandates among students and bans school districts from quarantining healthy students.
The governor's spokesperson said on Thursday that health-related decisions that include masks, vaccines, and staying at home are for people to make in consultation with a healthcare provider if needed.
As per the legislation, small businesses could be fined $10,000 per employee violation, while medium and big businesses could be fined $50,000 per employee violation.
Meanwhile, workers could choose PPE or they could opt for a COVID test instead of getting vaccinated against the virus with costs covered by the employer.
Explaining the reasoning behind limiting the vaccine and mask mandates, DeSantis' spokesperson said that people have different risk tolerances, and therefore "it doesn't make sense to force the same mandates on everyone."
"Mask mandates have not been shown to make a significant difference in terms of COVID spread. Vaccines can provide good protection against severe illness for a fully vaccinated person, but they do not stop infection and transmission, so there's no public health justification for a COVID vaccine mandate," the governor's office said.
When asked about the governor's recommendations for Floridians to protect themselves against COVID now that mandates are prohibited, the spokesperson said that the vaccines are freely available throughout the state.
"Florida's COVID rate is very low, but those who do get infected are encouraged to seek early treatment with monoclonal antibodies, which are proven to cut the risk of hospitalization at least 70 percent," she said.
DeSantis has long defied COVID-related restrictions as he continued to challenge mask and vaccine mandates statewide.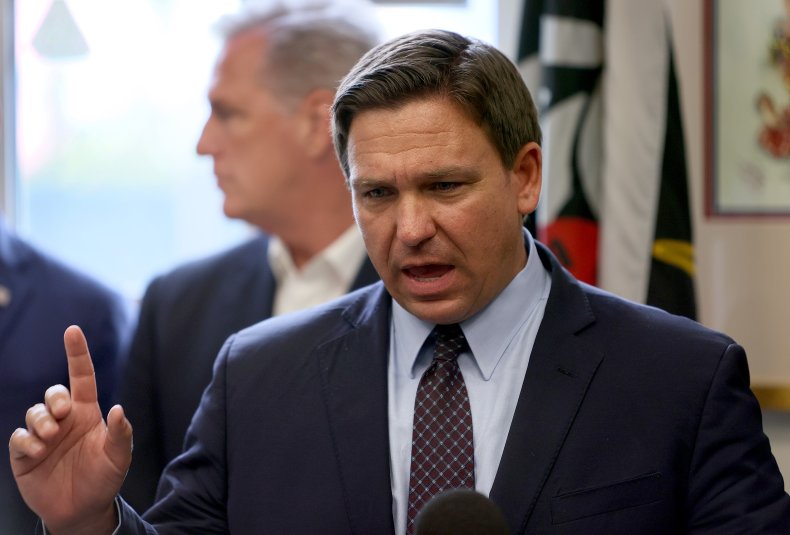 In October, he began calling for state legislators to meet and discuss ways to block COVID vaccine mandates by imposing tougher penalties on businesses, schools, and local governments.
"No cop, no firefighter, no nurse, nobody should be losing their job because of these jabs—we must stand up for people and protect their jobs and livelihoods," DeSantis said in a news release this week. "We're going to be striking a blow for freedom."
Earlier this month, Florida was among over two dozen states which sued the Biden administration after the White House announced COVID vaccine rules that apply to over 100 million U.S. workers.
Workers have until January 4 to get vaccinated against the virus or be subjected to regular COVID testing.
Update 11/19/21, 6:48 p.m. ET: This story has been updated with comments from Governor DeSantis' office.