Vaccine Mandates Live Updates: Employers Can Be Fined Up to $136k For Mandate Violation
The Biden administration announced two new vaccination requirements Thursday.
The Department of Labor's Occupational Safety and Health Administration (OSHA) announced that employers with 100 or more employees must require workers to be fully vaccinated by January 4 or submit to weekly COVID-19 tests. This rule will cover 84 million employees.
It also requires all unvaccinated employees to were masks in the workplace.
Secondly, the Centers for Medicare and Medical Services (CMS) at the Department of Health and Human Services now requires health care workers at facilities participating in Medicare and Medicaid to be fully vaccinated by January 4. This rule applies to more than 17 million workers at about 76,000 health care facilities.
The administration already enacted policies to require federal employees and contractors to be fully vaccinated.
Additionally, the Food and Drug Administration (FDA) and the Centers for Disease Control and Prevention (CDC) now recommend the COVID-19 vaccine for children ages 5 to 11.
President Joe Biden said the U.S. has secured enough vaccines for every child in the county.
"After almost 18 months of anxious worrying every time that children — your child had a sniffle or started to cough, well, you can now protect them from this horrible virus, because that would always worry that it was coming along," Biden said during his remarks Wednesday.
The live updates for this blog have ended.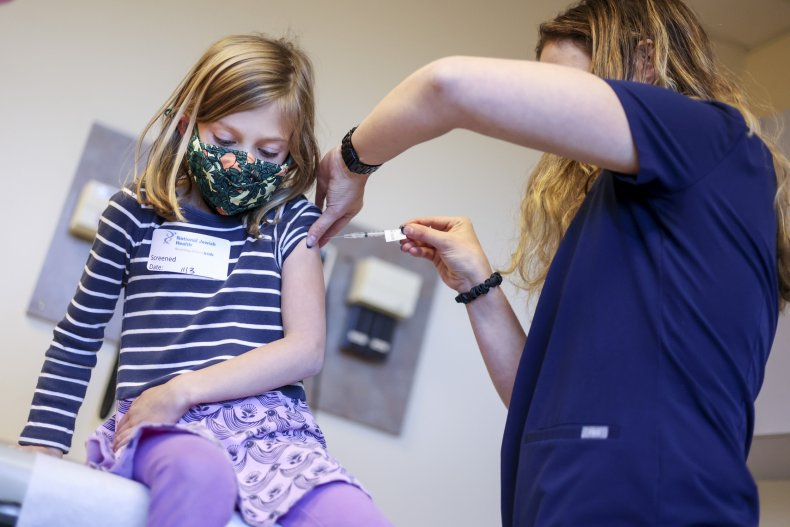 OSHA can fine employers up to $136,000 for a vaccinate mandate violation
White House Deputy Press Secretary Karine Jean-Pierre said when it comes to the vaccine mandates, "the goal here is compliance."
"The administration and OSHA are going to do everything we can to maximize compliance. That's going to be our focus," she said during a press briefing Thursday.
She said that "the vast majority of employers" will voluntarily comply with the requirements without ever being inspected, "as they do every day with other workplace safety requirements."
However, if needed, Jean-Pierre said the Occupational Safety and Health Administration (OSHA) can issue fines of $13,600 per violation and an additional $13,600 per day if an employer does not abate the violation. For "willful or serious violation," OSHA can fine employers $136,000.
Jean-Pierre noted early in the press briefing that the White House has seen a high compliance rate among early adopters of employee vaccine requirements, including United Airlines and Tyson Foods.
Unions reach deal with New York City over vaccine mandate
Four New York City unions reached a deal with the city that allows unvaccinated workers to stay on paid leave if they applied for a religious exemption to the COVID-19 vaccine mandate.
The deal affirmed the city's right to impose a mandate on unvaccinated workers but also allows those employees to go on unpaid leave and keep their health benefits through at least the end of June.
Employees who applied for religious exemption by November 2 will stay on the payroll and subject themselves to weekly COVID-19 testing with their requests and appeal are adjudicated, Mayor Bill de Blasio said.
District Council 37 of the American Federation of State, County and Municipal Employees, Teamsters Local 237, Uniformed Sanitationmen's Association Local 831 and Local 300 of the Service Employees International Union agreed to drop litigation against the mandate.
"We have reached an agreement that gives our member options," District Council 37 Executive Director Henry Garrido said in a statement. "Individuals can now make choices based on what is best for them and their families and know they will have health benefits available during this critical time."
White House is 'pretty confident' mandate will stand up in court
White House Deputy Press Secretary Karine Jean-Pierre said the Biden administration is "pretty confident" its COVID-19 vaccine mandate will stand up in court against several lawsuits filed by state leaders.
"The administration clearly has the authority to protect workers," she said. "Actions announced by the president are designed to save lives and stop the spread of COVID."
She noted that "the worst disruption businesses have faced for nearly two years is their employees getting sick with COVID."
Jean-Pierre said "these policies work," and asked, "why are [Republicans] getting in the way of trying to protect and save lives?"
She added that the Occupational Safety and Health Administration (OSHA) has a "congressionally authority" to make sure employees are not in grave danger.
Gov. DeSantis joins lawsuit against vaccine mandate
During a press conference Thursday, Florida Gov. Ron DeSantis said he will join a lawsuit with Georgia and Alabama challenging the Biden administration's COVID-19 vaccine mandate.
The Republican argued that the federal government does not have the power to issue or enforce these mandates.
"This is not consistent with a government of limited and enumerated powers," DeSantis said. "There is no general police power, there is no power to mandate on the American people from the federal government."
He added that individuals should "make their own informed decisions about their own health care," not be coerced into getting a shot.
"I just think people are so sick of constantly being bossed around, restricted, mandated," he said. "We've had enough of it and we want people to be able to make their own decision."
DeSantis said this mandate is "just the tip of the iceberg," claiming that fully vaccinated people "will be determined to be unvaccinated very soon."
There is no federal requirement to receive a booster dose of the COVID-19 vaccine.
Biden says vaccine requirements help the economy, have broad support
President Joe Biden said the vaccination is the "single best pathway out of this pandemic."
"While I would have much preferred that requirements not become necessary, too many people remain unvaccinated for us to get out of this pandemic for good," he said in a statement.
He added that the vaccine requirements "are working" and called on employers "to act."
"Businesses have more power than ever before to accelerate our path out of this pandemic, save lives, and protect our economic recovery," he said.
Biden reaffirmed that the requirements help the economy by sending people back to work and keep businesses open and have widespread support.
"There have been no 'mass firings' and worker shortages because of vaccination requirements," he said. "Despite what some predicted and falsely assert, vaccination requirements have broad public support."
Vaccine mandate for truck drivers could worsen supply chain backup
Experts warn that President Biden's vaccine mandate will exacerbate the strain on the nation's supply chain, as there is lingering vaccine hesitancy among trucker drivers.
The American Trucking Associations (ATA) warned that the industry could lose as much as 37 percent of its workforce, as many drivers remain unvaccinated.
"While much of the country was sequestered in their homes, the trucking industry served its essential function and did so successfully with safety standards developed by public health experts," ATA President Chris Spear said in an October 21 letter. "Now placing vaccination mandates on employers, which in turn force employees to be vaccinated, will create a workforce crisis for our industry and the communities, families and businesses we serve."
Tom Bevan, the president of Real Clear Politics, said on Twitter Thursday that the nation's largest trucking companies will not be exempt from Biden's policy.
FULL STORY: Truck Drivers, Facing Shortages, Expect More to Quit Over Biden Vaccine Mandate
LA County to require full COVID-19 vaccination to enter indoor venues
Beginning today, Los Angeles County will require customers to show proof of full COVID-19 vaccination to enter indoor bars, nightclubs, wineries and other venues.
Customers were previously required to have at least one dose of the vaccine to enter certain venues. Now, people aged 12 and older need the full dose of a vaccine to enter.
A negative COVID-19 test is not an acceptable alternative to vaccination proof for many indoor venues, L.A. County public health officials said.
More lawsuits filed against Biden administration over vaccine mandate
Attorney Generals from Ohio, Tennessee and Kentucky have announced they will take legal action against the Biden administration's vaccine mandate.
"Unless we intervene, federal contractors in Tennessee will be forced to make sense of the mandate's many inconsistencies that require their entire workforce be vaccinated or face potential blacklisting and loss of future federal contracts," Tennessee Attorney General Herbert H. Slatery III said in a statement.
Kentucky Attorney Daniel Cameron called the mandate "overboard" and said he takes "the issue of federal overreach seriously."
Ohio Attorney General Dave Yost joined the lawsuit, along with two Ohio Sheriffs. Yost said in a statement that "the Biden administration may not do whatever it wants, however it wants."
"The Constitution lays out critical rules by which the executive branch must operate," he said. "Congress and the states have their own powers, which the administration can't just take over because it wants to."
The Republican National Committee also announced it is suing the Biden administration, calling the mandate an "attack on frontline workers, first responders, small businesses, and the rights of the American people."
"Joe Biden failed to shut down the virus as he promised. He couldn't do his job, so now he wants you to lose yours," RNC Chairwoman Ronna McDaniel said.
Newly-elected NYC mayor wants to 'revisit' vaccine mandate
New York City Mayor-elect Eric Adams said he wants to "revisit" the city's COVID-19 vaccine mandate for city workers.
"We need to revisit how we're going to address the vaccine mandates," Adams said on MSNBC Wednesday.
Adams said he will encourage current Mayor Bill de Blasio to speak with unions, who have expressed resistance to the policy.
"We can work this out," Adams added. "This is a very difficult moment, but there's an opportunity to sit down with the unions. I communicated with some of the union leaders yesterday and they are open to sit down, and this is a good opportunity to do so and I'm going to encourage him to make that happen."
Missouri AG to sue Biden administration over vaccine mandate
Missouri Attorney General Eric Schmitt plans to sue the Biden administration over the recent COVID-19 vaccination and testing mandate announced Thursday.
"The federal government does not have the authority to unilaterally force private employers to mandate their employees get vaccinated or foot the bill for weekly testing," Schmitt wrote in his statement.
Schmitt says several state businesses voiced their concern over the mandate.
"We will be on file first thing tomorrow morning to halt this illegal, unconstitutional attempt by the Biden Administration and the federal government to impose their will on thousands of Missouri businesses and millions of Missourians," Schmitt said Thursday. "Missouri will not roll over, we will not back down — we will file suit imminently."
In the factsheet for the mandate deadline, President Joe Biden wrote the new rules from both Occupational Safety and Health Administration (OSHA) and Centers for Medicare & Medicaid Services (CMS) "preempt any inconsistent state or local laws, including laws that ban or limit an employer's authority to require vaccination, masks, or testing."
Job posts requiring COVID-19 vaccines double in a month
Job listings requiring applicants to get vaccinated have increased over the past month, a new study finds.
According to an analysis published by Ladders, a career site for higher earners, the number of job postings mandating candidates have a COVID-19 vaccine doubled since the end of September.
"To see something doubling month-over-month indicates real change in the economy and companies' behavior," Marc Cenedella, founder and CEO of Ladders, said.
However, the share of listings requiring vaccines is relatively low. Of about 10,000 job posts, only 5 percent required a COVID-19 vaccine as of October 31, the report found.
Children in San Francisco may soon need to show proof vaccination
Children may soon have to show proof of vaccination to enter indoor spaces and events in San Francisco.
During a virtual town hall Tuesday, San Francisco Health Officer Dr. Susan Philip said that children may need to present their vaccination cards "at some point."
"People have asked me, what about the local San Francisco health orders that require vaccination to go into a restaurant or to go to a Warriors game. When is that going to apply to children 5 to 11? We definitely want to wait and make sure children have an opportunity to get vaccinated so that will happen no sooner than about eight weeks after the vaccine is available to kids," Dr. Philip said.
"So there will be a limited time in which there will not be those requirements as planned but at some point, 5 to 11-year-olds will also have to show proof of vaccination to access some of those same settings," she continued.
The San Francisco Department of Public Health said it will "reexamine" the city's vaccination and masking requirements "once children under 12 have had adequate time to become vaccinated."
The statement added that children under 18 may not have personal identification and young kids "would not be penalized for not having an ID."