Cop Accused of Groping Student Given New Job Investigating Sexual Assault
A university cop resigned amid sexual harassment allegations, but three years later, another police department hired him to investigate sexual assault.
Officer David Laudon was working at the University of Massachusetts Dartmouth Police Department in 2010. One Sunday after midnight, he allegedly offered a 20-year-old student a ride to her residence hall in his cruiser, according to an incident report. When she got out, Laudon gave her a hug and "grabbed her breast," the student said.
She was wearing a trench coat and boots because of the weather. The officer later texted her, "Those boots make me hot, and I want to go to bed with you!"
After that, the student reported continued harassment. Laudon allegedly groped her again during a fire alarm, this time in front of other students. He called and texted her repeatedly. After she filed a complaint with the administration, he continued to call the student and her friends, trying to "find out who filed a complaint against him."
The officer resigned when his department began a misconduct investigation, according to local station WBUR. But three years later, he started a new job at the police department in Blackstone, Massachusetts—hardly 50 miles away.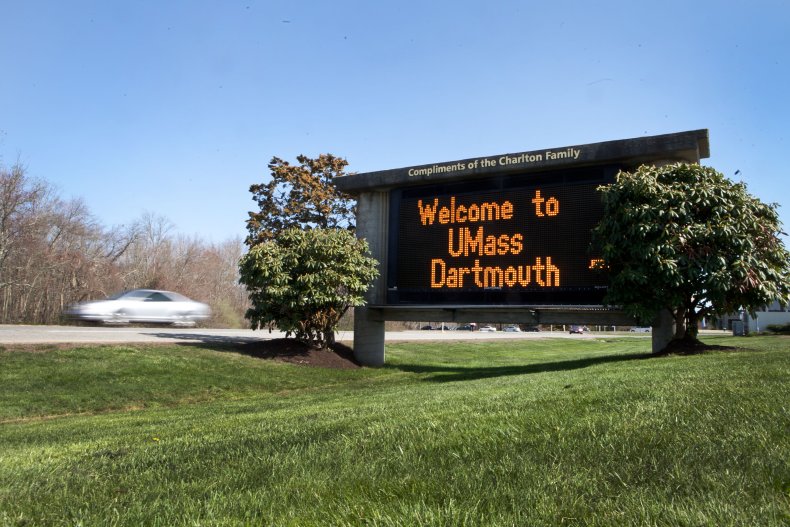 Laudon was hired to investigate sexual assault and support student safety for the Blackstone Police Department, where he still works.
An archival record of the department's personnel page listed him as a "Sexual Assault Investigator" until Monday. By Tuesday, following local reports about his record, the title was removed. He is still listed as the department's Drug Recognition Expert, ALICE Instructor and Child Safety Seat Contact.
Philip Stinson, a professor who researches police crime at Bowling Green State University, told Newsweek that Laudon's pattern is common across the United States. Small, municipal departments are particularly incentivized to overlook blemishes in an officer's record if it means they can fill a job faster and more cheaply.
"A lot of those agencies like to hire people who have already got their Police Academy training, or in some states that would include a state-level certification," said Stinson. "If they have that, it's less of a problem for them. They don't have to pay them to go to the Academy and lose that time and cost involved."
Some departments don't have thorough background checks, while others simply choose to overlook past misconduct. Even if officers lose their certification, their new employers may never find out.
"There's a decertification registry, but it's voluntary," said Stinson. "A lot of prospective law enforcement agency employers don't check with them, and a lot of states don't provide information to that registry."
In cases like Laudon's, where an officer resigns during a misconduct review, the investigation might just remain under lock and key.
Stinson said, "Sometimes what will happen is they won't even finish writing up an internal discipline investigation report because the officer is no longer employed there—they don't have jurisdiction over them administratively. So sometimes there's no paper trail at all."
WBUR discovered more than a dozen current police officers in Massachusetts who were previously fired or resigned from another department after a misconduct investigation. But the problem isn't only in Massachusetts.
A 2020 study in the Yale Law Journal found that over a period of 30 years, 3 percent of all officers in the state of Florida were previously fired by another department—an average of just under 1,100 officers a year.
A 2016 report from Stinson and The Wall Street Journal revealed that former Florida police officer Claudia Wright lost her badge in 2011, having forged her grandmother's signature to buy a car. Her plea deal specified that she was relinquishing police certification permanently with "no opportunity for reinstatement." But a few short years later, she was working at the Richmond City Sheriff's Office in Virginia.
And in Ohio, officer Timothy Loehmann—who fatally shot 12-year-old Tamir Rice for carrying a toy gun in 2014—had been deemed emotionally unstable and unfit for duty in a previous police role.
Rehiring officers who were previously ousted for misconduct can be destructive to a community, said Stinson.
"It can cause problems in the community in terms of police legitimacy," he said. "If the citizenry doesn't have faith in their local police officers, they may not cooperate when they're asked to help officers. They may not call the police when they have an emergency of their own...they're just not going to want to have anything to do with police."
Newsweek reached out to Laudon and Blackstone's Chief of Police for comment.