Cop Hurt, Man Killed in Roseville, Minnesota, After Shots Fired at Officers
A Minnesota police officer was hospitalized Tuesday night with a serious gunshot wound to the face and another man is dead after a shooting incident in a neighborhood in the Minneapolis-St. Paul suburb of Roseville.
Roseville police said that around 7:30 p.m. officers responded to reports of shots being fired at residential homes near Lake Owasso. When officers arrived, they were immediately fired upon by the shooting suspect. The officer shot in the face was taken to a hospital by fellow officers, Roseville Police Chief Erika Scheider said during a press conference Wednesday.
Police said a 53-year-old male was shooting at officers from a wooded area with a rifle-style gun. About an hour later, an officer located the man outside of a nearby residence and returned fire. The suspect suffered a "significant injury to his groin area" and was taken to a nearby hospital where he was pronounced dead, police said. It's unclear if the man's injury was from police gunfire or a self-inflicted gunshot wound.
Tuesday's shooting is one of numerous incidents that have resulted in an injured police officer this year. Since the beginning of 2022, 108 officers have been injured in a shooting and another 20 have been killed, according to the Gun Violence Archive.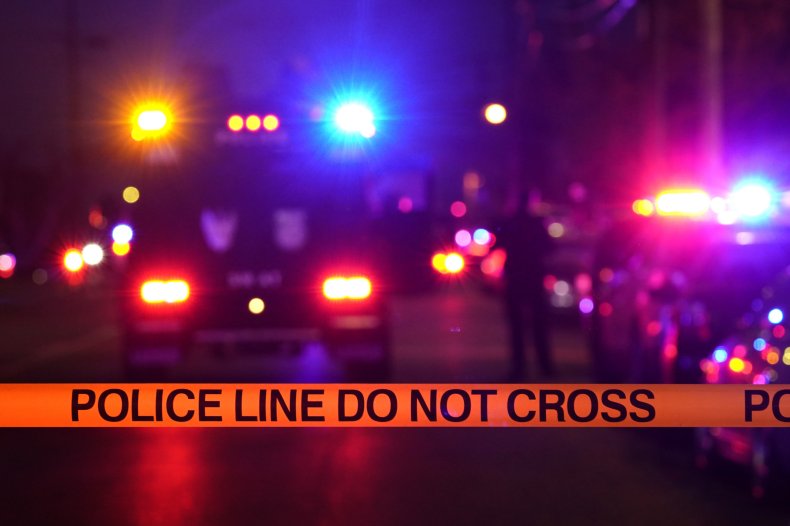 "All of a sudden I saw lots of squad cars. Typically doesn't happen in this area.... They just kept on coming," witness Mike Heffernan, who said he lives near the shooting, told TV station KSTP. "Heard some gunshots. Officers just kept coming and coming, and there was a fire truck and they were coming out and they were full gear."
Police said the man fired approximately 100 rounds at officers and into nearby homes. The man lived in the neighborhood, but it's not known what led up to the shooting. Police said they have received several calls in the past about the suspect. They did not release his name.
The officer who was shot is in stable condition. Police are not releasing his name at this time but said he has been with the Roseville Police Department for three years.
Authorities closed off the area, blocked off streets and set up roadblocks in the neighborhood. Deputies were walking through the area and searching houses, but police said there was no further danger to the public, Minnesota Public Radio (MPR) reported.
Minnesota State Patrol troopers, Roseville police, the Minnesota Bureau of Criminal Apprehension (BCA) and the Ramsey County Sheriff's Office were on the scene after the shooting. Roseville police said they would release additional information later Wednesday, MPR News reported.
The BCA is still processing the scene and will be taking the lead in the investigation.
Other recent shootings have received national attention, including an incident where a former employee shot two people at an industrial plant in South Carolina Tuesday night and later died from a self-inflicted gunshot wound. Police said that the officers were not involved in the incident and that it ended just before their arrival.
Last week, a man in Indiana was arrested and accused of shooting and killing his wife in front of their 11-year-old child and her 10-year-old friend. In Kentucky, police are investigating the death of a 26-year-old man after a child shot him with a handgun on Monday night.
Update 04/06/22, 12:20 p.m. ET: This story was updated with additional information and background.